By Ryan Malone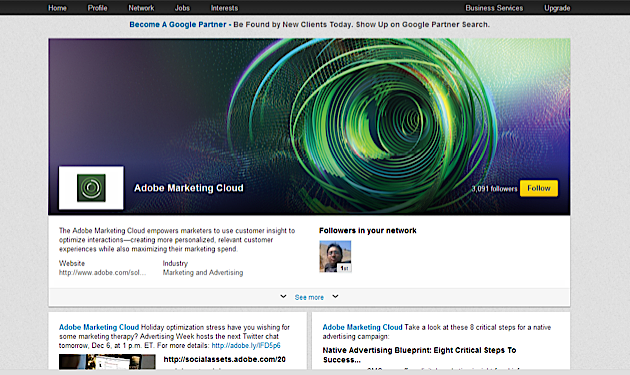 If you're like me, hearing about the release of LinkedIn Showcase Pages several weeks ago hit you with an uncomfortable mix of excitement and worry.
The idea of yet another platform to learn and add to the mix is scary because, as marketers, we already have so many plates spinning in the ever-changing social media universe.
But at the same time, there's no denying that over 250 million active LinkedIn users can't be ignored, and the very purpose of Showcase Pages speaks directly to the heart of every busy marketer the world over:
According to the official LinkedIn blog, "Showcase Pages are dedicated pages that allow companies to highlight different aspects of their business and build relationships with the right community. Whether it's a brand, a business unit, or an initiative, following a Showcase Page will provide you the updates you are most interested in."
Targeting with Showcase Pages
The first item in that definition that makes me want to do a little happy dance is the obvious emphasis LinkedIn is placing on targeting the best audience for the content you share on Showcase Pages.
LinkedIn Company Pages have already done better than most networks in providing segmenting and targeting abilities through Targeted Updates. This option allows page administrators to choose demographic segments of their follower list who will see a particular update on their home feed rather than blindly sending it out to every follower.
Of course, Twitter lists, Facebook groups, and Google+ circles all offer this ability to a limited extent, but all require that the segment be pre-made, which isn't always practical.
Now, with Showcase Pages, LinkedIn is taking segmentation a step further by giving you an outlet for content specific to a brand, business division, or initiative within your company that is most appropriate for people interested in that subject, but not necessarily in everything else going on at your company, and they're separating it from the main Company Page feed completely.
Let that sink in for a few moments while the possibilities percolate.
SEO Juice from Showcase Pages
Although vanity URLs are not available for Showcase Pages (yet!) their standard URL format still offers some powerful SEO opportunities by tying your company name and the specific product, brand, or project the Showcase Page covers under the very Google-friendly LinkedIn.com umbrella:
http://www.linkedin.com/company-name/showcase-page-name
So, if you're smart about naming the page and keep it updated with relevant content based around a limited number of keywords you're shooting for, there's no reason to think it won't add a lot of power to your SEO efforts.
Testing with Showcase Pages
LinkedIn currently allows each Company Page to house up to ten Showcase Pages, which will give most businesses plenty of space to experiment.
This brings up an interesting opportunity that was highlighted a short time ago by Jason Miller, Senior Content Marketing Manager at LinkedIn on a blog post for Social Media Examiner:
"Showcase pages can be used for optimizing your campaign effectiveness with A/B testing. Just make sure you use LinkedIn's analytics tools to track the traffic and content reach of your showcase pages separately from your main company page."
By creating multiple Showcase Pages around overlapping subjects or brands, and carrying out strategic campaigns that link to them, you can leverage LinkedIn's built-in analytics to A/B test and optimize your campaigns while gaining Showcase Page followers.
Showcase Pages - Marketing Boon or Bane?
So, while the idea of yet another social media destination to keep track of may strike fear in the hearts of some marketers, LinkedIn Showcase Pages certainly have enough going for them to warrant a serious look.
They're not going to be right for every brand, and some marketers may find that they're not worth the effort. But I have a feeling that a lot of us are going to be in love with Showcase Pages by the end of the first quarter in 2014.