HubSpot's Marketing Hub
---
Manage your email marketing, marketing automation, and more within HubSpot's Marketing Hub and CRM.
SmartBug's HubSpot Accreditations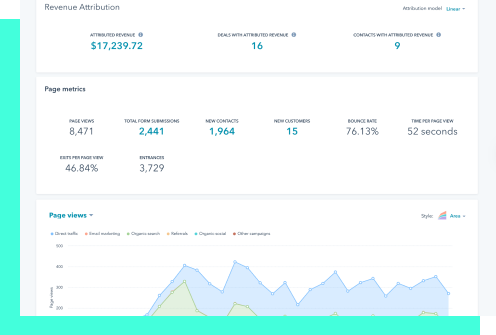 Attract. Convert. Delight.
HubSpot's Marketing Hub is the powerhouse of your entire marketing engine, helping you convert leads with tailored marketing campaigns to land your next best customer. Let's work together to keep your customers engaged with a platform that empowers you to build and execute strategy with ease.
Integrating paid media tracking and automating workflows allows us to roll out your content without slowing down. With a wide array of reporting tools at your fingertips and dashboards we can build for you, it's simple to see which campaigns are top-performing and where we can help you pivot.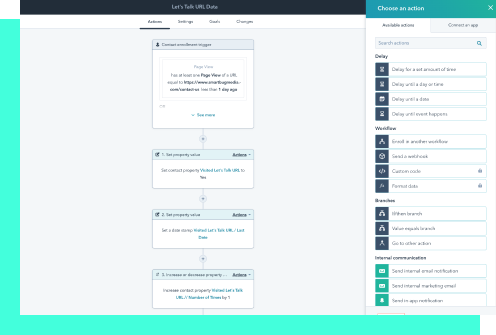 Maximize the impact of your CRM.
Work with us to create a strategy to nurture leads from the moment they first engage. Reach your customers wherever they are—on social media, in their email inbox, or on one of your landing pages searching for a solution to their most pressing pain points. With SmartBug's expertise and HubSpot's CRM, it's easy to get started.
At SmartBug, we're not a plug-and-play agency. Instead, we take time to understand your unique business and your goals. We'll implement a sound marketing strategy that combines Marketing Hub with sharp talent to meet your needs and exceed your big-picture business objectives.
HubSpot's Marketing Hub Standout Features:

Email Marketing
Customize mobile- and desktop-optimized emails for your next marketing campaign. Conduct A/B testing and personalize content for each recipient to maximize click-through and conversion rates.

Traffic Analytics
Monitor your leads' activity and track the performance of your campaigns. Then, pass those nurtured contacts onto your sales team for hassle-free quick wins.

Contact Management
Compile contact information for each of your leads to streamline the sales process and ensure follow-ups are a breeze. When leads do convert, you'll have all the details you need stored in your CRM.

Live Chat
Don't miss an opportunity to get the conversation going. Engage with prospects on your website with live chat, and route conversations to the best sales rep.
Conversion Forms
Create new forms and add them to your website with an easy-to-use drag-and-drop editor. Manage each conversion on the back end using your all-in-one CRM platform.

Social Media Management
Make every interaction count with HubSpot's Marketing Hub. Monitor and prioritize conversations, create new content, and publish content to each of your accounts.

Ad Tracking & Management
Know exactly where every paid media dollar you spend goes. Manage every account—Facebook, LinkedIn, and Google Ads—in one central location, and turn more of your prospects into customers.
A/B Testing
Measure the output of your strategy with simple A/B testing. Test subject lines, CTAs, senders, images, and more in a matter of minutes. Then filter your results according to predetermined parameters such as test duration and winning metric.

SEO
Extend your reach and engage with new customers. With a targeted SEO plan, you can optimize your content strategy, build brand authority, and outrank competitors in your field.
Promotional SMS
Efficiently promote events, share announcements, and deliver personalized messages, including location-based promotions and exclusive discounts. HubSpot's SMS functionality empowers you to engage a broader audience and explore broadcast-style SMS communication seamlessly.
What Our Clients Say
They are Jedi Masters when it comes to HubSpot and are wonderful teachers/coaches when it comes to looping you in on how to utilize it to your advantage.
Jonathan Higgins
Health Data Vision, Social Media Manager
Decided to take a chance and go with HubSpot's #1 partner. The SmartBug team not only delivered great results, but working with them couldn't have been easier.
Paul Lambert
Ripcord Solutions, President
If you are working within HubSpot, SmartBug has the people and know-how to build your website.
Michael Gin
Nomis, Creative Director
Frequently Asked Questions
Do you have examples of how SmartBug can support businesses on HubSpot Marketing Hub?
Yes! We have HubSpot award-winning case studies showcasing client results from SmartBug's work within Marketing Hub. You can view them here and see more below.
How does the Marketing Hub differ from other marketing software?
HubSpot offers a fully integrated CRM, which makes it simple to manage all of your sales and marketing tools in one place.
Thanks to streamlined automation, you can create workflows to tailor conversations and analyze reporting so you can closely monitor the impact of each of your campaigns. And, with the help of more than 1,250 integrations, you can visualize customer data on a single, centralized dashboard.
Does HubSpot's marketing software integrate with Salesforce and other third-party tools?
Yes! Marketing Hub syncs bidirectionally with other sales reporting tools, including Salesforce and Microsoft Dynamics, so you only have to make updates to your system once. Get access to more than 1,250 HubSpot Marketplace integrations for maximum functionality.
How does the Marketing Hub work with the Sales Hub, Service Hub, CMS Hub, and Operations Hub?
HubSpot offers a fully integrated CRM that makes it simple for users to track and optimize every aspect of the customer journey. Grow your business one prospect at a time and improve customer engagement as you scale.
How do I generate reports using the Marketing Hub?
With HubSpot's multi-touch revenue attribution reporting, you can visualize each customer's journey and all of your marketing efforts on a single dashboard. Thanks to custom reporting capabilities, you can track nearly any metric and monitor the success of each of your campaigns.
For many users, Marketing Hub is just the first step toward exploring the full capabilities that HubSpot's suite of tools offers.
Interested in growing your sales and marketing toolkit? Learn more about HubSpot's hubs.
Can I customize my HubSpot Marketing Hub account?
Yes! Use custom objects to snap together customer data across your CRM and access insights using a single, centralized dashboard.
Looking to offload the customization of your Marketing Hub so you can focus on the bigger picture? SmartBug can help.
Get in touch with our team to learn more about how we can tailor each of your hubs to ease your day-to-day demands.
Explore the Impact of SmartBug + Marketing Hub