Education
---
Whether you need higher education marketing, secondary education marketing, K-12 guidance or anything in between, our approach can help you draw in more applications and grow enrollment.



Boost Applications and Lift Enrollment
Students live and interact in a digital world. Our education marketing strategies are built to grab leads and drive conversions—all through a data-driven approach.
Tailor Marketing to the Modern Student
With more students interacting online than ever before, traditional marketing tactics simply aren't reaching them. That's why we craft digital education marketing strategies that meet students where they are, save time, cut costs, and drive higher enrollment.
Build Trust in Your School
Students want to attend a school they love and trust. We use education marketing strategies to grab their attention, tell your story, boost your brand, and inspire more applicants.
Stand Out From Digital Competitors
Students live in a digitally-saturated world in which they're continually bombarded by messages. We help you tap into your school's strengths and execute education marketing strategies to stand out and build trust in this digital world.
Access a One-Stop Marketing Shop
You don't need to juggle different marketing vendors to accomplish your goals. Whether it's PR, web, paid, print, or other marketing needs, we've got you covered.
Southern Nazarene University Ditches the "Old School"
SmartBug Media ® worked with Southern Nazarene University to revitalize the digital marketing strategy of the College of Professional and Graduate Studies. The new digital strategy implemented by SNU and SmartBug delivered impressive results almost immediately.
YOY increase in applications
YOY increase in organic traffic
What Our Clients Say
Their unparalleled expertise in HubSpot, inbound practices and marketing in general... has made them a trusted advisor resource unlike any other we have experienced.
Scott Travis
Keystone Technologies, CMO
Of all the agencies we talked to, [SmartBug] are the ones who really seemed to understand inbound marketing inside and out.
Chris Harper
The Arbor Company, VP Communications
Having worked with a number of agencies... I can definitively say they are the BEST and have made a huge impact on our results.
Michelle Bennett
Eagle's Flight, Marketing Manager
How We Deliver Higher Education Marketing
We create smart, data-backed strategies and deliverables to power your education marketing goals. Our team weaves together the best of inbound marketing, web design, PR, paid search, creative, and more to increase your marketing ROI.
Traditional higher education marketing isn't enough to grab and keep the attention of modern students. That's why we pinpoint your ideal students, build a data-driven education content strategy, and deliver your messages to the right prospects at the right time.
By sharing lead information, key insights, and resources across departments, you can unlock an enrollment machine. We help you align your marketing and admissions teams to bring in and retain more students.
We know time is precious in the education industry. Our experts create an Intelligent Inbound strategy that simplifies the systems you use every day, trims marketing processes, and saves your team time.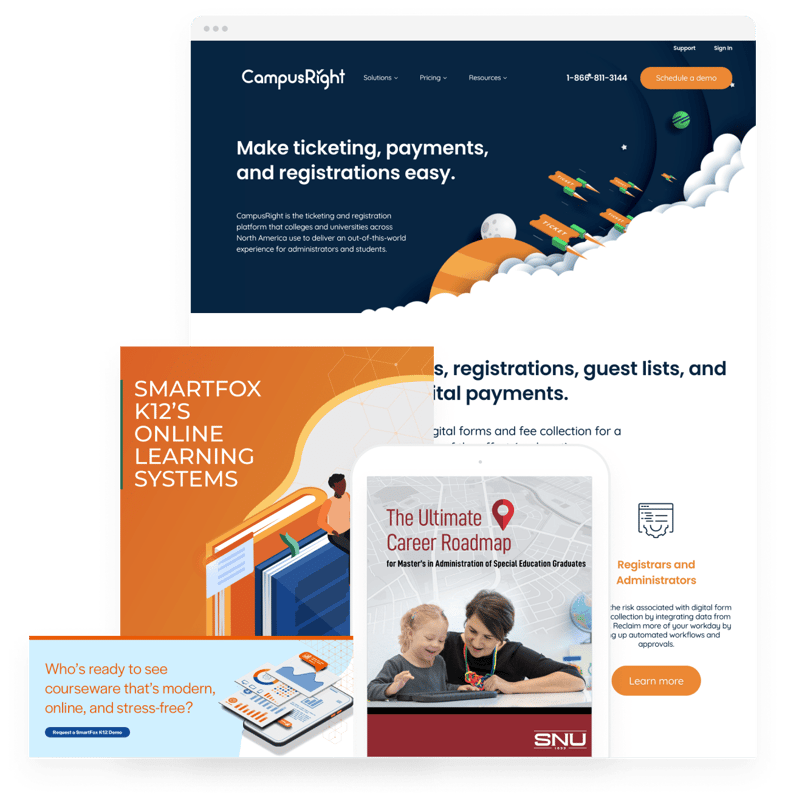 The time when higher ed marketers could rely on billboards, radio ads, and word-of-mouth referrals is gone.
Higher education students are changing, and so are the marketing messages they respond to. Traditional marketing tactics that universities have relied on for years are no longer effective. Ready to start using inbound marketing to increase enrollment?
Book time with one of our specialists to see how inbound can help you accomplish your higher ed institution's goals.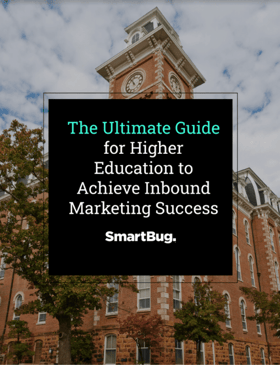 The Ultimate Guide for Higher Education to Achieve Inbound Marketing Success
This guide will help you embrace inbound marketing and lead you to a digitally-driven approach to reach students in those online spaces where they're interacting more frequently.
Check It Out!
Ready to grow Student Enrollment with an Intelligent Inbound ® Approach?