Sales Enablement
---
Maximize the value of your marketing efforts and help your sales team close business faster.
Empower Sales and Marketing
It's time to close the loop between sales and marketing. We'll help align this crucial relationship to ensure your teams have the tools and content they need to meet customers wherever they are along the Buyer's Journey.
Buyer Profile and Personas
With the buyer profile and personas in hand, your teams will be able to target and effectively communicate with the best leads.
Lead Stage Definition
Define MQL, SQL, and lead stages—along with a clear lead routing process—so inbound leads don't fall through the cracks.
Integrating Your Sales Technology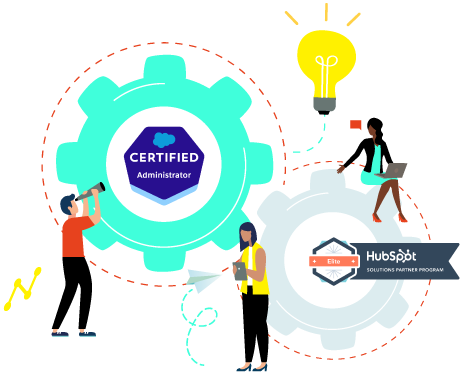 Whether you're all-in on HubSpot or leveraging a standalone CRM like Salesforce, we've got the experience to craft a data-driven sales strategy built with your unique business goals in mind.
Map Key Data
Align marketing and sales data through a unique mapping exercise.
Implementation Plan
Create a plan to align technology and add critical missing information and systems.
Support and Training
Want to boost productivity and deliver rockstar customer service? We'll help by providing your sales team with the skills, training, and support needed to efficiently and effectively close more sales.
Content Library
We'll provide your sales reps with quality content, including personalized email templates and custom email nurturing.
Training
We provide a detailed walk-through and inbound sales training to answer the how and the why.
What Our Clients Say
The SmartBug team has deep technical knowledge and has taken our organization to a new level in inbound marketing.
Steve Saxton
Saxton Woods, Managing Director
Their unparalleled expertise in HubSpot, inbound practices and marketing in general... has made them a trusted advisor resource unlike any other we have experienced.
Scott Travis
Keystone Technologies, CMO
Of all the agencies we talked to, [SmartBug] are the ones who really seemed to understand inbound marketing inside and out.
Chris Harper
The Arbor Company, VP Communications