HubSpot's Sales Hub
---
Let's monitor your entire sales process from start to close with HubSpot's end-to-end CRM platform.
SmartBug's HubSpot Accreditations:

What Our Clients Say
Decided to take a chance and go with HubSpot's #1 partner. The SmartBug team not only delivered great results, but working with them couldn't have been easier.
Paul Lambert
Ripcord Solutions, President
After two websites, a lot of inbound marketing work and a HubSpot management program for one of our portfolio sites, it's clear that SmartBug Media knows what they're doing.
Kamau Coleman
Diamond Rock Partners, Managing Partner

As the manager of over 70 providers in the HubSpot Service Marketplace, SmartBug Media managed to stand out above the rest in several ways—no small feat.
Liz Ricklefs
HubSpot, Services Marketplace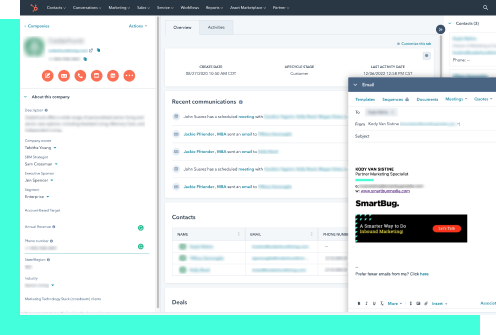 Manage your pipeline.
Ready to close more deals? With the help of SmartBug's team and HubSpot's Sales Hub, you'll have all of the tools you need in one place, with the expertise to match. Streamline communication, deepen relationships, and eliminate friction as you move prospects through the pipeline.
Together, we'll get a holistic view of your sales pipeline so you can make informed business decisions today and forecast your future growth.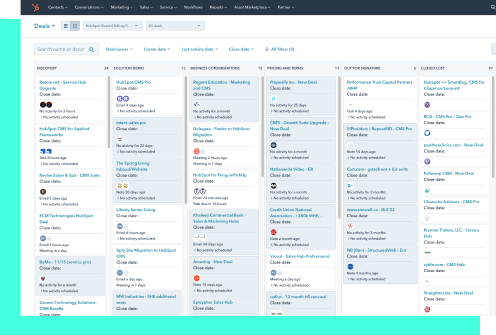 Track your activity.
As we learn what's working for you and your sales team, we can optimize processes and close deals more quickly. View and analyze metrics including calls and meetings booked, win ratio, pipeline size, projected revenue, and deal stages, weighted by revenue.
At SmartBug, we help clients leverage HubSpot's Sales Hub to its full potential. We'll show you how to proactively renew customer contracts, identify cross-sells and upsell opportunities, and project future revenue growth, based on unique sales data metrics.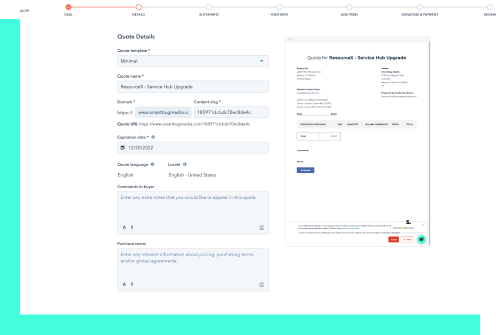 Forecast your revenue.
By diving into the day-to-day operations of your sales teams, together we'll be able to make more accurate, informed predictions of your company's long-term revenue growth.
HubSpot's Sales Hub can help you do that. And we're here to help guide you. Conduct deal analysis, particularly around the size of each deal, to predict profit and identify areas of future revenue increase.
HubSpot's Sales Hub Standout Features:
Email & Call Tracking
Log emails and phone calls throughout the sales cycle. Know which prospects to prioritize and when. Use templates and repeatable follow-up emails to expedite communication.
Deal Management
Create a library of sales content. Swiftly add, assign, and monitor deal progress. Streamline the sales tracking process for each member of your team without friction or hangups.

Document Management & Tracking
Track PDFs and other prospect documentation to monitor engagement. Manage and send quotes quickly using pre-set, branded documentation.

Live Chat
Don't miss an opportunity to get the conversation going. Engage with prospects on your website with live chat and route conversations to the best fit sales rep.
Scheduler
Say goodbye to phone tag and unopened email. Instead, schedule meetings directly with HubSpot Sales Hub so you can stay focused and your communication remains centralized.

Analytics & Reporting
Keep on top of your team's activity so you can identify friction points, close more deals, and boost your revenue as your operations grow and your business scales.
Zoom/Gong Integrations
Record calls and take notes during your virtual sales meetings. Focus on engaging your prospects while gathering meaningful insights about productivity and performance.

ZoomInfo Integrations
Upload contact and company information into HubSpot's Sales Hub from ZoomInfo directly. Spend more time making real-life connections and less time in the back end.

Gmail, Outlook, & Slack Integrations
Follow up with prospects in Gmail, Outlook, and Slack. Move all of your communications under one roof so nothing slips through the cracks.
Frequently Asked Questions
Can SmartBug help me integrate third-party software and tools with HubSpot's software?
Yes! Take a look at HubSpot's Marketplace App, which includes 1,250 integrations, to see which tools have native integrations that you can use day in and day out. We can also build custom integrations to make sure you're getting the most of your data.
What if the integration I'm looking for is not in the App Marketplace?
Can't find what you're looking for? HubSpot offers an open API, which allows for effortless flexibility. At SmartBug, we do the heavy lifting to streamline migrations and integrations within your existing tech stack. With all of your systems in communication with one another, it's easier than ever to get your marketing and sales operations moving in unison.
Want highly customized implementation and migrations services? Learn more.
Ready to expand your integrations with the help of a trusted full-service digital agency? Explore your options.
How can SmartBug help me with customizing my HubSpot Sales Hub account?
We can use custom objects to snap together customer data across your CRM and access insights using a single, centralized dashboard.
Looking to offload the customization of your Sales Hub so you can focus on the bigger picture? SmartBug can help.
Get in touch with our team to learn more about how we can tailor each of your hubs to ease your day-to-day demands.
How is the Sales Hub different than other sales platforms?
The Sales Hub is fully integrated with the CRM platform so you can grow your customer base and draw meaningful insights about the way your customers behave and engage.
How does Sales Hub connect with Marketing Hub, Service Hub, CMS Hub, and Operations Hub?
The Sales Hub connects with all other hubs—including Marketing Hub, Service Hub, CMS Hub, and Operations Hub—to deliver one cohesive dashboard to measure success, analyze results, and engage your customers in new ways.
How is my data stored?
HubSpot stores all of your customer data in its fully integrated CRM for quick access and comprehensive visibility. Grant permissions on a team and individual basis so your sales, marketing, and services teams are always on the same page. Once you're in the dashboard, you can view all customer activity in one place, including deals, tickets, contact information, and more.
Explore the Impact of SmartBug + HubSpot's Sales Hub