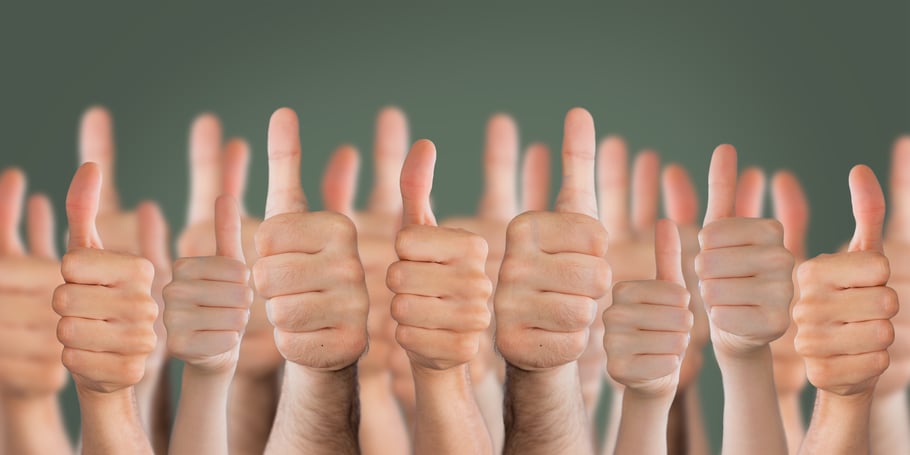 As an inbound marketer, you are constantly on the lookout for the latest and greatest way to get your content out to your target audience. You may have heard about Facebook's Instant Articles feature and wondered if it makes sense to pursue it for your brand. Now that Facebook has opened its Instant Articles to all publishers, we think it is definitely worth joining.
What Is the Instant Articles Feature?
In May 2015, Facebook rolled out the Instant Articles feature to a limited amount of popular brand publishers (e.g. The New York Times and NBC News), but as of April 2016, it is open to all publishers. When a user is on Facebook on his or her phone and clicks on an Instant Article, that article will load now instantly, instead of the usual time lag that occurs when you click on an article.
Of the 1.32 billion people who use Facebook each month, roughly 132 million access it from their mobile phones.1 Since nearly one-third of users access Facebook exclusively from their phones, Facebook had to do something about the load time, and Instant Articles is its answer to that. By strictly formatting in HTML5, articles can load faster and perform better.
An Instant Article is denoted by the following lightning-bolt image: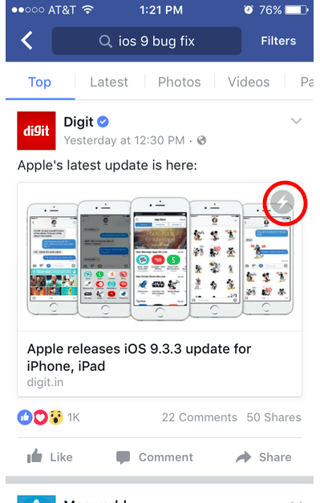 Noteworthy Instant Article Features
As an inbound marketer, the Instant Articles feature opens up a wide audience to share your content with, and it is important to make the most out of it. Other than the instant load time, here are a few additional things that Instant Articles lets you do:
Customization
You can customize the font, color, and layout of your articles to keep them aligned with your brand look. You can also showcase interactive maps, images with better picture quality that can easily be zoomed, and instant-play videos.
Analytics
The Instant Articles feature is compatible with major analytics platforms such as Google Analytics, comScore, and Omniture. Also, Facebook will include its own analytics on user behavior. So you can use whatever analytics platform you are comfortable using or a combination. This is great because it will help you figure out what works and what doesn't when it comes to your articles, and you can optimize based on your findings.
Advertising
You can feature ads within your Instant Articles. There are two options when it comes to this feature: You can a) fill the ads yourself and keep 100 percent of the revenue or b) let Facebook handle it, and you keep 70 percent of the revenue.
How to Get Started
Unfortunately, you aren't able to just get started with Instant Articles; you need to do some light prep work—don't let this deter you, as it is completely worth the time spent. Below, we outline what you need to do in order to get up and running.
Sign Up
You need to have a Facebook page, so if you don't have one, now is the time to create one. Then you can sign up for Instant Articles by using this link.
Develop and Submit Sample Articles
In order to have Facebook take your articles from your page and mark them as Instant Articles, you need to complete the following steps:
Create and submit your sample articles.

Facebook will then review these articles and approve or send them back with its feedback on any issues that conflict with its policies.

Edit your feed in order to adhere to

Facebook's guidelines

.
If you have any more questions about getting set up with Instant Articles, check out Facebook's comprehensive quick-start guide.
Publish Away!
Now that you have been approved through Facebook to publish Instant Articles, all you need to do is add simple code templates that Facebook provides to your articles and use the auto-publishing setting. Congratulations! You have now set up your articles for a more user-friendly experience.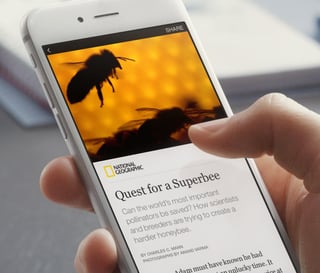 Source:https://instantarticles.fb.com
Why Are Instant Articles Important?
According to Facebook, Instant Articles are 10 times faster, 20 percent more likely to be read than a non–Instant Article, and 70 percent less likely to be abandoned by the reader.2
By utilizing Instant Articles, you are setting your content up for success. The reach of your articles is dramatically increased and is 30 percent more likely to be shared than non–Instant Articles. As an inbound marketer, this seems like a no-brainer for those who want to put more eyes on their content and to boost their business's bottom line.
Are you considering implementing Instant Articles on your Facebook page? If not, what is holding you back? We welcome all comments and questions below!
References
1http://www.theverge.com/2014/7/23/5930743/facebooks-new-stats-1-32-billion-users-per-month-30-percent-only-use-it-on-their-phones