HubSpot's Commerce Hub
---
We won't call it easy money …
But SmartBug can help you streamline your CPQ (configure, price, quote), invoice, and payment processing tools—for a frictionless revenue experience.
Let us show you what's possible for your business with HubSpot's Commerce Hub.
Effortlessly create quotes, issue invoices, and receive payments—all within HubSpot.
Condense all of your commerce products into a single hub where you can manage your revenue operations and payment processing.

With an enhanced toolkit of commerce tools at your fingertips, you can collect payments using Stripe, build quotes, generate payment links, take advantage of a robust product library, and automate billing.
SmartBug's HubSpot Accreditations

What Our Clients Say
Decided to take a chance and go with HubSpot's #1 partner. The SmartBug team not only delivered great results, but working with them couldn't have been easier.
Paul Lambert
Ripcord Solutions, President
Their unparalleled expertise in HubSpot, inbound practices and marketing in general... has made them a trusted advisor resource unlike any other we have experienced.
Scott Travis
Keystone Technologies, CMO
If you are working within HubSpot, SmartBug has the people and know-how to build your website.
Michael Gin
Nomis, Creative Director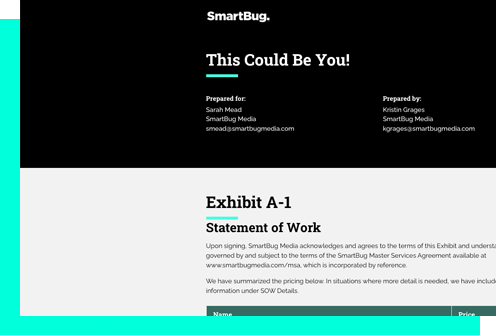 Generate Quotes.
Simplify the way your sales team handles CPQ by using line items, products, and SKUs to generate standard or customized quotes. Not sure where to get started? We'll work with you to define your quoting process through a discovery session to determine your quote needs. From there, we design and create your quote template and provide training on quotes best practices, allowing your team to easily associate the quotes with contacts, companies, or deals.

When you work with SmartBug in HubSpot's Commerce Hub, you can distribute and execute your quotes all within one platform.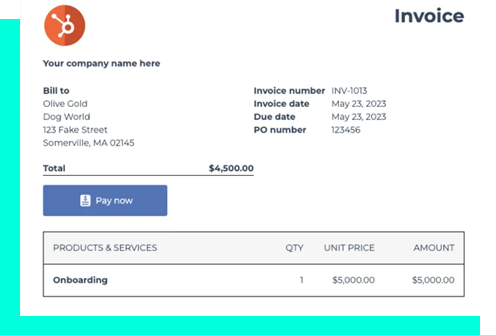 Issue Invoices.
We're here to consult with you on streamlining your invoicing process. From one-time invoices to recurring invoices to subscription models, the combination of SmartBug and HubSpot enables you to issue electronic invoices to your new and existing customers worry-free.

Within HubSpot Commerce Hub, you can easily send and track invoices to increase your business's accounts receivable and cash flow.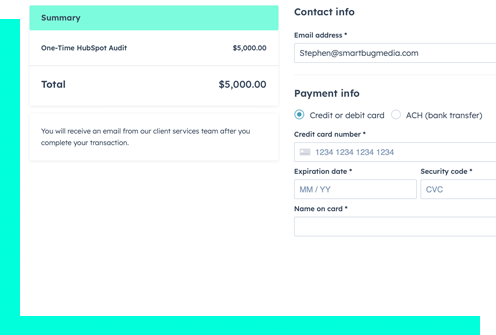 Accept Payments.
Let your customers pick how they pay—whether it be Visa, Mastercard, American Express, Discover, ACH, direct deposit, or paper check. Let us implement your HubSpot payments module. HubSpot payments and Stripe payment processing are built to make your customers' lives easier so you get paid faster, and our consultative services are built to optimize your payment solutions so you get the most out of your investment in HubSpot.
HubSpot's Commerce Hub Standout Features:
Flexible Payment Processing
Easily send invoices and receive payments through a number of different channels, supporting your current payment operations.

Payment Links
Generate payment links and manage outstanding invoices in a single, unified platform.

Automated Billing
Let SmartBug automate invoices and create workflows to notify you when invoices are paid, overdue, or late.

Product Library Generation
Your sales team can easily add products and line items to invoices, add those invoices to quotes, and send them through payment links.

Stripe Payment Processing
Integrate your existing Stripe account into HubSpot to send and receive payments without having to switch to the HubSpot payments tool.
Subscriptions
Manage existing customer subscriptions easily, and automatically send invoices and collect payments through the Commerce Hub.
Frequently Asked Questions
What sets the Commerce Hub apart from other HubSpot Hubs?
HubSpot's Commerce Hub centralizes the management of payments and CPQ using the information and automation found across HubSpot's Marketing Hub, Sales Hub, Service Hub, CMS Hub, and Operations Hub.
My company already uses Stripe payment processing. Can SmartBug help us integrate it with Commerce Hub?
Absolutely! We build and use HubSpot's Commerce Hub's tools for ourselves and many of our clients. From custom quotes to line items to subscription billing to Stripe or HubSpot payment collection, we're here to support your efforts in building a revenue process that's easy for you to manage and makes payment simple for your customers.
How does SmartBug support Commerce Hub's connection with Marketing Hub, Sales Hub, CMS Hub, Operations Hub, and Service Hub?
HubSpot delivers a fully integrated CRM, so whether you need help managing operations, sales, or marketing, together we can access all of the customer information we need in one place.

Get in touch with our team to learn more about how we can tailor each of your Hubs to ease your day-to-day demands.
Does SmartBug support Commerce Hub's integration with my ERP or other back-office systems?
Yes! SmartBug specializes in integrating back-office operations such as accounting, inventory, and other enterprise resource planning (ERP) systems with your portal. Whether you need a standard integration or something tailored to you, we've got you covered. Learn more about our integration solutions.