One of the biggest challenges marketers face is figuring out what type of content to send to email and SMS lists to engage and delight subscribers, while at the same time, avoiding over-communication.
Most companies know the minimum. They send useful information to their sales list or a monthly newsletter to subscribers. Although this is better than nothing, in the long term, the list will start to lose its usefulness because not enough value is being provided to the subscribers.
In the face of these challenges, a few questions arise:
What type of content should be sent?
Who should it be sent to?
How do you create the strategy?
You start with the fundamentals: the e-commerce customer lifecycle.
You can only create a customer-centric strategy if you completely understand your customers. When you do, you can go beyond just sending sales emails and text messages and create a stellar customer experience by providing value to the right person at the right time.
What is the E-Commerce Customer Lifecycle?
The e-commerce customer lifecycle—also referred to as the e-commerce customer journey—is made up of five stages that are based on the psychology and behavior of prospects and customers.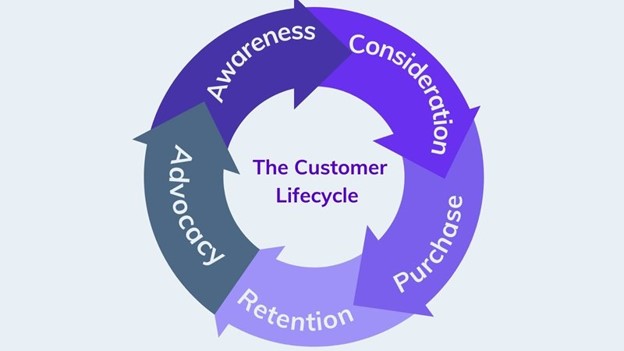 The five stages are:
Awareness
Evaluation/Consideration
Decision
Retention
Advocacy
By creating and developing content for each stage of the customer journey, you can witness a significant impact on your sales and revenue. Delivering the right content to the right person at the right time delights your prospects and customers, provides information that is useful to them, and moves them through the customer lifecycle faster.
What's in it for you? Higher conversion rates, increased revenue, and retained customers.
Let's dive in.
Fill out the Form Below and Get Your PDF