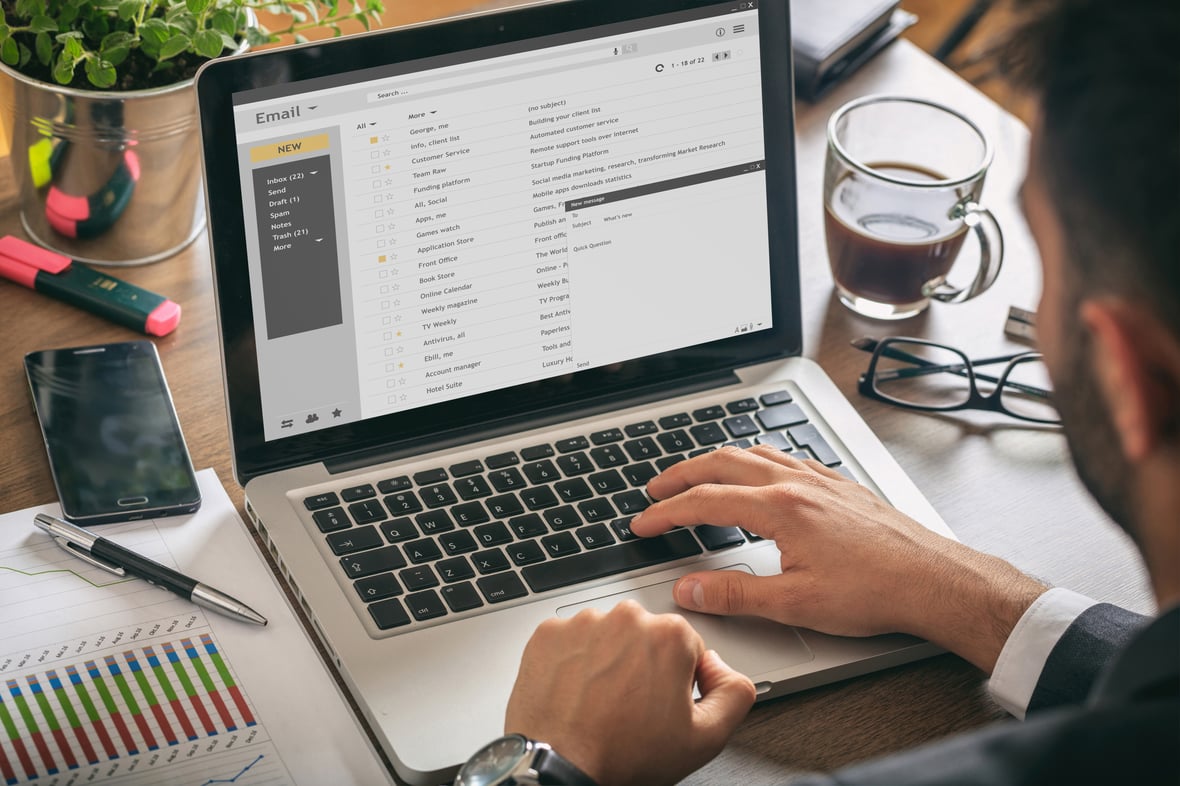 At the heart of inbound marketing is a commitment to creating a variety of content that is informative, engaging, and helpful at each stage of the buyer's journey. Good content increases a reader's awareness of a problem, engages with a solution to that problem, and creates an overall excellent customer experience.
Among the many types of content created by inbound marketers is email marketing, which is the process of receiving queries, answering questions, and providing content that informs and engages.
So, as an e-commerce company, why should you be utilizing email in your marketing efforts? Read on to find out.
What Is Inbound Email Marketing?
According to data from Statistica, the number of sent and received emails per day worldwide exceeds 300 billion. It's safe to say that people are pretty comfortable communicating through this channel.
Email marketing allows you to generate dialogues with your audience by providing helpful, relevant, and timely content. It's one of the most hassle-free, efficient ways to reach customers.
Typically, marketers plan and execute email campaigns by:
Creating target audience profiles and buyer personas that include their goals and how your brand aligns with those goals
Collecting contact information via forms, pop-ups, and quizzes located on your website
Creating base templates for your emails
Creating content used for campaigns or automated emails, usually that includes information and a call to action (CTA)
Tracking customer behaviors and developing triggers that automatically send emails or SMS messages in order to reengage the customer
By developing a strong email campaign, you can develop a close relationship with your audience by telling your brand story, create a loyal bond between you and your audience, and increase your retained customer base.
10 Benefits of Email Marketing
Email marketing can have a significant impact on your inbound marketing strategy by providing the following benefits:
It generates open communication between you and your customers.
Different types of emails can be created, which provides a more customized experience for your audience.
The right email marketing partner can sync closely with your customer relationship management (CRM) and relevant data platforms.
Email interactions are easy to track, which allows marketers to see what works and what doesn't.
By segmenting customers based on their interests, you send the right content that can increase conversions.
Email continues to have higher conversion rates compared to both a website and SMS messaging.
It's a nearly trouble-free, inexpensive way to deliver messaging to prospects.
Marketers can utilize email data for other marketing channels, such as targeted ads and paid media.
Messaging can create comfort between the brand and the customer by allowing them to window-shop and learn about your brand story prior to offering discounts and promotions.
Updates on sales, product information, and delivery can be sent to the customers' inbox immediately to be read at any time.
Ready to learn how our e-comm marketers can help you? Get in touch!
What Are Examples of Email Campaigns?
Email marketing is applicable to every buyer including new, retained, and loyal customers. As you begin creating email campaigns, consider including the following types of emails:
1. Welcome Email Series
This is a welcome automation sequence of emails that is sent to new subscribers that helps to establish brand awareness and educate them about your product or service. It's one of the most important types of emails because it is highly informative and helps to tell your brand story.
2. Product Promotion
This email provides information about a new or existing product. It's a simple yet powerful way to increase awareness, generate revenue, and improve customer retention. These emails are an essential part of your email strategy.
3. Newsletters
Typically sent on a weekly or monthly basis, a newsletter is an email that keeps your customers informed on the latest news about your brand and product. Remember, emails are as much about the relationship being developed as they are about selling a product.
4. Abandoned Cart Emails
There are many reasons why someone will abandon the items in their cart, but you can respond to abandoned carts by providing reminders, incentives, and discounts to help reengage the customer.
5. Reengagement Emails
As mentioned in the previous section, there are many reasons why someone stops engaging with your brand. A reengagement email might look different depending on the type of customer and stage of their disengagement.
Typically, you'll send a series of emails that remind the customer why they signed up for your subscriber list, offer them an incentive to reengage, and create a final effort email that informs them that they'll be taken off the list (but still have the option to stay).
6. Birthday and Anniversary Emails
Who doesn't like a nice gift on their birthday? Offer a customer a gift by providing a discount code or coupon to purchase a birthday present. You can offer something similar on their first-purchase anniversary with your company.
7. VIP Emails
Your most loyal customers deserve to be rewarded. You can extend your appreciation for their consistent support of your company by offering discounts, exclusive offers, and first looks at new products.
8. Order Confirmation Emails
Sometimes, just keeping consistent contact with your customers is appreciated, especially when it comes to their orders. Be sure to provide order confirmation, shipment, and delivery information to keep your customers in the loop.
Start Your Email Marketing and Inbound Journey with SmartBug
This is just a taste of the strategy and effort involved in creating stellar email marketing campaigns. So why not leave this up to a team of e-commerce strategists and creatives who have a proven track record of accelerating growth.
You can find all about our e-commerce marketing services, but get started by checking out our e-book, Email Marketing Templates for E-Commerce: Revenue-Driving Email Flows.
Ready to learn how our e-comm marketers can help you? Get in touch!

About the author
Ryan O'Connor was formerly SmartBug's Director of E-commerce Growth, product manager, and sales director. He enjoys helping readers learn how to solve big business challenges through consumer psychology within the constantly evolving e-commerce landscape. Over the past 10 years, Ryan has helped 1000s of DTC brands navigate challenges to grow fast through intelligent marketing. He's not afraid to get his hands dirty, having launched his own e-commerce stores from the ground up. Read more articles by Ryan O'Connor.
Subscribe to get our new blogs delivered right to your inbox
Other insights you might like