By Paul Schmidt
According to HubSpot's The State of Customer Service in 2022 report, 88 percent of customer service professionals agree that customers today have higher expectations than before. What does this mean for businesses?
As we've seen through the COVID-19 era, as consumer expectations continue to rise, many customer support departments are holding together by a thread due to continuous employee turnover and the endless list of tickets and issues to solve.
Here is some data in HubSpot's report on support agents' biggest challenges. One of the biggest challenges (along with dealing with angry customers) is not having enough time in their day to get their work done.
Source: https://blog.hubspot.com/service/state-of-service-report
HubSpot's latest feature releases focus on these top challenges, and Service Hub can improve customer experiences and the lives of agents.



Let's jump into some of the details of the latest feature release.

What is in HubSpot Service Hub?
Service Hub is a full-service customer service/success suite that allows organizations to automate support tasks, decrease customer tickets through self-service functions, gather ongoing feedback from customers, and access reporting to understand critical issues customers face.
Here are the highlights and major use cases for HubSpot's newest features (as of March 2022):
1. Customer Portal
A long time in the making, customer portal is one of HubSpot's biggest feature releases in 2022. Customer portal gives the end user the ability to see, view, and respond to their support tickets within a logged in state.

For HubSpot customers that solve more complex support tickets, the customer portal allows the end user to track the progress of their tickets and allows the support agent to provide ongoing updates or gather clarifying information in order to help close the ticket.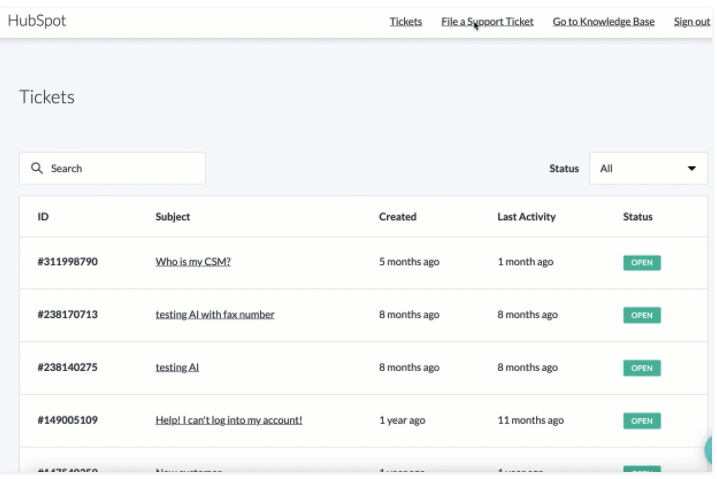 2. Mobile Inbox
For support agents on the go, the mobile inbox allows them to continue responding to tickets within the iOS and Android app. Another UX upgrade is the ability to see if another agent is responding to a ticket—that way two people aren't providing conflicting information to the end user.
3. Inbound Calling
Service agents and sales reps will benefit from HubSpot's newest inbound calling functionality by being able to simplify the dialing process, recording calls and gathering conversational intelligence through calls.

This newest functionality allows businesses to create a forwarding number that gets tracked within the CRM. Instead of service agents giving their direct lines to the end user, they will provide them with the forwarding number that will then push all of the call data to the HubSpot timeline.
4. SLAs (Service-Level Agreements)
Service level agreements ensure that support agents are able to prioritize tickets based on urgency and allow customer success/support departments to set ticketing goals based on time to reply and time to close.
5. Custom Feedback Surveys
This is arguably the most exciting new feature in the Service Hub. Prior to this update, microsurveys were the only available feature in HubSpot. Users were limited to the survey questions available and couldn't access any additional information from customers through the portal. This often posed a challenge for marketers—use the limited information they have or attempt to use a Google form or a completely separate platform for surveys.
Having data easily accessible allows for a better fluidity and experience for both marketers and customers. This is a key feature to understanding customers and what they want. With the update, custom questions such as star ratings, radio selects, and single-line text fields are available.
Not only is this data critical for support and marketing teams, but product development, sales, and other teams can utilize these features to provide a better experience to delight those using a product or service.
6. Service Analytics
You can't manage what you don't measure. HubSpot provides out-of-the-box reporting on industry standard customer support metrics including CSAT, average time to close a ticket, chat wait time, support volume, and more.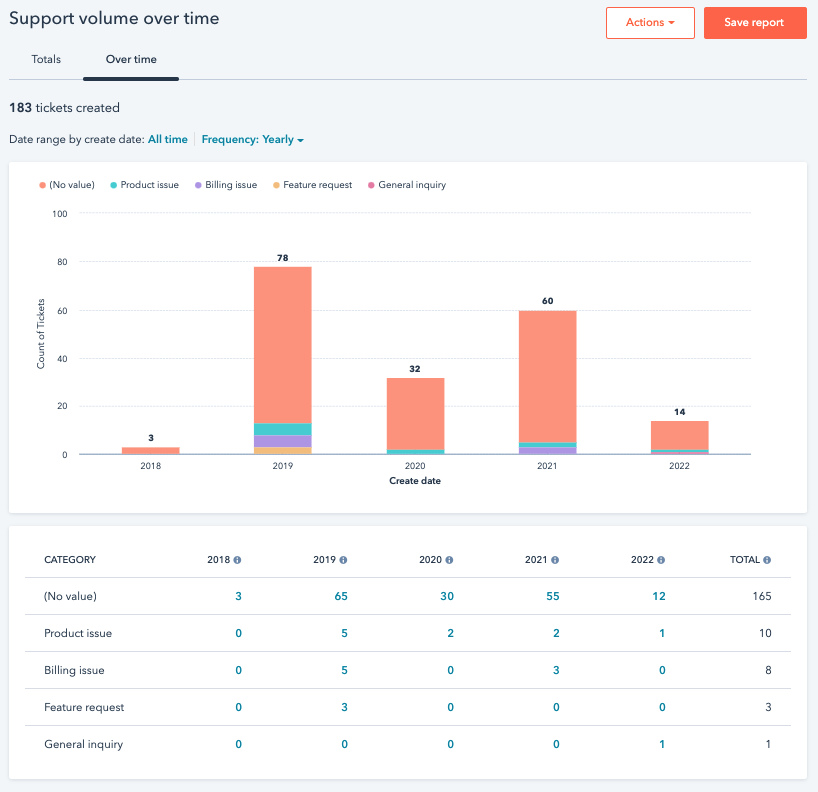 With this latest release of Service Hub, these feature updates elevate HubSpot beyond feature parity with most other customer support systems.
Given the labor market challenges and customer experience trends from the past couple of years, customer support teams should be armed with systems to automate as much as possible, and customers shouldn't have to jump through countless hoops to resolve simple issues.
You can learn more about HubSpot integrations and HubSpot implementation at SmartBug. We are here to help you with your HubSpot Implementation and Migrations.
This post was originally published in 2020 and has been updated since.