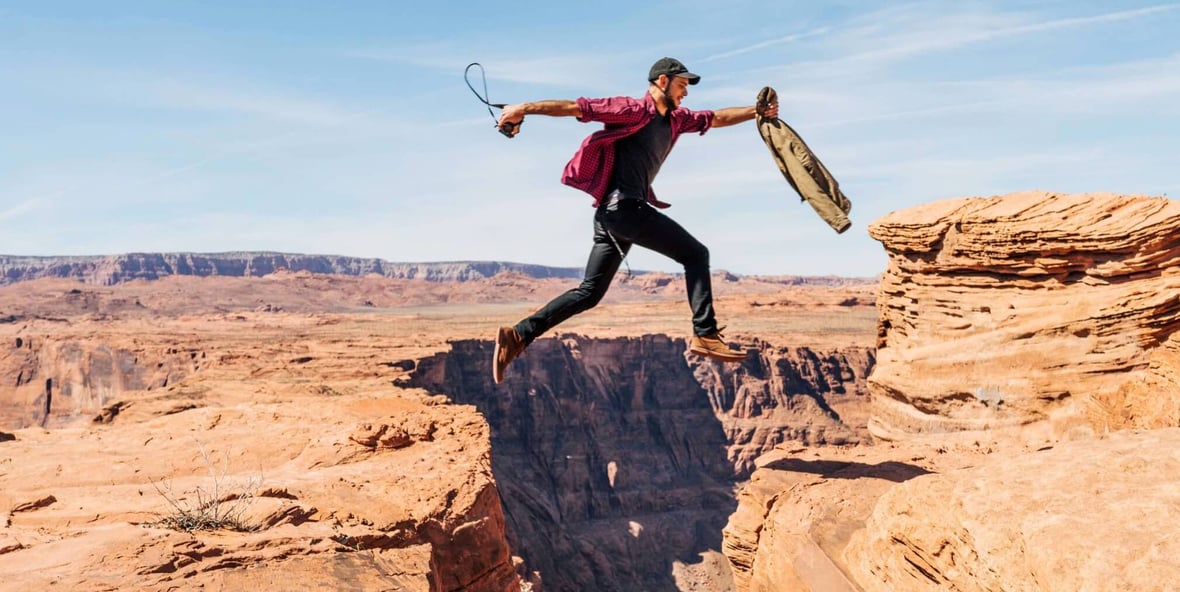 By Caleb Malik
Attract, convert, close, delight—these are the four phases of inbound marketing that we all know and love.
In 2018, HubSpot took these phases of inbound marketing and worked them into the flywheel model that emphasizes the delight phase "to help, support, and empower customers to reach their goals."
Until 2018, HubSpot focused on the Marketing Hub and Sales Hub to support the attract and engage phases, but we didn't necessarily have technology from HubSpot that would allow us to excel at the delight phase. Sure, we could pull in a third-party tool that might help, but it wasn't as streamlined as we wanted.
That changed with the launch of Service Hub in 2018, and has changed yet again with the Hub's relaunch now in 2022.
Here's what you need to know about Service Hub then and Service Hub now.


What is the HubSpot Service Hub?
The HubSpot service hub is a modern customer service system with the tools you need to interact with your customers and resolve their issues. The HubSpot service hub offers a suite of tools, including chat, tickets, knowledge base articles, surveys, and reporting. Learn how each of the following helps you provide the best customer service possible:
Chat: Your customers don't want to wait on a phone line, and they certainly don't want to send an email into the support black hole. The faster they can get help from you, the happier they will be. The HubSpot service hub is supported by your chat function, which gives customers immediate support. More than that, HubSpot offers bot capabilities that can streamline and automate your chat support. This can be helpful if you have limited staff or if you aren't available 24/7.
Tickets: Not every situation can be fixed through a quick chat. That's why tickets exist. If your customer has an issue with a bug or wants to share a feature request, this is one of the best ways to handle that situation. Tickets allow you to organize your requests and answer them in a timely manner.
Knowledge Base Articles: Just because you can answer a chat quickly or log a ticket doesn't mean that you should answer the same question or log the same ticket over and over. If you have the same issue or question arise repeatedly, HubSpot service hub allows you to resolve it via a knowledge base article. Imagine you're a SaaS company, and you're constantly asked how to add a new user—this is the perfect opportunity for a step-by-step knowledge base article.
Surveys: Over time, customers have become more vocal about the issues they're having with your product or service, but that doesn't mean they're telling you everything—and they're often not sharing what they love! The surveys tool in the HubSpot service hub will allow you to collect information about your customers' experiences. Qualitative and quantitative data from surveys will enable you to turn your customers into true promoters.
Reporting and Feedback: You get clear reporting on your marketing results, but do you pay attention to your customer service in the same way? You should. With the HubSpot service hub, you can collect a mountain of customer service performance data. Imagine tracking your ticket volume, response times, response rates, knowledge base usage, and NPS scores all in one place! Actually, don't imagine—just get the service hub.


What's New in Service Hub for 2022?
Help Desk (i.e., Inbox)
Mobile Help Desk (All Hubs): If you use the HubSpot iOS app, you'll be very happy with these updates! Now your users can help customers on the go with:
Expanded integration with the mobile CRM, allowing users to associate contacts to conversations

@ mentions, comments, and email forwarding
All-new design and improved inbox actions
Improved collaboration tools
Efficiency tools, such as inserting snippets and knowledge base articles in replies on mobile
Custom Views (Service Hub Pro & Enterprise level): Have the flexibility to create views in the inbox that will help efficiently get work done. With Custom Views, you can:
Create views based on specific ticket and conversation properties
View, edit, and delete views
Use "and/or" operators to expand or refine your view criteria
Customer Portal (All Hubs): Your customer portal keeps ticket conversations going between customers and reps, offers access to your company's knowledge base, and can be customized to create an optimal customer experience, all while connected to your shared inbox.
Omnichannel Service
Channel Switching (All Hubs): Channel switching allows users in the inbox to switch channels between chat or Facebook Messenger to email on a single thread while preserving conversation history both for the agent and for the end customer. Now you can switch from chat to email, and the customer gets a complete conversation history without losing context.
Surveys
Post-Chat Feedback (Service Hub Pro and Enterprise): Collecting feedback is vital to understanding the customer experience. Support agents will now be able to collect customer satisfaction feedback on their chat conversations directly from within the chat once the conversation has closed.
Custom Surveys (All Hubs): Create custom feedback surveys to send to your contacts. These surveys can have custom questions and options including star ratings, radio selects, and single-line text fields.
End-User Features
Service-level agreements, or SLAs (Service Hub Pro and Enterprise): These are a core feature in a modern help desk, and HubSpot is launching the most requested functionalities, including
Working hours
Time to first response
Time to close SLA
Reporting
Automation
UI improvements to visualize SLAs
Service Analytics (new reports) (Service Hub Pro and Enterprise): Uncover key insights with industry-standard out-of-the-box reports that help you deliver service that is both efficient and authentic. Service analytics comes with the reports you need built-in, so you can unlock insights fast and resolve customer problems even faster.


3 Reasons Businesses Need the HubSpot Service Hub
First and foremost, customers have changed their expectations. People used to be willing to wait on a customer service line for help, albeit begrudgingly. However, customers have become used to a world full of immediate gratification where problems get solved fast and communication happens instantaneously.
Your customer gets messages from their friends and family quickly and this has them wondering, "Why do I have to wait so long for a response from someone I give my money to?" The HubSpot service hub offers a variety of ways to efficiently respond to your customers' needs.
Second, customers used to need you to complete their purchase. Now, they talk to their friends, family, and colleagues when they make a purchase. Unsurprisingly, they trust other customers far more than they trust you. This is why it's crucial that you provide exceptional customer service—your customers are your best salespeople! You need to keep them happy so they will promote your brand.
Third, and finally, the service hub allows you to pull all of your data under one roof. This allows you to modify messaging based on customer service events. For example, if your customer submits a ticket, do you think this is the best time to send a promotional email to them? Should sales be reaching out for an upsell? Of course not! In streamlining your marketing stack, you'll be able to leverage your customer service data to market and sell more effectively.


Who Needs the HubSpot Service Hub the Most?
Given the three reasons above, we can see that almost any business can benefit from the service hub. That said, there are a few companies that can benefit the most.
The first type of company is the small company that is growing fast. Often, companies will go for a while without giving much thought to customer service—they're too hungry for new customers to split their focus. However, every quickly growing business will hit a breaking point where the customer demand outpaces the system in place to handle it. Unfortunately, many businesses don't see this coming and don't modify their system in time. Customer service solutions go overlooked until it's too late. If you're seeing massive growth, but have no technology in place to manage customer service, you're going to want to get the HubSpot service hub.
The second type of company is any organization with a recurring payment model. In this situation, customer service is the core of your business. You don't hit your revenue goals by selling the customer the first few months of your product. The majority of your revenue is earned by providing incredible service that keeps your customers paying for years to come.
Third, and finally, the service hub is a perfect fit for businesses who are already using the sales and marketing hubs. As previously discussed, you can modify marketing and sales messaging based on customer service data. This provides an even more personalized experience for your customers.
With even more features currently in beta for HubSpot's Service Hub, this is the perfect opportunity to streamline your tech stack and better align your organization's revenue operations. More importantly, it's a prime opportunity to prioritize your customers' experience with your brand and accelerate your flywheel on a path of growth.

This blog was originally published in 2018 and has been updated since.
About the author
Caleb Malik is a Sales Executive at SmartBug Media. Although he now works in sales, Caleb has an extensive background in managing digital strategy and inbound marketing, including SEO, paid media, content creation, analytics, and more. Read more articles by Caleb Malik.
Subscribe to get our new blogs delivered right to your inbox
Other insights you might like