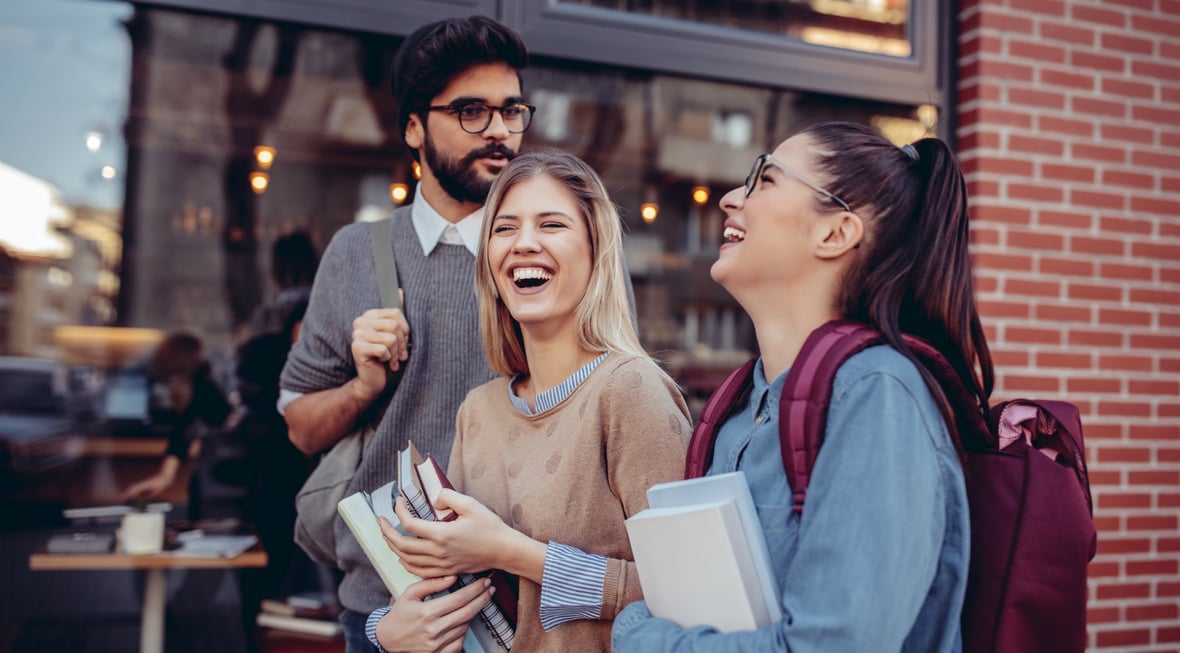 How to Increase Customer Loyalty: 5 Customer Retention Strategies
July 31, 2020
---
One of my biggest responsibilities as a marketer is to help generate new leads for clients.
I would venture to say that 90 percent of all conversations I have with clients are about developing a piece of content, a new landing page, or some other piece of content that needs to help drive new leads.
But what about current customers?
Consider this scenario: Have you ever ordered food for pickup or ordered ahead of time through an app, only to show up and see someone walk in and get their order ahead of you?
If you have, you know that it's easy to feel frustrated. You held up your end of the bargain as a customer by calling ahead or using an app to place your order, but somehow, something was missed and when you arrive, your order isn't ready—someone who just walked in gets theirs first.
A single interaction like this may not be enough for someone to choose another business, but over time, these events can drive customers to spend their dollars elsewhere.
Today, customers expect to be heard, their time to be respected, and their dollars to be valued. This means that your marketing and customer service teams need to do everything in their power to create remarkable experiences that make people never want to leave.
In this blog, we look at five customer retention strategies that you can implement to deliver more value to your customers and increase customer loyalty.

1. Quit Selling and Start Educating
What do you do when you first earn a new customer? Do you celebrate the new sale or account and look for upsell opportunities, or do you try to create a remarkable experience for that customer?
In my experience, too much emphasis is placed on earning the sale or generating a new account, and not enough emphasis is placed on educating customers about a product, what they can expect, how to address challenges, and so on. But with the right approach, you can actually make customers feel excited about their purchase and create a remarkable onboarding experience.
Recently, I ordered an expensive toy that gave me apprehension upon ordering—but the first email I received effectively relieved me of any buyer's remorse or anxiety.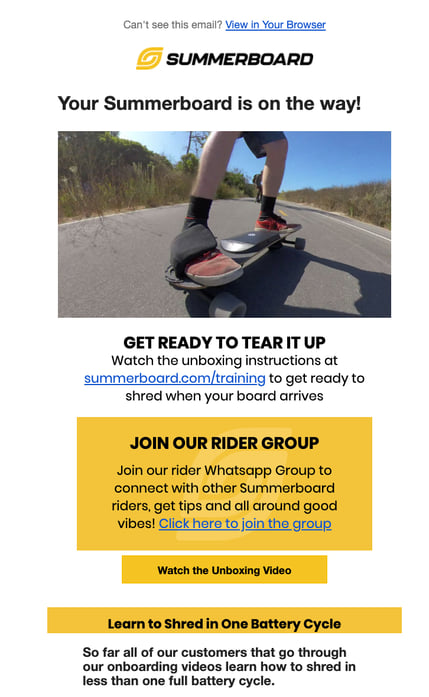 By simply educating me and welcoming me to Summerboard's rider group, the email made me immediately feel included by the community. I gained confidence knowing that the company was welcoming me and trying to make sure I hit the ground running (or rolling).
But even better than the welcome email was the onboarding experience. With a full page dedicated to teaching me how to use the product, where to start, and challenges for riders to tackle, Summerboard creates a classroom-like feel that makes me want to learn to use the product. Given that its product can take folks anywhere from one week to three weeks to learn, this page is incredibly useful because it keeps people committed to learning.

As you think about the products and services that your organization offers, question how you are welcoming in new customers and educating them about what they can expect from your product.
Do you have a dedicated onboarding page or someplace where new customers can begin learning about your product, ask questions, and begin building up confidence so they feel enabled?
If not, consider developing one to give new customers a quality onboarding experience. One CX Solutions study found that providing information about how to avoid problems or get more out of your product creates a 32 percent increase in likelihood that the customer will repurchase or recommend a product.


2. Knock Customer Service Out of the Park
Most organizations know that they need a customer service team, but few truly master the experience.
How effectively does your team resolve customer complaints? Do you require multiple conversations and touchpoints with your customers to address an issue, or do you make handling issues easy for them?
Although the speed of resolution is certainly important, customers care more about how easy you made it for them to resolve their issue. According to Gallup, a brand that is "courteous, willing and helpful" is nine times more likely to keep a customer engaged. Speedy service, on the other hand, only accounts for a six times greater likelihood of satisfaction.
The example below shows an interaction I had with one of my favorite clothing companies. The incredible, comfortable clothing has me hooked, but it's the company's customer service that has always stood out to me—even from my first order.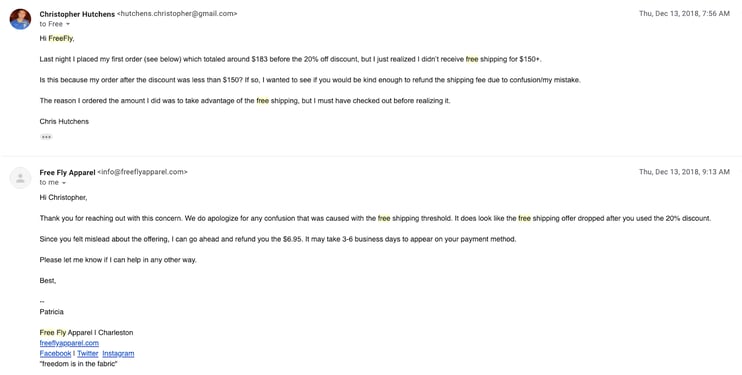 See how courteous, willing, and helpful they were? With no real questions asked, they resolved the issue quickly, which makes me confident that they will be helpful in the future. This has, unsurprisingly, resulted in more orders from me over the years.


3. Give Customers a Consistent Way to Leave Feedback—Then Learn from What They Say
How often are you gathering feedback from your customers?
In my experience working with clients across all different industries over the years, only a handful of them have an established customer feedback loop. This is one of the biggest areas of opportunity across any organization.
With a reliable customer feedback loop, you can learn:
What your customers are saying about you

What challenges they are having that aren't being addressed by your website or customer service team

What values and beliefs are important to them

What words and phrases they use that you can leverage in your content marketing and SEO strategy

What's missing from your current offering, or what they would like to see in the future
Below is an example of a follow-up email I received after placing an order. The company immediately wanted my feedback and were even willing to pay me (with a discount) for it.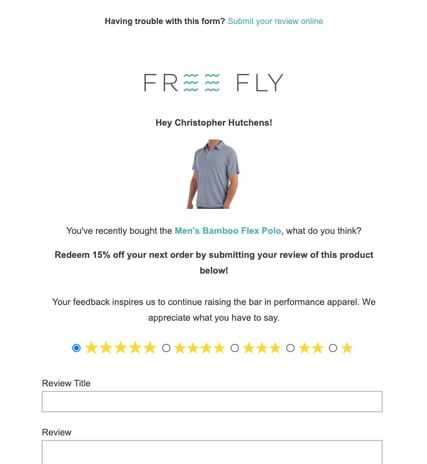 Follow-up emails after a purchase are one of the best ways to gather immediate feedback, and they can help your company quickly make adjustments as needed.
Remember: You can't improve what you don't measure. Listen to your customers, learn from them, and make continual iterative changes to support both them and your future customers.


4. Surprise Customers with Small Tokens of Appreciation
Everyone likes a good surprise and this is no different when you're a customer of a brand. Think of your customers as your closest friends: How are you treating them and showing your appreciation for them?
If your customers were a bank, are you only withdrawing from them and paying fees, or are you making deposits?
If you only try to upsell, get more money from customers, and never make a deposit or show your appreciation to them, what value are you bringing to them for being a continued customer?
Every company can find ways to reward customers with tokens of appreciation and create customer loyalty. Here are a few examples that can help you create more loyal customers:
Send a welcome gift when someone purchases your product or software.

Introduce a customer rewards or membership program to give discounts for frequent purchases.

Send small discounts or promo codes.

Surprise customers with some kind of reward for leaving a positive review.
5. Stand for Something: Create Advocates Who Share Similar Values
According to a study done by the Corporate Executive Board, only 23 percent of consumers have a relationship with a brand. On the flip side, 64 percent of consumers who have a relationship with a brand said that shared values were the primary reason for them choosing a brand.
Why is this?
The answer may lie in a psychological principle called implicit egotism, which is a phenomenon that helps explain why people prefer companies or products that resemble them or their own beliefs in some way.
Patagonia is a perfect example of a company that shares its beliefs and principles with customers, with the goal of building a community that goes beyond hats and outdoor gear. Below is the activism page on patagonia.com, which you can see front and center in their navigation.
By sharing principles such as saving the planet, fighting against oil drilling, and reducing carbon emissions, Patagonia makes clear what it stands for and then takes actionable steps as a company to support those principles.
These efforts from Patagonia have helped create a rabid customer/fan base that not only enjoys quality clothing but also feels good about the company and what it stands for.

Conclusion
Every organization wants new customers, and although this is a great goal to have and important for future company growth, you should always be thinking about how to deliver more value to current customers.
Your product and customer service team isn't perfect, so how are you adapting, changing, and enhancing, and perfecting the customer experience based on what you know?
Answering this question will help improve your customer retention strategies over time.


About the author
Christopher Hutchens was formerly an E-commerce Marketing Strategist at SmartBug Media based in Salt Lake City. Originally from Chicago, Chris graduated from Mizzou and worked in Columbia, Missouri as an interactive project manager for five years before coming to SmartBug. Outside of work, Chris loves to travel, snowboard, and play/watch basketball. Read more articles by Christopher Hutchens.
Subscribe to get our new blogs delivered right to your inbox
Other insights you might like