Over two years ago, I wrote a blog post on how to do a webinar with HubSpot and GoToWebinar. I am a huge fan of GTW, and given its native integration with HubSpot, it is always my first choice for webinar technology.
However, if budget is an issue, my recommendation would be Zoom. The connection to HubSpot is not native, but you can set up the integration by hand, which is what I'm going to walk you through today!
1. Have accounts at HubSpot and Zoom
It's always good to start at ground zero. You'll need accounts at both HubSpot and Zoom to make this work.
If you have multiple Zoom accounts at your company, your internal Zoom administrator will need to assign the webinar plan to the person setting up the webinar (probably you). See this article.
2. Set up the integration
(You only have to do this once.)
Log into HubSpot and go to the account menu (your picture and down arrow) and select "Integrations". On the left-hand menu, click the link that says "HubSpot API key." Click "View key" and then select and copy the key to your clipboard.

Now you need to log into Zoom and go to "Integrations" on the left-hand panel. (If you are not a Zoom administrator, you'll need to have him or her do this part.) Click "Configure for HubSpot," paste the API key, and click "Save." This process is documented in Zoom's integration documentation.
3. Create a new webinar in Zoom
Okay, now it's time to schedule your webinar in Zoom. Log in to Zoom, click on "Webinars" on the left-hand side and then the blue "Schedule a Webinar" button at the top.
Enter the title of your webinar, the date and time, and timezone. (I usually enable a Practice Session here.) Hit "Schedule", and you'll be redirected to the manage page.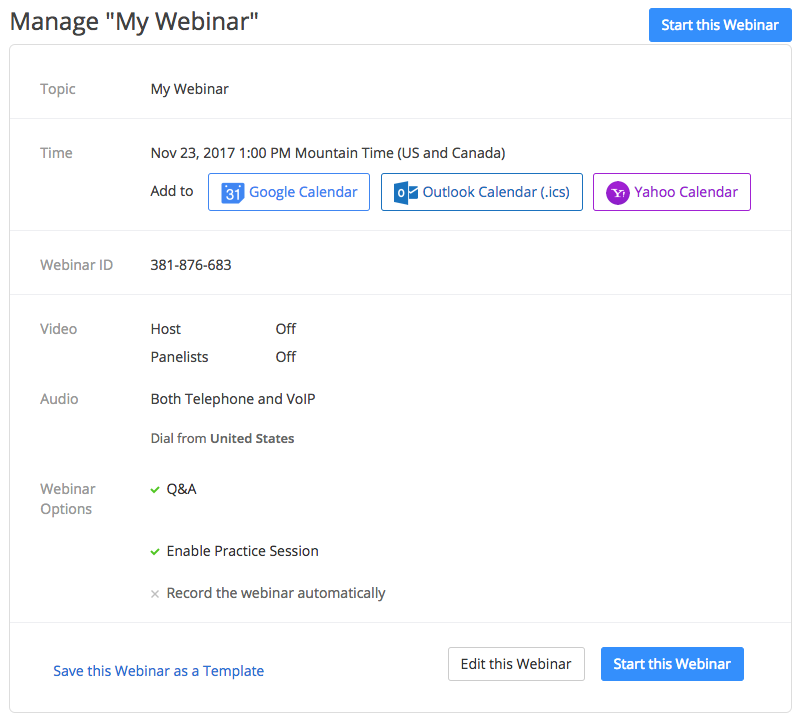 Now you have a couple of choices to make: Do you want to manually approve registrations as they come in? (Most marketers don't want to manually approve registrants, but some companies want to do this extra step to weed out competitors from the attendee list.) And do you want the webinar to be "open" in that registration isn't required and anyone who has the generic link can join? Or do you want to require people to register and receive their own unique URL to join the webinar? (This option gives you better data in terms of audience engagement, polling info, and so on, and is typically what marketers use.)
These options are under the "Invite Attendees" tab in the "Approval Section." Click on "Edit."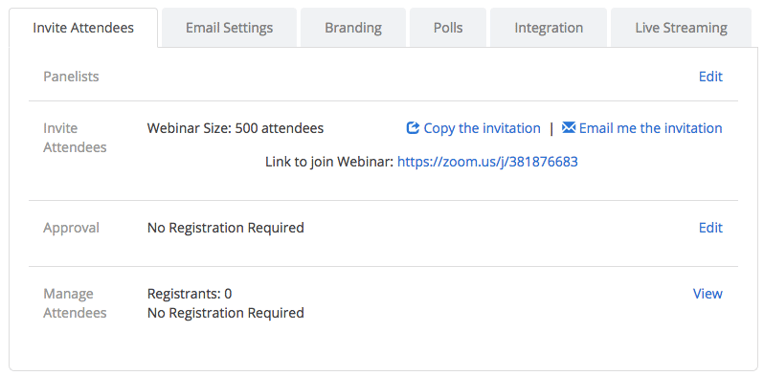 You'll get a dialog box like this: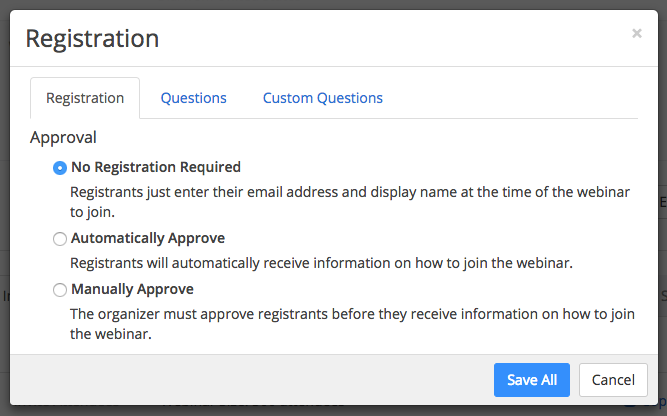 All three options will work with HubSpot; you just need to pick which one you want and then click "Save All."
While you're in Zoom, be sure to turn off the Zoom notification email (unless you want those to go out via Zoom instead of HubSpot). Click on the "Email Settings" tab and turn off "Confirmation Email to Registrants." You may want to send out just the one-hour reminder email via Zoom; if so, you'll turn that on here as well.
(You can add panelists under the "Invite Attendees" tab. You can resend or cancel attendees under this tab as well, under "Manage Attendees." Polls are under the "Polls" tab. Branding doesn't matter since we are using HubSpot to register attendees.)
Pro tip: The "Practice Session" option will allow you to log into the webinar an hour early to practice right before the webinar. It will not allow you to practice the day before. To do that, you'll need to create a separate webinar in Zoom for your practice session.
Before you leave Zoom, write down or copy the Webinar ID under the calendar buttons at the top:

4. Create your registration form and landing page
Time to hop over to HubSpot!
If you already have a HubSpot form you want to use to have people register for the webinar (such as a general one for awareness stage offers), you don't need to create a new one. If you have specific questions you want to ask for webinars, you'll need to create a new form in HubSpot.
Then create your landing page and thank you page in HubSpot as you would any other offer.
5. Make a workflow to connect HubSpot and Zoom
Now it's time for the magic. You'll want to publish the landing page and thank you page and then go to workflows in HubSpot.
The enrollment criteria is when someone fills out the registration form on the landing page you just created.
You'll then want to add an action and select "Trigger a Webhook" under "Triggers" at the bottom of the list. Change the method to "POST" and input this under "Webhook URL": "https://zoom.us/hubspot/webhook?webinar_id=xxx-xxx-xxx" where the "x"s are replaced by the Webinar ID from Step 3. You don't need to use authentication.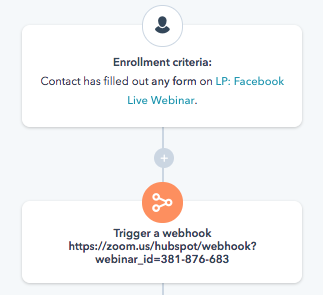 Pro tip: You can see if the integration is working by using the "Test" functionality on your workflow and then going over to Zoom and seeing if the test contact is under "Manage Attendees."


After you run the webhook the first time, HubSpot will have a new field called "Webinar Join Link," which is the person's unique link to join the webinar. This field populates from Zoom automatically when someone registers for a webinar if you selected "Automatically Approve" or "Manually Approve" in Zoom.
6. Create the follow up email
If you want the confirmation email to come from HubSpot (so it can have your branding) and not Zoom, you need to also create that. Note that this email cannot be a "Simple Follow Up" email sent via the form; it needs to be an "Automation" email. Learn how to do this here: https://knowledge.hubspot.com/articles/kcs_article/email/how-do-i-make-an-email-automated-for-adding-to-workflows.


Pro tip: It's easier and less set-up to have the confirmation emails come from Zoom instead of HubSpot, and the Zoom emails have calendar invites, which HubSpot does not support. However, the Zoom emails do not have your branding, so that's the drawback.

When drafting your confirmation email, you'll want to include their unique join link by inserting the "Webinar Join Link" personalization token. In your email, this will look like: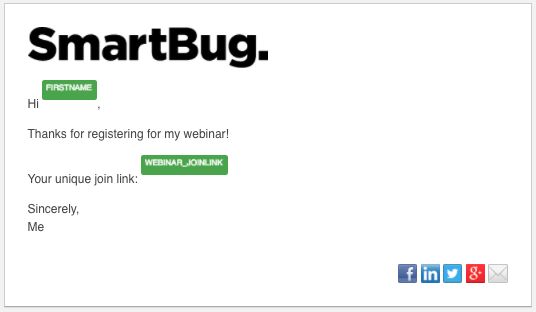 Most email clients will recognize this token as a link, but to be safe, you should click on the token, then the link icon, and add this under the link URL: .
Note: It's important to understand that this field updates when someone registers for their second or third webinar with your company. Practically, this means that the unique join link only works if you only have one webinar going on at a time. Concurrent webinar promotions means that people can't register for both. If you are promoting two webinars at once, I recommend using the Zoom emails and not HubSpot or not requiring registration to attend.
Pro tip: I have seen the API not work on just a couple of contacts out of nearly 1,000 registrations so that the unique join code field is blank. If this makes you nervous, use the Zoom emails. Another option is to make the default value of the Webinar Join Link be something like: "ERROR—your join link could not load. Please contact us ASAP."
If registration isn't required for your webinar, you'll want to get the generic join link from Zoom to include in your email. This is under the "Invite Attendees" tab.
Publish your follow up email.
Then head back over to your workflow from step 5 and add a delay of five minutes (for HubSpot and Zoom to sync) at the bottom and then add an action to send your email confirmation.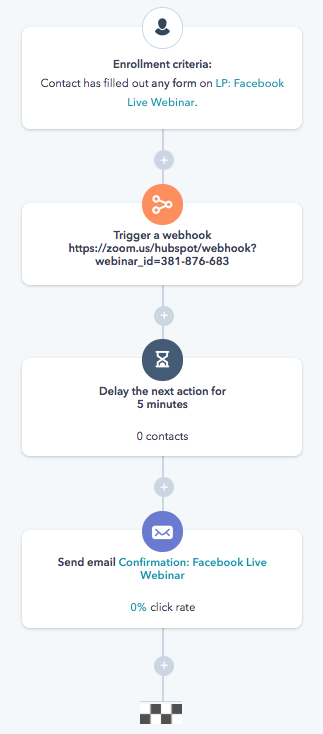 7. Create your email invitation
You can now create a promotional email in HubSpot with your branding to invite people to the webinar. Simply include a link to your landing page, and you are good to go.
8. Manage registrations
To see who has registered for the webinar, simply create a Smart List in HubSpot with the criteria of anyone who filled out the form on your landing page. Use this list to exclude people from future webinar email promotions (since they already signed up).
You can also see this list in Zoom under the "Invite Attendees" tab, which is where you can cancel a registration or send a confirmation email on a one-off basis directly from Zoom.
9. Conduct the webinar using Zoom
You'll need to log back into Zoom in order to start the webinar on the day of the event. Zoom has most of the features you'd expect in terms of Q&A, polling, panelists, and so on. Learn more about Zoom webinars here. (P.S. Zoom has an option to livestream your webinar on Facebook!)
And learn more about how to put together a kick-butt webinar in my e-book: The Marketer's Guidebook to Hosting a Webinar.
10. Export report from Zoom and import to HubSpot
After the webinar is over, Zoom will create a few reports, which are available under "Reports" (left-hand menu) and then "Webinar". All of the contacts are already in HubSpot (they registered there after all), but Zoom does not tell HubSpot if someone attended or didn't attend, which is important for your follow-up emails.

The Attendee Report in Zoom will give you the attendance statistics you'll need. (You can also import the Q&A or polling questions, if you want to, which would go into custom fields.) The Registration Report isn't really needed since most of this data is in the Attendee Report. The Performance Report is good to have for your files, but there is nothing in this report that you need to upload to HubSpot.
You could split the Attendee Reports into two lists (attended, and registered but didn't attend), or you could create one new field that indicates someone who attended this webinar or someone who registered but didn't attend this webinar (drop-down or radio select). As you have more webinars, you'd gradually add one new field for each webinar so that you can make lists easily and cross-reference contacts with ease.
Once you import the list(s) into HubSpot, you're ready for the final step.
11. Follow-up email and recording
You recorded your awesome webinar, right? If so, you'll want to make that recording available on a thank you page and make a new landing page (or modify the old registration page) to access the recording.
Then, you can send out follow-up emails to all attendees and non-attendees. Check out my blog post on doing this using smart content.
And don't forget to set up a lead nurture stream for the leads your salespeople say need a bit more nurturing!
---
Whether you're using Zoom, GoToWebinar, or
BrightTALK
, webinars should be a key component of your content marketing strategy. Getting the logistics working is just one aspect. Make sure your event is an attraction magnet by
determining the right topic(s)
for your event. Then you'll have all the pieces needed for a successful event!