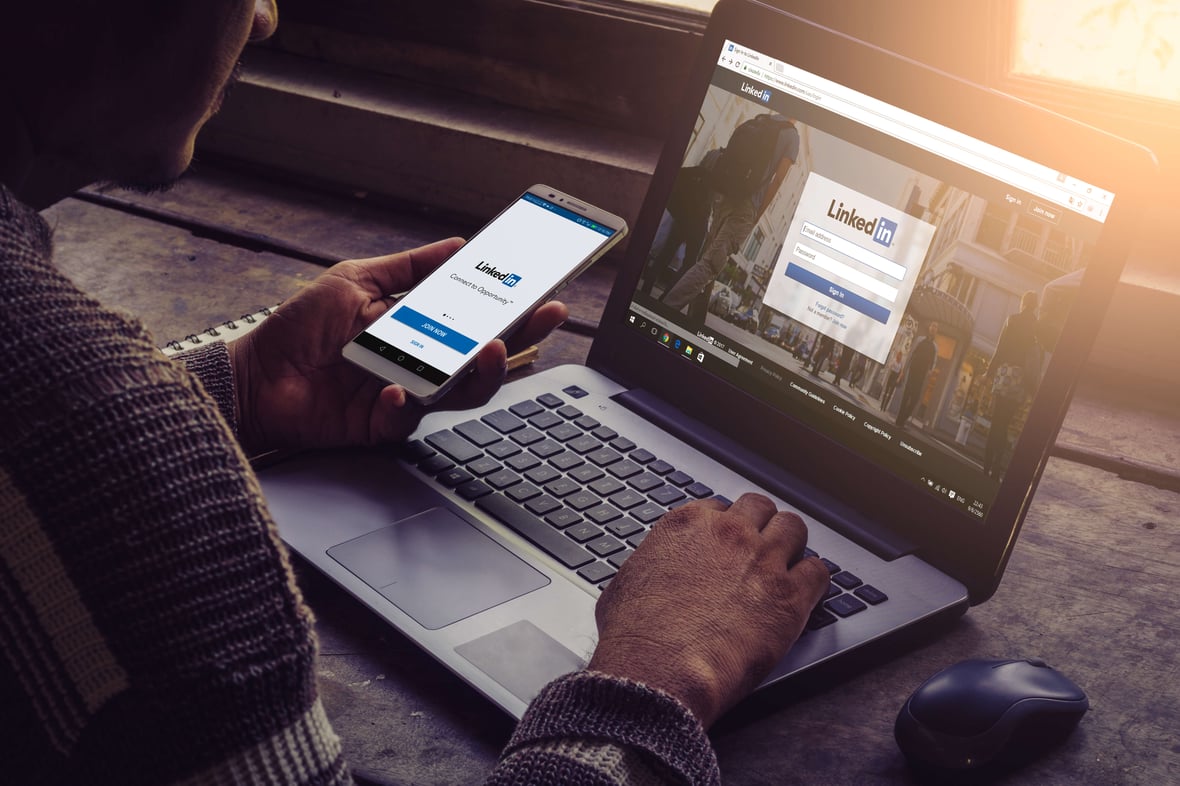 By Sofia Pompeo
Every second, three new professionals sign up for LinkedIn. Wow!
That's very impressive—as are other LinkedIn statistics—but it's important to note that the efficacy and frequency of using LinkedIn can vary dramatically from person to person and company to company.
The popularity of marketing and using LinkedIn for business has increased steadily over the years, but it can still be a difficult channel to navigate for those who are unfamiliar with the platform. Using LinkedIn can help you build out your network, improve brand awareness, and boost leads and conversions.
This article will break down some best practices for each topic and offer some tips and tricks to help you get the most out of your LinkedIn efforts, centered on the four primary aspects to on when starting a LinkedIn marketing campaign:
Personal LinkedIn profiles
Company LinkedIn pages
Personal LinkedIn Profiles
When was the last time you updated your LinkedIn profile?
Chances are, it was the last time you were looking for a job. Many people (marketers included!) forget to regularly update their LinkedIn profile until they have some reason to use it.
Keeping your LinkedIn profile professional and current can help with your marketing efforts, however, because it is a reflection on not only you but also your company.
Here are some quick tips to optimize your personal profile for LinkedIn marketing:
1. Use a professional photo.
This should be a given, but it is still shocking how many people have unprofessional photos (or no photo at all) on their LinkedIn profile.
You don't need to pay for professional photography to get a good shot, but the image should be high-quality and not pixelated. Your appearance should be neat and professional for your industry, and the lighting in the photo should be flattering.
2. Keep your profile updated.
If the last time you updated your profile was five years ago when you switched jobs, it's definitely time to give your details an update.
If you keep your profile filled out and up to date, you'll look less spammy when you're engaging with people or LinkedIn groups as part of your marketing efforts. Make sure each section is filled out and current with your current job, skill set, and any other professional details.
Consider adding a header image, listing certifications, and sharing your portfolio or website if relevant.
3. Connect with the right people.
Connections are an important part of LinkedIn marketing. You should build relationships with people in your network!
When you share, like, or post content to your personal page, your connections and followers will be able to see and share those posts in return. This can help drive traffic to your blog, promote a new e-book, or allow connections to see an interesting article or piece of news.
That being said, throwing out connection requests left and right will make you look like a spammer or a fake profile and deter people from connecting with you. If you do want to connect with people you don't know or are unfamiliar with, tell them why in your connection request. This can be anything from looking for local networking opportunities to letting them know you follow and enjoy their blog.
4. Encourage your coworkers to optimize their profiles as well.
While marketing and sales employees are usually leading the charge, getting other employees engaged in your efforts can be beneficial to your LinkedIn marketing efforts as well.
Engineers and technical staff can bring a breadth of knowledge to discussions or promote themselves as thought leaders in your industry, while your CEO or other executives can help raise brand awareness and promote your company on a higher level.
5. Take advantage of posting your own articles.
Creating and posting an article from your LinkedIn is a great way to position yourself as a thought leader, get more followers and connections, and boost your marketing efforts. Articles are displayed in the "Activity" section of your LinkedIn profile and will show up in your connections newsfeed or sometimes through notifications.
If you currently have a blogging strategy in place, consider diverting one or two posts a month to LinkedIn. You can embed relevant links in your post to lead readers back to your website, increasing your traffic and promoting your lead generation efforts if you divert them toward gated content. Become an active participant on LinkedIn—join groups, engage with your connections, and post quality content.
6. Join and use LinkedIn groups
We'll talk about some more specific best practices for LinkedIn groups later in this post, but because you can only post to groups from personal accounts, there's a blurb included in this section as well.
Joining industry-specific or industry-relevant groups gives you an avenue to start discussions, crowdsource sentiment, or ask and answer questions. This can help build your reputation and promote your company, and it allows you to share your content (but do so sparingly).
You should encourage a wide variety of employees across your organization to join LinkedIn groups so that one single person isn't responsible for all the posts.
Company LinkedIn Pages
Company pages are another important aspect of your LinkedIn marketing strategy. This page will represent your company as a whole and can be used for marketing, recruitment, sales, and more. For the most part, the same best practices that you use on your profile page will apply here—with a few key differences.
Here are some tips for making sure your LinkedIn company page is the best it can be:
7. Optimize your page.
Just like how you should optimize your personal profile, you should be optimizing your company page as well. Add a professional image or logo to help with branding and fill out the details section to help people become familiar with your company. LinkedIn recommends updating your cover image at least twice a year. Your images, colors, and content need to align with your website and any other social media profiles your business has.
You can even post careers and news updates to keep people interested in your company and up to date on company news.
8. Share content.
You should be sharing content to your personal LinkedIn page, but you should also be sharing blog posts, e-books, and other content you create on your company LinkedIn page.
When followers see and engage with your posts, it will once again help drive traffic, generate leads, and boost your social reach as your content spreads.
9. Add showcase pages.
If your company is multifaceted, it might be wise to add showcase pages. These pages can help keep your content marketing focused on the right audience.
These pages will show the different subsets of your company and help point visitors in the right direction. This is especially important if you have numerous visitors who are interested in vastly different topics.
Google is a good example. Marketers visiting Google's page might be interested in Google Ads, whereas an IT executive might be doing research by using Google Workspace. The showcase page allows these different personas to quickly find the content they're looking for.
LinkedIn Groups
Groups are one of the most compelling aspects of LinkedIn marketing and can be a treasure trove of resources for those willing to take the plunge.
Not only are groups a valuable marketing tool, but groups can also help you with professional development, networking, and job-seeking. There are countless groups dedicated to every industry, profession, and topic imaginable, so every employee at your business should be able to find a few LinkedIn groups that are relevant to their practice area or job title. Like we mentioned before, you can only join and post to LinkedIn groups from a personal profile.
Here are some tips for using groups when marketing on LinkedIn:
10. Pay attention to the description and rules.
When looking for LinkedIn groups, you might be tempted to join every group you come across. This approach is generally frowned upon, however—and for good reason. You'll want to choose groups based on a variety of factors such as the number of members, the topic, and the rules. Groups with very few people probably aren't very active, and sharing promotional content is prohibited in a number of LinkedIn groups.
You'll want to carefully read the description of each group to make sure you're not infringing on any rules and to make sure it's aligned with your goals for joining the group.
If you're a marketer, you'd want to join groups relevant to your target audience that also allow promotional advertisements or blog posts.
11. Share content (sparingly)
Just like how it might be tempting to join a plethora of unrelated groups, it also might be tempting to post every blog article you write or e-book you create to each group you've joined. This is generally a bad habit to get into for a variety of reasons, but mostly because it makes you look like a spambot. Sharing content to groups is a great marketing tactic on LinkedIn, but there's a fine line between helpful and annoying.
Try to target your content to specific groups that might be interested in it, and don't post there every day. The last thing you want to do is to have people grow tired of you—or, worse, remove you from the group.
12. Promote discussion.
There are a number of ways you can promote discussion, but one of the easiest ways is to do so during your marketing efforts.
Don't just share blog post after blog post to LinkedIn groups; instead, take this as an opportunity to get feedback on your writing and opinions. If you're sharing a list-based post, ask readers if there are any other features or items they'd add to the list. If you're blogging about a new product or technology, ask for opinions on it. These will not only give you opportunities to reflect on your blogging but also let you see how it resonates with your target audience.
Additionally, you can use LinkedIn groups to ask questions of other users. If you're struggling with a certain aspect of marketing, it might be beneficial to ask for tips or to see if anyone else had trouble with your particular issue.
Paid Advertisements
Paid advertising is one of the most interesting marketing features on LinkedIn.
There are a few different options depending on your needs and goals, including Sponsored Content, Message Ads, Dynamic Ads and Text Ads. These ads allow you to target your audience based on the wide breadth of demographic data that users provide LinkedIn with, making them a powerful addition to your LinkedIn marketing efforts.
This is another reason why it's so important to optimize your company page, seeing as how paid advertisements can direct traffic back to your company page and drive brand awareness.
A few best practices to keep in mind when advertising on LinkedIn:
13. Write compelling copy.
Like any paid advertisement you've created in the past, LinkedIn ads perform best when there is compelling copy involved.
Even though space is limited on advertisements, you'll want to make sure that everyone who sees your ad has a clear idea of what value they're getting by clicking on your ad. Vague wording will often drive readers away and prevent you from getting your desired click-through rate.
14. Include a call to action.
It's imperative to include some sort of call to action (CTA) in your advertisements. This should be common sense to any marketer, but it can be easy to slip up once in a while.
Whether you're offering an e-book download, a free trial, or a coupon code, it's important to tell readers why they should click on your advertisement.
What value are they getting out of this offer? It's your job to tell them.
15. Choose an engaging image.
Bright colors can draw the viewer's eye, but neon orange and bright pink might not be the best choices in ad colors.
Make sure your image looks clear and interesting when you preview your ads. Low-quality images or pictures with text can come across as pixelated and unprofessional if you're not careful; images that are too busy can turn off your audience from reading further.
16. Experiment with targeting.
LinkedIn's advertising features offer a wide variety of targeting criteria—so much so that it might be overwhelming when you're launching your first campaign.
You can add filters such as job title, industry, and location. You can even target companies based on their name, if you want to be that specific. It's important to start off with a wide net and narrow it down from there. There are more than 20 different audience attribute categories, so you'll be sure to find something that meets your criteria.
If you're too specific, you can miss out on a valuable audience. However, if you're targeting too many people, you could waste your ad spend on clicks from unqualified or uninterested users. It can be a tricky line to walk, so it's important that you regularly review your campaigns and experiment with different audiences to see which options perform best.
17. Optimize often.
Just as you should review and alter your target audience, it's important to review your overall campaign and performance.
LinkedIn marketing is just like any other channel or campaign in that you should be regularly updating, testing, and optimizing your ads to make sure they're performing to the best of their ability. You can make all of these tweaks in LinkedIn's Campaign Manager, which streamlines all of your marketing efforts. Take a peek at your campaigns overall impressions, clicks, social actions, and budget on a daily/weekly basis.
Try switching up copy, CTAs, or images from time to time to make sure that a particular aspect of your ads isn't hurting its performance. You can also experiment with different offers or products. Just because one e-book doesn't perform particularly well, it doesn't mean that your next e-book won't have stellar results.
Final Thoughts
Though LinkedIn marketing is multifaceted and nuanced, the above are some tried-and-true best practices you can follow so you're getting the most out of it. Hopefully, this list has given you better insight into how to navigate LinkedIn and why this platform is so critical for marketers.
Whether you're using paid advertising or simply promoting your blog posts to groups, LinkedIn can provide you and your company with meaningful opportunities to create awareness, generate leads, and increase traffic—whatever your goals may be.
This blog was originally published in November 2016 and has been updated since.

About the author
Sofia Pompeo is an Account Manager for SmartBug. She has had previous experience providing marketing solutions for clients in different industries, developing and executing social media content, and implementing inbound marketing campaigns. She really enjoys utilizing every aspect of HubSpot. Read more articles by Sofia Pompeo.
Subscribe to get our new blogs delivered right to your inbox
Other insights you might like