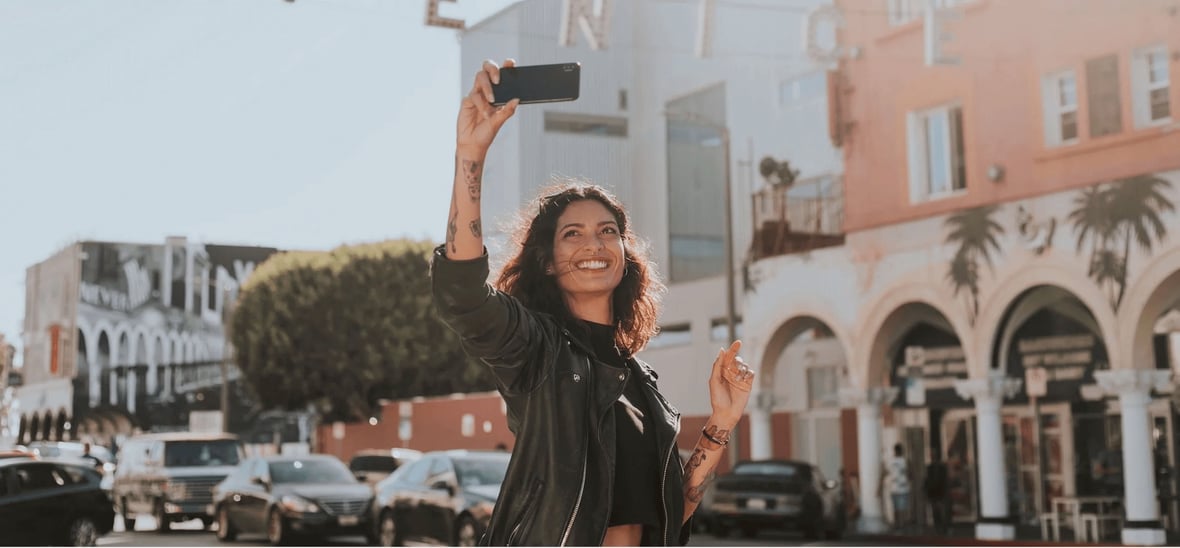 A Marketer's Guide to Launching a Facebook Live Campaign
March 24, 2020
---
By Natalie Boyd
We've all had the notifications pop up on our phones when a friend decides to share a moment in real time—but is your brand utilizing Facebook Live to its full marketing potential to stand out in the noisy digital space? Whether your business is B2B or B2C, there is a multitude of potential with Facebook Live.


What Is Facebook Live?
Facebook Live is exactly what it sounds like—it's a feature on Facebook that allows you to live-stream videos on your Facebook page and engage with your followers in real time. Facebook launched the Live feature in 2016 to stay competitive with Periscope and YouTube and other platforms where users can go live. Facebook has been taking great strides to help marketers be successful on the platform—consistently rolling out new features to help you spread your message even further.
Facebook's goal is to keep people on the Facebook platform. It wants people to utilize video there and stay engaged. Knowing that Facebook is putting so much weight behind this platform presents a big opportunity for brands. Facebook is going to build that real-time audience for you with people that are already following your page, and it's going to go that extra mile for you to make sure you're grabbing people's attention.


Why Is Facebook Live Good for Business?
People like interactive content; they like to engage directly with brands. They like to know that their voice is heard, and they want to be able to ask questions and get back-and-forth engagement. After all, that's how we create relationships.
With Facebook Live, businesses have the ability to create authentic, relevant content that shows the people behind their brands, rather than the cold, sterile advertisements of the past.
Another reason why Facebook Live is good for business is because you can reuse the video in different ways. You can take the audio portion and use it as a podcast. You can take stills of the video and make a blog post or a blog series. You can create an email campaign. You can also use the video as a boosted paid opportunity, get more views, and continue to grow your audience. As you can see, you can repurpose that content and have it continue to work for you even after you've gone live.
Is Facebook Live for B2C or B2B?
Facebook is both a B2C and a B2B platform. There are different ways you could use Facebook Live to be successful.
For B2C, you might want to think about event marketing if you have a particular event going on, or you could go behind the scenes to announce a new product. Newsjacking works well for B2C and any national occasions. For example, say you are a food brand, like Whole Foods, and Mother's Day is coming up. You could share some Facebook Live videos of how you use recipes with ingredients at your store.
As far as B2B, there are some overlaps with events or behind the scenes, but think more along the lines of announcements—maybe big things are happening in your company. Perhaps you could do a live product demo. Go ahead, do one live, and see if you get real-time engagement. Then promote any other marketing events that you have going on, such as trade shows.


Planning Your Facebook Live
Just like with any other event, you need to have a game plan and answer these questions:
What are you going to talk about?
What is the goal of this event?
What is your call to action after the video?
You'll need to draft a basic script, know exactly what you're going to say. You don't need to write out specific lines, but you should have an agenda and know what's going to happen. A lot of people will just go live, but it's hard to be live for at least five minutes when you don't know what you're going to talk about.
Next, you need to decide when you're going to go live. If you go into your Facebook company page's insights and click "find posts," you can see when your audience is usually on Facebook. There's no need to try to drag them onto Facebook when they're not there, so schedule a time when most of your audience is online. Then, you'll need to decide on a device. You can go live via desktop, tablet, or mobile.


How to Schedule a Facebook Live
You have the option to schedule your event so your followers will receive a reminder notification. Take the following steps to schedule your event:
On your home tab, click on "Live"
Click "Schedule a Live Video"
Choose a date and time
Add a title and a description for your broadcast (Make it compelling and tell your audience exactly what they're going to get out of your broadcast.)
Add an image
Review your settings
Click "Schedule Live Video"
Once everything is scheduled, you'll see the reminder come up on your Facebook page that you plan to go live.
About 10 minutes before you're scheduled to start, you and your audience can sit and talk to each other while they wait for you to officially go live.


Marketing Your Facebook Live
Now you need to market your event. Put some effort behind it. Don't just go live for the sake of going live. Tell your audience what they'll get out of this experience. Post on social media at least two weeks before the event across all of your social platforms.
Send at least one email and a reminder the day before. You can also send a promotional email and share with your audience what they're going to get out of the Facebook event. Be sure to include a calendar invite with a link to your Facebook page because they will not get a link like they do with a webinar. You can also do a countdown to the event on Facebook before you go live. We like to do one about every two hours to build excitement.
Boosting a Facebook post is recommended, but you cannot boost the scheduled reminder. You cannot boost anything until after your broadcast ends. However, you can boost a post that links to that reminder or talks about your upcoming live event.


Tips Before Going Live
Make sure you test before you go live. I recommend going live on your personal page or on a page that doesn't have many followers. Make sure you can hear everything well and there are no glitches, especially the first time you go live. Test everything. Make sure you know exactly what can come up and what it's going to look like for you.
Use a tripod or a steady camera. No one wants to get seasick watching you. Make sure your lighting is good. Do a test run in the same room you're going to go live in so you know exactly how it will look. Make sure you have a good internet connection. Watch out for noises and distractions, and plan for the unexpected.
Be natural. People just want to see you. They know you're human. They will forgive you if something goes wrong. Just plan so that you can avoid anything going horribly wrong, and you'll be golden.
Lastly, for reporting, use tracking links to be able to see who's coming to your website, who's a lead from your Facebook Live event, and so on. You want to know if going live was worth your investment, so tag everything and keep it organized.


Tips to Have a Smooth Event
During the event, assign someone as a moderator who can prioritize the questions for you during the event so you're not worrying about checking the Q&A or comments. This enables you to focus on what you're trying to say. The moderator can also share relevant resources while you're speaking.
For example, if you're talking about buyer personas and you have an e-book about buyer personas, have your moderator drop that link in the comments. There are not a lot of opportunities to convert with Facebook Live, but you can create opportunities with your call to action at the end.
Engage with your audience. Don't just talk at them; ask them questions. This is for them. You want to make it a conversation and give a human face to your brand. At the end, encourage your viewers to like and share the video, utilize their networks, and get the video in front of more people before you boost it. You can also ask your viewers to subscribe. If you're doing a series, get them excited about future live events.


After Your Live Broadcast
Once your video is completely done, you'll want to optimize it like any other video that you upload to Facebook. You have the opportunity to edit it and choose a thumbnail that people will see when they're scrolling through their timeline. Select a category and the call to action for your audience at the end of your stream.

Once those things are set, use your tracking link and boost the video. We have seen a lot of success with boosting live videos after the fact. Take the time to add captions, because a lot of people do not actually open the videos. They'd rather read. Facebook has made it a lot easier to add captions; it's not as time-consuming as it was before.
Now it's time to repurpose the video. Write a blog post with the highlights and link to the video. Put it on YouTube, share it on other social channels, use it in lead nurturing or email campaigns. Get the most out of your investment. You've gotten this interaction on social media. Keep using it. Ask your audience questions; ask them what they'd like to see in the future. Keep doing live events. Use the momentum you have and keep rolling with it.


How Do I Know if Facebook Live Is Right for My Business?
Just like with any marketing initiative, whether or not Facebook Live is right for you depends on what your goal is. And it's important to set S.M.A.R.T goals, those specific, measurable, actionable, relevant, timely goals. When it comes to social media, it's probably going to make more sense to center your goals around growing your audience size or growing engagement. You have those UTM codes and you can track things back.


Facebook Live May Not be a Good Fit If:
You struggle with technology: Facebook Live might be a bit more advanced if your team struggles with technology. If you're still learning all the things on the internet, start smaller by recording a video and uploading it. Or start with some social media visual campaigns like pictures on Facebook or Instagram, and work your way up to going live.
Your business doesn't have many followers on Facebook: If you have a small audience and big goals for growth, awareness, or engagement, and you have only five followers, it's going to be hard for you to meet your goals.
You're not comfortable in front of the camera: Going live is a lot of pressure for some people. You have to be comfortable getting in front of the camera. If you haven't had any formal training on speaking or speaking with the media or thinking about things that are important to convey through a live session like this, it might be a big leap for you to jump straight into Facebook Live.
If your biggest priority is to get sales qualified leads: Facebook Live might be something to try in the future; focus your efforts on the things that are going to help you achieve your goals. If you have a little more flexibility or you have a bigger team or you have other resources that you can allocate to Facebook Live, then, by all means, go ahead.
How Do I Measure My Success?
How do you know if you did a good job? Measure outcomes after your event. Perhaps your goal was to grow your page subscribers by a certain percentage, and now you can easily see if you achieved those results. If you shared a guide or an awareness offer related to questions during the livestream, use the UTM tracking from the link you shared to see how many people actually went to that offer and downloaded your guide after your Facebook Live event.
Did any leads come from that? Did you have extra visits to your website after the broadcast? Was that a goal? Are there opportunities to start nurturing those leads along your marketing funnel?
Check back even a week later to see how the Facebook Live video is doing. We've found that as much as a week later, we'll still get views. If people are engaging with it, Facebook will still show it to people. You could have as many as three times the amount of views as you did during your actual live video—so keep looking at those metrics.
About the author
Natalie Boyd was formerly a Marketing Specialist at SmartBug Media with 10 years of experience supporting in-house, freelance, and agency clients. She is passionate about using inbound marketing to help businesses succeed and make meaningful connections with their target audience. Read more articles by Natalie Boyd.
Subscribe to get our new blogs delivered right to your inbox
Other insights you might like