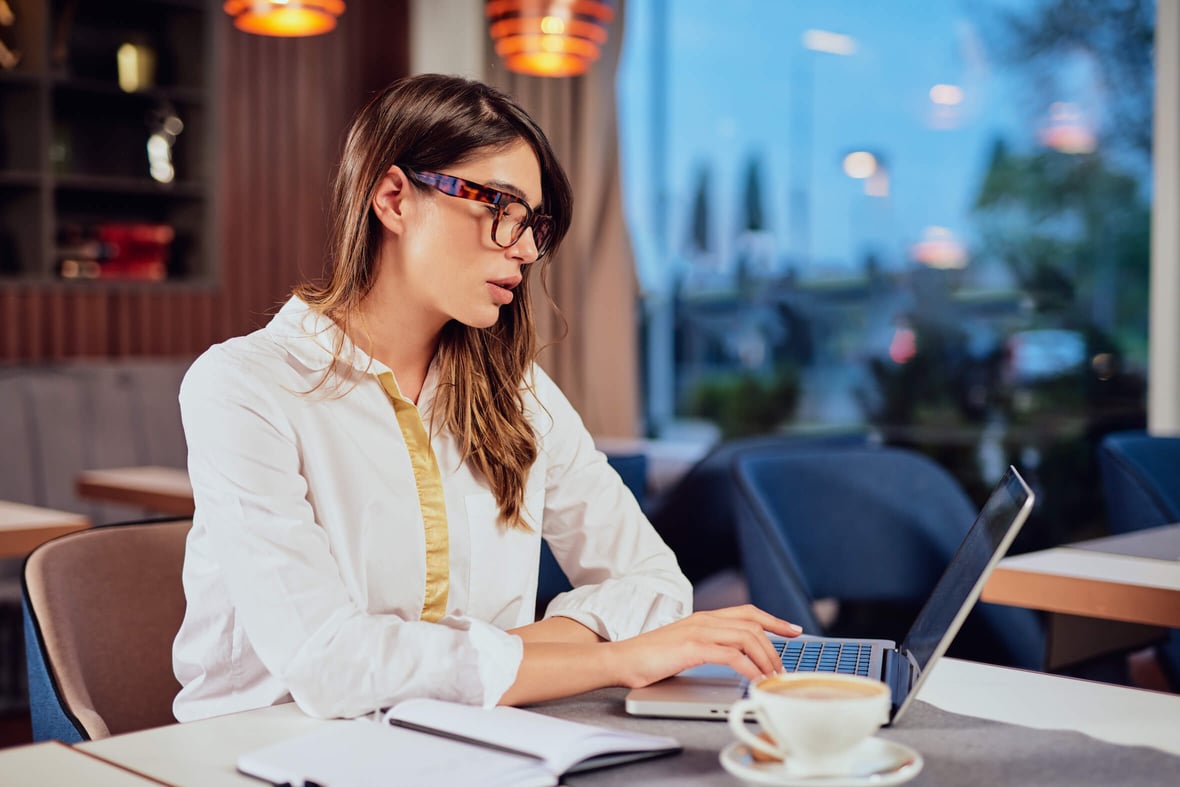 Why Website Copy is Different From Blog or Print Copy
April 9, 2020
---
Website copy, blog copy, print copy—what's the difference? For me, writing concise, snappy web or print copy leaves me feeling like Don Draper (minus the bar cart and cocktails), while blogging (which I've been doing since before blogs were "blogs") leaves me feeling like investigative journalist Bob Woodward.
The differences between web-based writing and traditional writing run deep—and word count isn't the only factor that differentiates web, blog, and print copy. Let's take a look at how writing styles vary from website copy to blog content to print media and how you can put each to work for your marketing strategy.


The Basics of Writing Website Copy
Generally speaking, website copy is written for the awareness stage of the Buyer's Journey and is painstakingly crafted by writers to generate leads. When someone lands on your website, you have mere seconds to capture their attention. Alternatively, PPC landing pages or demo scheduling pages are usually written for the consideration or decision stages of the Buyer's Journey.
Web copy often follows some semblance of a tried-and-true formula, such as Bob Stone's Gem. Bob Stone was a marketing giant and pioneer of the 1970s and 1980s who developed a direct-marketing formula, which works incredibly well for writing website copy. According to Stone's methodology, website copy should take this approach:
Lead with your strongest benefit and explain exactly what the prospect will get.
Back up the benefit statement with proof and tell the prospect what they'll lose if they don't act.
Sum up the most important benefits and provide a call to action (CTA).
Writing web copy can be a stressful undertaking (how do you cram so many ideas and vital components into so few words?), but it can be an artful and rewarding undertaking. A copywriter can spend hours consolidating thousands of words about a product or service, finessing everything into just a few punchy headlines and paragraphs of perfectly crafted, actionable web copy.
The Basics of Writing Blog Copy
Compared to web copy, blog content is much longer. Most blog articles are anywhere from 800-1,500 words, although a HubSpot study found the blog articles that generate the most leads are more than 2,500 words on average. Does the thought of writing 2,500 words several times a week have you in a panic? Pump the brakes!
Although longer content can reinforce your expertise and give you more opportunities for linking and SEO, blog articles are meant to be educational, so don't overwhelm yourself or the reader just to hit a certain word count; it's more important that you help the reader understand or solve a problem. Then, always conclude with a relevant CTA, urging the reader to contact your company, schedule a demo, or download an e-book with more information.
According to HubSpot, 55 percent of marketers say blog content creation is their top inbound marketing priority. Meanwhile, 72 percent of B2B marketers report that having a solid content strategy has been key to their success. Along the Buyer's Journey, blog content is excellent high-level awareness stage nourishment for your buyer personas, who are seeking neutral educational content to determine whether their problem is solvable and what the solution requires.
Of course, blog content can feed visitors at the consideration and decision stages too. According to ZoomInfo, 69 percent of businesses attribute their lead generation success to blogging—and 57 percent have acquired a customer from their blog. However, chances are that the bulk of your blog articles will focus on long-form educational content geared toward positioning your company as an industry expert and leader.
The major benefit of blogging is that it performs incredibly well in search engines precisely because it is longer than website copy. In fact, HubSpot has found that marketers who prioritize blogging are 13 times more likely to see positive ROI—in the form of website traffic, lead generation, and more.
The Basics of Writing Print Copy
Last, but not least, is print copy. Although many marketers and businesses think print is dead, it's actually very much alive. After all, your mailbox is still full of flyers, mailers, and the occasional piece of "real" mail, right? You also still read magazines, newspapers, and so on.
Unlike long-form informational blog articles or concisely written web copy, writing for print media requires a direct, upfront sales pitch approach. This type of copywriting requires a talent for crafting catchy one-liners or short informational blurbs that complement graphics and pictures. A focused CTA is usually the primary focus of print copy, urging the reader to contact a business, buy something, or show up at an event.
By its nature, print copy most closely resembles web copy. But before you copy/paste your print copy onto your website or vice versa, step away from the keyboard. Why? Your web copy should be optimized for search engines and geared directly toward the right buyer personas and CTAs. Chances are your print copy is not as refined or curated, because print materials tend to be more mass market than geared toward carefully crafted buyer personas.


Tips for Writing Marketing Copy
Whether you're a content writer putting together a 1,500-word blog article or a web copywriter penning copy for a new SaaS website, make sure to:
Be consistent. Readers won't notice when your stylebook is applied consistently throughout your website, but they'll definitely notice when it's inconsistent. If you're eschewing the Oxford comma on your blog, make sure the website's copy also leaves it out—and be consistent from post to post.
Keep it simple. Today's readers are incredibly distracted and scan online content rather than read from start to finish. Avoid jargon and throw-away terminology that could encourage visitors to click away. Instead, be direct, authoritative, and confident in your copy and say what you mean.
Compel the reader to act. It doesn't matter whether you're writing copy for your website, blog, or print collateral, your goal should always be to get the reader to do something. If you can deliver a sense of urgency in the CTA, even better.
Create a sense of urgency. More often than not, people act based on an emotional response to what you've written. Try appealing to your readers' emotions by creating a sense of urgency or exclusivity.
Finding the Right Writer
One more thing before you put pen to paper or fingers to keyboard: It's important to know that the best long-form bloggers may struggle with short-and-sweet website copy, while the best web copywriters may struggle to meet the bare minimum word count for a blog article. Other marketing writers are true chameleons (worth their weight in gold) who can transform their style and approach no matter what the marketing asset.
When you're picking a writer for a project, make sure that the writer—and if you're the writer, this goes for you too—is comfortable in the medium and understands what the goals are so they can write the best website copy, blog article, or print collateral possible. Not sure where to find a writer? At SmartBug, we've got the most talented writers in the business. Let's talk about what we can write for you.
This post was originally published in May 2018 and has been updated.

About the author
Chaviva Gordon-Bennett was formerly a Senior Copywriter for SmartBug Media. She graduated from the University of Nebraska-Lincoln with a bachelor's degree in journalism. As a Senior Copywriter, Chaviva writes inbound marketing content for SmartBug's clients. Read more articles by Chaviva Gordon-Bennett.
Subscribe to get our new blogs delivered right to your inbox
Other insights you might like