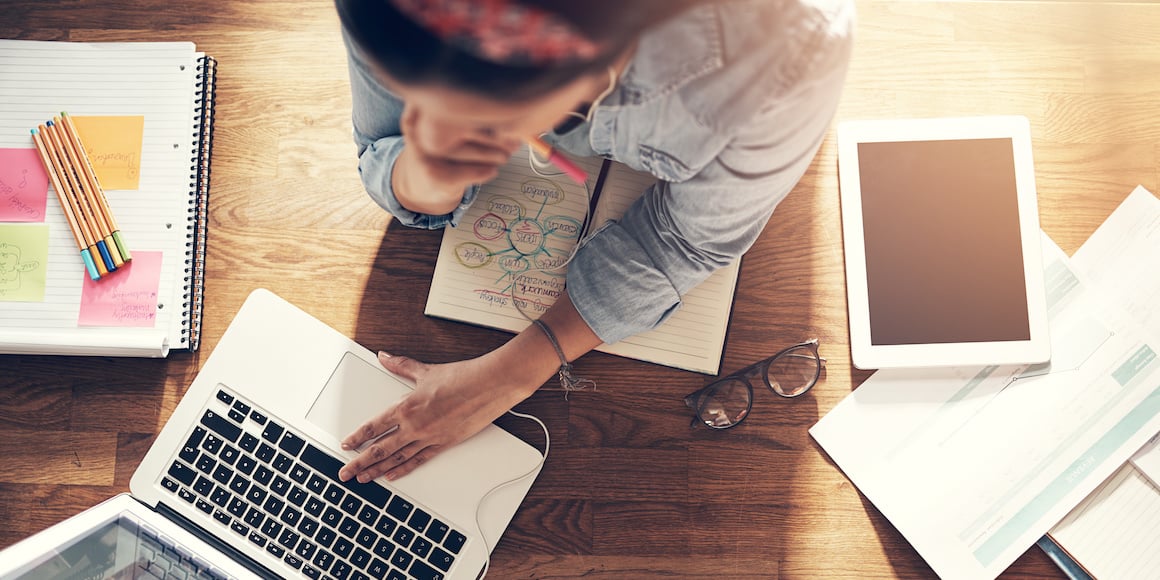 Marketers face many challenges, including the creation of content to engage and delight subscribers beyond general marketing information. It's easy enough to send a newsletter to subscribers to let them know what's happening at the company, but to create impactful content requires delivering relevant information at the right time.
The e-commerce customer journey includes brand loyalists, people who are totally unaware of your brand, and everyone in between. It's your job to deliver content that delights, adds value, and converts at every stage of the journey.
Read on to learn about how to create customer-centric content for every phase of the journey by beginning with a complete understanding of your diverse set of customers.
What Is the E-Commerce Customer Journey?
The e-commerce customer journey, which is also referred to as the e-commerce customer lifecycle, includes five stages. These stages were created based on the psychology and behaviors of prospects and customers in each stage.

The five stages are:
Awareness
Evaluation
Decision
Retention
Advocacy
The content you create for each stage can have a significant impact on your sales and revenue. How? Not only does good content result in sales, but it also creates a connection between the brand and the customer. The right content:
Delights your prospect through compelling content and imagery
Provides insightful information
Moves them through the customer lifecycle faster
For you, this looks like higher conversion rates, increased revenue, and retained customers.
Here's more about each stage and the content you should deliver.
1: Awareness Stage
People categorized into the awareness stage do not know about your brand. However, they are looking for a product or service related to your brand—or at least more information about the product or service.
In either case, they are looking for the best solution to their problem, which means you need to provide information that helps them imagine what working with or purchasing from your brand looks like.
You can do so by providing awareness level content that they can discover through organic channels, such as:
Web search engines (Google, YouTube)
Online marketplaces (Amazon, Etsy)
Paid media and paid social (advertising based on demographics and online behavior)
Awareness Stage Content
While researching in these channels, people will discover many pieces of awareness level content that does three things:
Informs
Educates
Entertains
It's very important to note that you're not selling here. Instead, you're providing useful, general information about the product and service to build trust and move them through their journey.
Many brands will use the following awareness level strategies to inform, educate, and entertain:
Blog posts to hone in on a specific topic
Social media posts to create buzz
Entertaining, educational videos to educate through visual means
Podcasts to create authentic conversations
Social media ads to target their key audience
Website content to tell their brand story
2: Evaluation Stage
In this stage, someone is beginning to consider brands by comparing them to one another. They have moved beyond browsing to showing interest in a solution, and they may be comparing prices and features of products.
At this stage, you are working on building trust with your audience so that you're in the top choices to consider. The prospects will be looking at:
Price
Customer reviews
Competitor comparisons
Anything else that aligns with their goals
Although they will primarily be looking at product pages and informative content, they might also be interested in speaking with someone directly, joining your email marketing list, or interacting with you on social media channels.
Similar to the awareness stage, you're not pushing your product here. You're still providing informative, compelling content that positions your brand as the best option.
Evaluation Stage Content
Your prospective customers are evaluating your brand and considering it against others, so you need to be encouraging, engaging, and informative regarding how your product works, the experience of other customers, and how your brand is set apart from the competition. You can do so with:
Case studies to show your prospective customers how satisfied past customers have been with your product
Product demos that take them through the step-by-step process of how to use your product
Sample products to give prospective customers a "taste" of your product
FAQ pages to answer your customers' questions before they ask them

Product or

educational webinars that put a face to your brand and help your prospect gain knowledge of your product
Product comparison guides that prove to your prospective customers that you're the best solution to their problem by comparing pricing, value, and more
Live chat or automated chatbots to answer questions and guide the prospect to helpful pages around the clock
Surveys to deliver information to visitors while also learning more about your target audience
3: Decision Stage
Once they decide that they have conducted enough research, your prospect will feel well informed and ready to make a purchasing decision.
Your job here is to convert, which means you have one last chance to push content that makes them decide you're the best option. You can do this by showcasing current customer experiences with reviews, user-generated content, and video testimonials. These experiences have been shown to have a major positive influence on sales.
Decision Stage Content
Put your prospective customers in the shoes of current customers with:
Case studies that prove how your product was successful through real experiences with customers
Testimonials that provide quotes directly from happy customers
A pop-up to sign up for a coupon to encourage those on the fence to purchase
Email flows or text messaging campaigns that nurture them with relevant content
In addition to providing content, you should stand out from the crowd with excellent offerings and customer service:
Address customer objections through customer service platforms or social media channels
Offer special services, such as free returns, free shipping, or a risk-free trial
Offer free demos or samples
Provide specific information about the products, such as dimensions, shipping times, pricing, shipping info, warranty information, and product literature
List press releases, FAQs, and consumer reports
With each piece of content, you should make the move to purchase easy with a clear call to action.
Ready to learn how our e-comm marketers can help you? Get in touch!
4: Retention Stage
Although every stage of the customer journey is important, retention is where the magic happens. It's a profit lever for your business and can serve as a bridge to get through tough times.
Retained customers drive growth and profits through consistent purchasing—and it doesn't take much to see big results from retained customers. According to HubSpot, even a 5 percent increase in customer retention can increase revenue by 25-95 percent.
In this stage, you're fostering long-term, repeat business by building a relationship with the customer, no longer overtly selling, and asking trustworthy customers for feedback to make their experience even better.
We've built a premium guide on how to retain customers, which you can read here.
Retention Stage Content
One of the main objectives when retaining customers is to stay in touch with content that's going to delight:
Emails

and

SMS marketing

allows you to provide information about deals, new product launches, and other pieces of information that will intrigue and delight your customers
Shipping confirmations and updates keep them in the loop on the status of their item after purchase
Private Facebook groups create exclusivity among loyal customers and let them learn about deals and company updates before anyone else
How-to emails, infographics, and videos let people know how to best use your product to get the most out of it
Behind-the-scenes info brings them in on what you're working on and gives them a heads-up to keep an eye out on new products
5: Advocacy Stage
In the advocacy stage, your customers are no longer just retained—they're in your corner of the ring. They've become so satisfied with their experience with your company that they're telling their friends, family members, and social networks about your brand. Basically, you're getting free marketing out of your newly established customer-brand relationship.
This is a tough stage to move a customer into, but if you can do it, it has long-term benefits. However, just like in every other stage, you need to continue to provide value.
Advocacy Stage Content
At this stage, you'll see some repeat types of content. There are fewer channels at this stage because the information you are providing is more direct. Customers want to know about deals, new products, and VIP offerings, so your primary focus here is delivering excellent email and SMS messaging:
Email and SMS deliver information about offerings that are exclusive to their loyalty programs. Through these channels, you can address any concerns and keep people engaged with informative, meaningful content
Your E-Commerce Customer Journey Awaits!
Are you as excited about the e-commerce customer journey as we are?
If so, you should check out the awesome services offered by our team of incredibly talented strategists, writers, and designers who can do everything you've read about here—with impressive results.
We build our strategies for contact list growth and accelerated email and SMS marketing around your business and tailor them to your audience so your customers go from one-time purchases to lifelong buyers.
Want to learn more about how SmartBug can be your next valuable partner? Contact us today!

About the author
Ryan O'Connor was formerly SmartBug's Director of E-commerce Growth, product manager, and sales director. He enjoys helping readers learn how to solve big business challenges through consumer psychology within the constantly evolving e-commerce landscape. Over the past 10 years, Ryan has helped 1000s of DTC brands navigate challenges to grow fast through intelligent marketing. He's not afraid to get his hands dirty, having launched his own e-commerce stores from the ground up. Read more articles by Ryan O'Connor.
Subscribe to get our new blogs delivered right to your inbox
Other insights you might like