Repeat Customers: How to Get E-Commerce Customers to Swipe Right on Your Business
In today's fast-paced, competitive e-commerce world, customers have more choices now than ever. E-commerce businesses have stepped up their game to offer an exceptional experience at every turn: customer support across all channels including social media, fast and transparent shipping, memorable unboxing experiences, deals and gifts on first purchase, and many more.

With this sea of competition and endless options for buyers, are you keeping up with your competition to make sure your customer not only "swipes right" to make the first purchase, but buys again and again?

With every buyer, the goal should be to court them to become loyal customers, not just a "one-time date." Creating content that is engaging, helpful, and fun is like engaging in conversation on a date. Each time you engage with your customers on channels you own—like email, SMS, and your website—you get closer to that second or third date.

Although you should be practicing your fundamentals year-round, you should definitely ramp them up before and after big events to convert not only during the prime season but also afterward. Doing something special for big events is like planning a birthday date or Valentine's Day. The more thoughtful and engaging it is, the more memorable the date, which will keep customers itching to come back to see you again.

With that in mind, let's go over year-round strategies to not only retain your customer but also delight them.
Want to save a copy of the guide to read later or share with a coworker?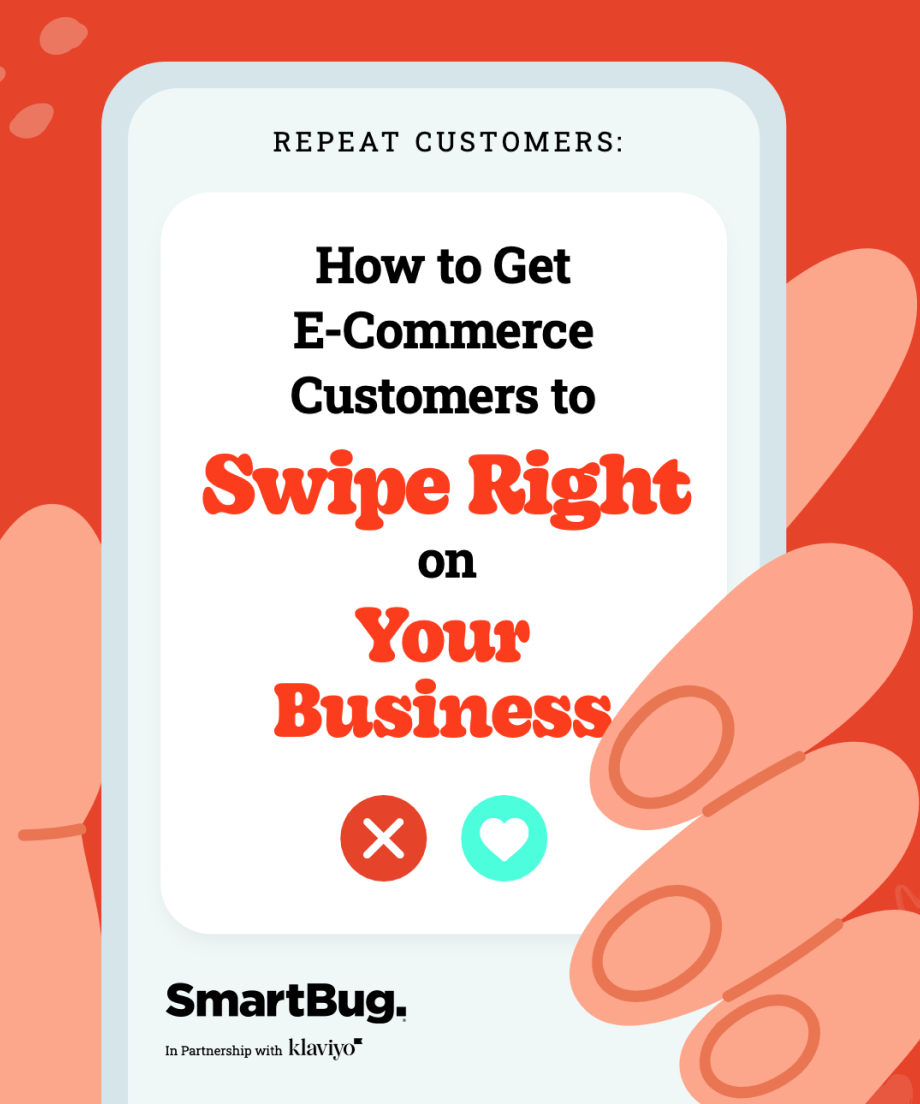 Chapter 1
Great Conversations Through the Year
Four-Peak Theory
Did you know that the number of big events you have throughout the year affects retention?
Every year, every e-commerce brand should have 3-6 big sales events. However, most brands only invest in resources to prepare for two main events: a summer sale around Memorial Day and Black Friday, Cyber Monday (BFCM). Doing this is like only celebrating on an anniversary or Valentine's Day when you should be having fun all year round!
Planning only two events in e-commerce is called "two peaks," and the revenue peaks jump only twice a year (as seen below).

One important thing to note from this first graph with two peaks: There is a large dip in total sales, and thus cash flow, for two periods of the year.
Beyond these two peaks, numerous other big events occur throughout the year. Some are unique to each brand. For example, a brand selling health or wellness products would have a huge "New Year's Resolutions" event for the month of January. A cocktail brand could have big events planned around Saint Patrick's Day, Cinco de Mayo, and so forth. Other holidays are shared across brands, such as Memorial Day sales, BFCM, the December holidays, and even New Year's Resolutions or overstock sales in January.
All of these events don't have to involve big sales promotions. For example, people looking to start the New Year with new resolutions are willing to spend more for the perfect product without a discount.
For brands that invest resources to prepare for four or more events throughout the year, sales look like this:

In this second graph, revenue consistently grows throughout the year—year after year. Now, that's a healthy company with loyal, repeat customers in love with the brand.
Making Plans with Designs by Planner Perfect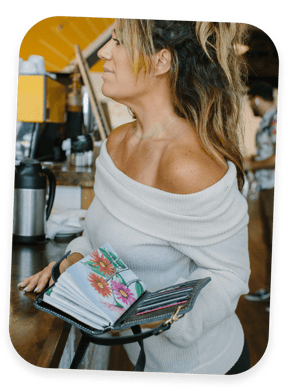 One of SmartBug's clients, Designs by Planner Perfect, sells daily and monthly planners for stay-at-home moms, planners for starting a small business, planners for organizing the home, and even travel planners.
Every year, for New Year's Resolutions, we plan marketing campaigns to help mothers plan their year, encourage them to start a new year with new goals, organize their travel plans, and more. We send around 20 email and SMS campaigns throughout the month of January.
What are the results? Every January, Designs by Planner Perfect has its highest month of sales for the entire year, even beating out BFCM. We also see the highest number of repurchases and subscription sign-ups during January.
Looking into February and March, many of the new customers who purchased in January come back to replenish their planners or start a subscription. We also market another big event for back to school at the end of summer, and finally for Memorial Day and the holidays in November and December.


Tap into Common Seasonal or Cultural Themes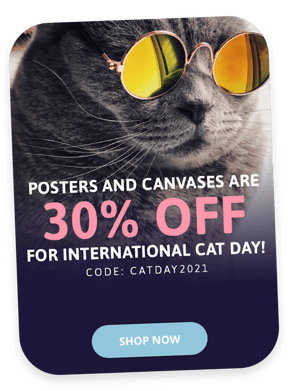 There are a lot of easy ways to tailor your content to the season. We gave the example above of New Year's resolutions and for a brand like Planner Perfect—that one is an obvious choice. For other business types, this might require a bit of creativity, but you can still riff on the "New Year, New Me" idea.
If you're an outdoor clothing and equipment brand, you can promote content and products around a similar theme and phrase, such as "New Year, New Adventure." If your brand has relevant products, tap into other themes throughout the year such as National Women's Month or Black History Month, or fun holidays like Pet Day, Festival of Sleep Day, or Make Your Dreams Come True Day—the list goes on.
By doing so, you'll make customers feel that your brand is always in tune with the world and things that matter to them. After all, they bought a product from your brand, and your brand's theme ties into the seasonal or cultural theme!
The Secret to Winning Customers' Love
Just like someone invests in all the fun dates, phone calls, and little gestures to build a strong relationship, brands that invest in personalized, relevant marketing events throughout the year build a strong connection with their customers.
These brands stay top of mind all year, which helps their customers love and remember the brand. These customers make repeat purchases, refer friends, participate in rewards programs, and share products on social media.
Not only that, but top brands know the relevant retention metrics to grow throughout the year. This includes email and SMS conversions, repeat purchases, subscription signups, 30/60/90 day lifetime value (LTV), average order value (AOV), and more. If you want to learn more about metrics to measure and best practices for retention, check out The Complete Guide to E-Commerce Retention Marketing.
So, what's the secret to winning customers' love? There are three key guidelines:
Build in at least four big events throughout the year around your brand.

Communicate with customers throughout the year, and personalize the content so it is engaging, entertaining, and educational.

Know your key retention metrics, and aim to grow them throughout the year so you can measure success
These guidelines will keep customers coming back again and again, changing the game for your business. If you have a hard time figuring out what your four (or more!) big yearly events should be or how to collect and use your customer data, feel free to reach out to our marketing strategists at SmartBug.

Chapter 2
Practice Empathy and Good Listening Skills
Zero- and First-Party Data
The days are long gone when brands could just swipe right to create endless Facebook ads and expect to run a successful business. Every touchpoint needs to be thoughtful to stand out.
Collecting zero- and first-party data is a way for brands to practice empathy and good listening skills. Zero- and first-party data takes into account whether people want to have deeper conversations with brands through explicit consent.
Zero-party data is information offered voluntarily, such as email and personal preferences.

First-party data is information observed, such as purchase history, email engagement, customer support, and demographics.
When collecting zero- and first-party data, the messaging should always be tailored to the customer's specific needs and based on demographics, preferences, and behaviors. Behind all of these things is the intent to learn about similar customers with the goal of creating more targeted, personalized, and higher-performing content. Brands can do so in a number of ways.
Build Product Quizzes
Product quizzes are one of the most fun and new ways to gather data from website visitors who may be unsure of what products they need. With a quiz, ask visitors questions to discover why they are shopping with you today. You can ask a variety of questions related to:
Their shopping goals

Relevant details that would help you recommend the best product for them

Their phone number and email address

And more!
Send Surveys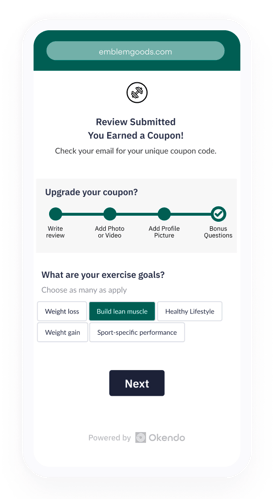 Be sure you're hearing from your customers directly. Sending surveys is one of the best ways to understand how you can better serve and retain customers by prompting them to tell you what they like, want, and need. Also, be sure to ask them to share information about their experience with you so that you can improve processes, products, and services.
Use a customer intelligence solution, such as Okendo Connect, that allows brands to embed micro-surveys at critical points in the customer journey and uncover specific conversion drivers or blockers.
Create Preference Pages
Customer lifetime value depends on the engagement of the customer. One way to ensure you're engaging with your customers in the right way is by encouraging subscribers to update their preferences, even if they have not yet purchased. With updated preferences, customers are less likely to churn, more likely to purchase more frequently, and more likely to spend more per purchase.

Chapter 3
Don't Just Talk About Yourself
Personalize Your Messaging to Keep the Vibes Strong
Keeping the interest of a person you're dating requires authenticity, engaging anecdotes, fun events, and the like. E-commerce businesses do the same with customers by providing insightful content with great offers.
Personalization is at the heart of a great website—and a great email and SMS content strategy. It allows you to segment your audience and send content and products that will delight and convert.
Personalize with Care
Personalization, just like getting to know someone you're dating, can take a good amount of time. You can still direct your marketing efforts toward asking insightful questions to gather this information. For instance, if you're using Klaviyo and a quiz or survey tool like Octane.ai, you can ask questions to see what type of person they are, discover which products fit their needs, and serve them up something they didn't even know your company made. Now that's chemistry.
From there, you'll want to keep a few things in mind as you personalize your messaging:
Only send relevant information. Sending information that isn't relevant to the customer can be annoying and potentially damage their relationship with the brand.

Create short, simple, and engaging content. Your content shouldn't be a burden on the reader. Delight and get right to the point.
With insightful data pulled from Klaviyo, you can create customized email flows that include dynamic product pages geared toward their product interests.
Create Storytelling Content

Your email and SMS subscribers tend to become well-versed in your products, pricing, and even the types of sales you may have. Continuing to market to them with promotions and discounts is fine, but you also need to send them content that is helpful, entertaining, inspiring, and educational to keep them from getting bored. (What's worse than being boring?) Plus, too much promotion without something of substance will devalue your brand.
E-commerce storytelling is less about selling your product's identified benefits, and more about sharing the idea of what your product and brand can personally do for your customers. You're doing both sides of "show and tell."

One brand that does this particularly well is Faherty. They send useful emails and SMS messages that provide advice and show amazing photos of travel and island life. Their content inspires customers to travel and try Faherty styles with their other clothing. Customers feel like they can relate to the brand, that Faherty gets them, and it's easy to keep those communication lines open.
Following this example, if one of a brand's customer segments likes to travel, the company could create content of fun, happy, relaxed-looking people using their products in an enticing location. Maybe there's no way that the customer is ever going to make it to that location, but it reminds them of how awesome the brand is when the customer takes their next related vacation. The brand could also offer relevant travel ideas, planning essentials, top destinations related to the brand ... the list goes on.
Here's the main takeaway: Don't just promote products and deals. Tell stories with content that sinks into your customers' lives, and keep the vibes going year-round.

Chapter 4
Friends with Benefits
Emphasize Loyalty Programs
People get into "friends with benefits" situations because they get the best of both worlds: a valuable friendship with plenty of fun benefits. Loyalty programs between B2C companies and their customers are similar—they provide incentives for buying through a reward system.
Provide First-Time Incentives to Join Your Loyalty Program
It's essential to provide incentives to first-time shoppers during your big events. More than two-thirds of shoppers say they would join a VIP or loyalty program for a brand they felt loyal to, and the better the experiences you offer during your busy seasons, the more likely people are to feel that loyalty.
You can incentivize people to sign up for your loyalty program by offering an initial discount. You can also automatically sign up new customers for your loyalty program and promote it in a post-purchase email or SMS message, letting them know how many points they earned.
Run Double-Points Rewards
Running double-points events during the holidays is an effective and simple way to get one-time shoppers coming back for more. These promotions are a big incentive for consumers, and our research has shown that 68 percent of shoppers would be motivated to make a purchase on BFCM if they had access to loyalty promotions.
If you offer double points during big events, your customers will rack up points much more quickly than normal. This is a strong incentive to either come back and spend their earned points or make purchases that move them toward the next reward threshold.
Offer Referral Rewards
You should also offer referral rewards. Our research shows that 78 percent of those who have a good experience would go on to refer a friend or family member—this is a hugely cost-effective way to get your brand in front of an enormous new audience. By rewarding your customers for referrals, you're not only giving them a reason to stay connected and keep collecting those points, but you're also reaching brand-new potential customers at the same time!
Finally, after each big event ends, start sending reminders about points. And if people aren't converting a second time, another discount for a second purchase on top of their points doesn't hurt.

Chapter 5
Avoid Red Flags
Treat All Channels Like They Are Customer Service
Eighty percent of shoppers are more likely to buy when given a personalized experience, which is why it is important to have all of your customer data in one place through a platform like Klaviyo.
When a customer looks for support, your team should know everything about their history: positive and negative reviews, prior support tickets, loyalty program involvement, purchase history, and more.
Social media channels are often neglected when it comes to customer support, which is a major mistake. Customers need a way to interact with a company if any issues arise, and social media is a much faster way to do this compared to going through a website portal and waiting for a response. Plus, some customers say they are more likely to buy from a brand after a good interaction with the company through social media.
If a customer who prefers to communicate through social media reaches out for support—even in a comment on one of your company's social posts—and your customer support team doesn't respond quickly or at all, that's a major red flag for your buyer.
Social media is a crucial tool during the holiday season and beyond, for a number of reasons:
Potential buyers find your advertisements and will look to your social accounts for reviews and other information. In addition, they often leave comments or send direct messages with questions. If your customer support team responds quickly, conversions increase.

Buyers are posting more often about the new products they enjoy.

Buyers share their holiday purchases, unboxing videos, and more on social media.
With a tool such as Gorgias, your team can integrate email, social media channels, live chat, voice, and SMS all in one platform, with all customer data syncing in one place. With this depth of data, your customer service team can make your customers feel like VIPs, every time.

Chapter 6
Accidentally Catfished Your Customer?
Incentivize Exchanges, Not Returns
No one likes showing up to a date only to find out that the person looks much different than their pictures.
The same goes for when a product shows up and it's not what the customer was expecting.
When this happens, your job is to incentivize exchanges over returns. Why? The most obvious reason is that a return is a net loss.
One less obvious reason is that exchanges build long-term customer relationships. If you make it incredibly easy to exchange an item with a tool like Loop, it's not only a net win but also a pleasurable experience for the customer that they then associate with your brand. The exchange process should feel intuitive. The customer should be able to put in their return request and see a credit immediately pop up in their online account.
This is also a great opportunity to learn about your customer and product. Offer a questionnaire to learn if the product is a bad fit, a duplicate of a product they already own, the wrong size, and the like. Be sure to always recommend other products from the store that might be of interest.
Finally, you can even offer bonus credit or loyalty points to incentivize a customer to make an exchange over a return.

Chapter 7
When to Make It Official
Implement Subscriptions for Retention
Many of us have experienced that moment during a relationship when we want to take things more seriously than just dating and to "start going steady," as they used to say.
Customer subscriptions are a bit like taking a relationship to the next level—they make it easy for customers who love your products to easily keep buying them. And just like getting into a relationship, you don't want to rush customers into that commitment or you might scare them away!
Subscriptions might take a few purchasing rounds. They are a great way to add perks, such as:
Sending free gifts included in their subscription that are specific to customer purchase histories

Including new products in their subscription as a benefit for trusting your company enough to subscribe long-term
If you begin to see subscription pauses or cancellations, gather feedback in automated email or SMS sequences to understand where to adjust your processes, and automate personal return messages.
Subscriptions also expand beyond your standard subscribe & save or replenishment model.
Paid memberships enable you to identify and reward your best customers. When you know who your most loyal customers are, you can incentivize them by offering valuable perks such as free shipping, early access to products, or member-specific product pricing to increase average order value.
Alternatively, offering customizable product bundles - think best-sellers, starter-kits, or seasonal boxes - allows your customers to create their own curated subscriptions leading to greater retention and lifetime value.
Recharge is one of the best subscription management tools with direct Klaviyo integration. It can be used to set up:
Automated emails and SMS messages for clients whenever a customer cancels or pauses a subscription, to gather feedback and connect them with customer support

A cancellation sequence that offers customers the opportunity to reschedule or delay an order, swap products or subscriptions, or give a discount to prevent a cancellation

A churn prevention series to prevent churn when it is historically likely

Chapter 8
Keep the Conversation Going!
Encourage SMS Signups
When customers sign up to be on your email list or make a purchase, encourage them to sign up for SMS notifications to receive special deals, tips on how to use their product, shipping notifications, and more.
You can collect SMS information:
In a pop-up after someone enters their email for a free gift or bonus incentive

During checkout

On social media

In email campaigns to current email subscribers
With a large SMS list of first-time event shoppers, you can specifically target this segment after your big events to improve retention using the other tactics highlighted throughout this guide.

Chapter 9
Sweep Them off Their Feet
Offer Gift Guides
What's one way to really make an awesome impression on someone you're crushing on?
A surprise gift usually does the trick—or in the case of repeat customers, a whole bunch of gifts.
Gift guides are for shoppers who buy big during your events to encourage them to buy again for themselves or a loved one. Gift guides recommend items related to the customer's initial purchase. Be sure that the gift guide is created before the big event so they can be sent out immediately.
Create these guides by categorizing each item into a group of related products. For example, SmartBug has a client that sells cookies. They have distinct audiences for healthy cookies, gluten-free cookies, and cookies to "indulge in." They create three gift guides with a link to a special category landing page that lists the best cookies in each category to give as gifts (or buy more for yourself!).
Gift guides are not only an easier way for customers to find relevant products for them, but gift guides are also fun and engaging content that you can encourage customers to share with friends and on social media to drive referrals.

Chapter 10
A Gift Just for Them
Shipping Strategies to Increase Retention
Invest in the unboxing experience to increase retention and social sharing.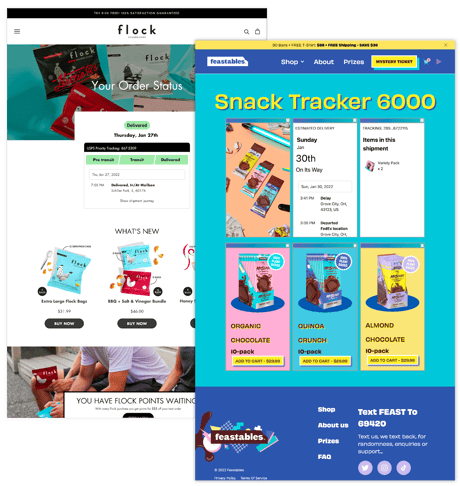 A beautiful, branded boxing experience is great for gifts during big events. This extra touch goes a long way to delight customers. In addition, you can add small touches like marketing inserts or custom gift notes to create a memorable customer experience.
Tracking pages and order update notifications not only keep customers informed on the location of their package but also keep your brand top of mind for the following week or two after their purchase. After the product arrives, you can send email and SMS messages with an additional coupon for their second or third purchase, or remind customers to claim reward points for their next purchase or gift.
With branded tracking pages from Wonderment, you can avoid excess "where's my order" customer support tickets and build a truly delightful tracking experience. There's even an option to embed in upsells to related products that customers may have missed when shopping in your store.

Chapter 11
Hey, It's Been a While
Win-Back Campaigns for Unengaged Customers
There will be times when loyal customers stop buying for a number of reasons, including:
No new products
You forgot to engage
Not the right time to buy
They forgot about your company
Budgeting
Their need was fulfilled
Just like someone you went on a date with might get busy or forget about you, even though they enjoyed their time with you, a customer can forget about your brand even though they loved your products. When this happens, it's your job to remind the customer why they decided to do business with you in the first place.
How can you reengage and win them back? There are opportunities to tap extra revenue nearly for free, including the following strategies:
Re-activate awareness by targeting subscribers on the list who haven't purchased in the last 90 days but have opened at least one email.
Set up an email and SMS flow. The first message should ask if they're struggling with a specific pain point. A click means they're moved further down the funnel and you can send related products or content to their previous purchase category

The funnel is reactivated. Bring them back with slightly different content that hasn't been sent to them before. This variety is important, but that being said, people won't remember everything you sent them. You can also reuse some of your best content. (Pro tip: Switch up the subject line.)
Swipe Right on SmartBug's E-Comm Team
Whether you're facing competition within your industry, looking to boost your sales, or needing to retain more customers, our e-commerce experts have the clever strategy, content, and design to create email, SMS, and website content that delights and converts. Basically, we're everything you need in a marketing relationship!
Ready to get to know us and our work? Get in touch with us today!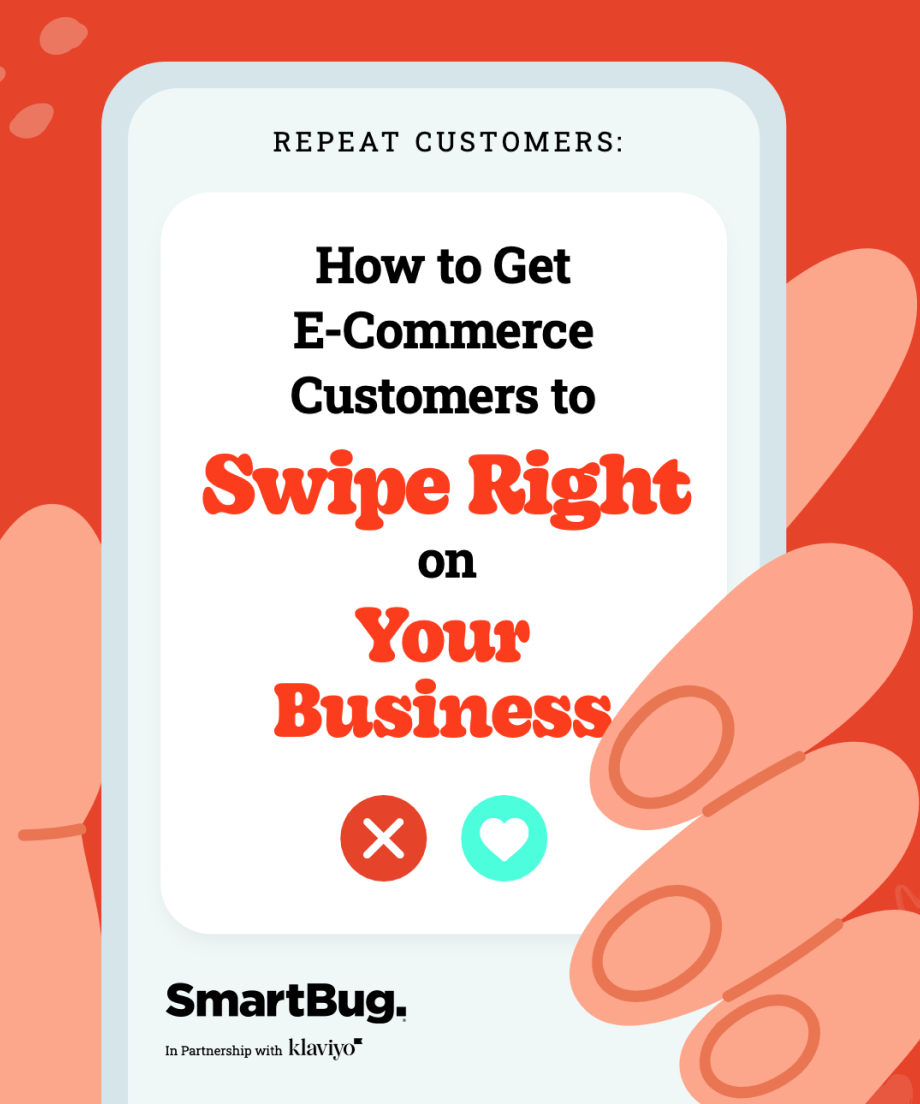 Want to save a copy of the guide to read later or share with a coworker?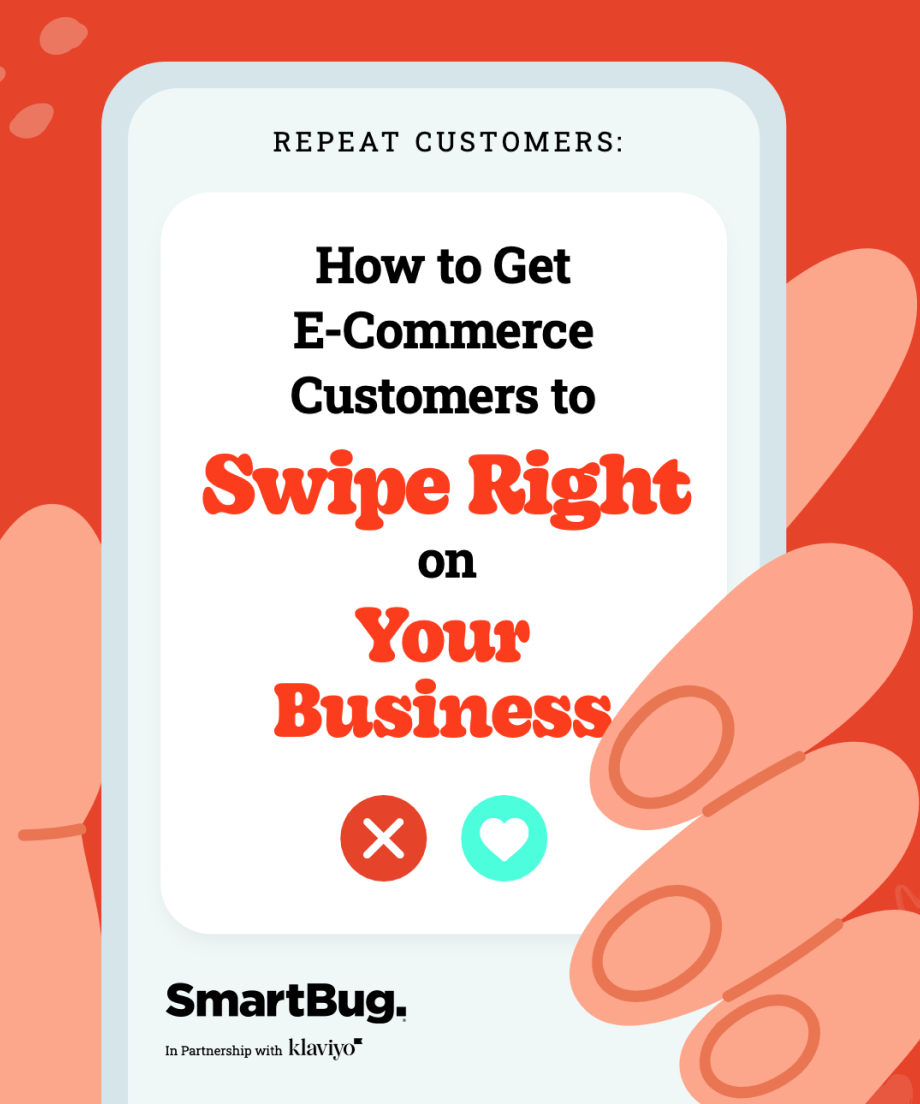 Need help implementing these retention strategies?
Schedule a quick consultation. Our e-commerce experts are happy to help.
Chat with an e-comm strategist