SmartBug Media® helped a startup investment firm with a pressing deadline to implement and learn HubSpot.
---
Background
Emles Advisors is an asset management firm started by investment experts who left other companies to create a new business from the ground up. Emles' team members are skilled sales, marketing, and investment professionals—but needed additional help implementing a marketing and sales software platform prior to the launch of their business.
Pressing Needs
Emles chose HubSpot because it liked how the platform aligned distribution initiatives. Throughout 2020, the company was busy preparing and establishing itself in anticipation of its business launch. It didn't have the bandwidth or HubSpot expertise to independently establish the solution's CRM—an important component of Emles' technology stack and a better alternative than managing customer relationships via spreadsheets.
Incorporating lead capture opportunities on the website
Continuing to nurture prospects with email journeys
Enabling sales prospecting activity by setting up lead scoring and routing workflows
Linking website activity with CRM information to get a complete picture, thus enabling sales and creating a better view into marketing performance
We are experts in our field, but we needed help from experts in HubSpot—and that was SmartBug.
---
Sarah Alexander
Chief Marketing Officer, Emles Advisors
Biggest Concerns

Increasing familiarity with the HubSpot platform and the tools available

Incorporating and learning how to use those tools in practice

Building a prospect and client base from scratch, including a CRM, sales pipeline, and web traffic
Our Solution
HubSpot Implementation & Onboarding for a Financial Startup

Add team members to HubSpot

Set up teams

Set up notification preferences (on personal level)

Customize cookie setting and privacy policy alert

Customize domains for email, blog, landing pages, and website (if applicable)

Install the HubSpot tracking code and verify tracking success

Set up site domains and tracking

Configure email, blog, and social settings

Review and advise on needed integrations

Set up personas

Configure contact and company properties, and add custom properties as needed

Import contacts and companies

Set up company branding

Update language and region settings

Create three forms (awareness, consideration, decision)

Install email template (custom design not included)

Define lifecycle stages using SmartBug standards

Create up to three key internal workflows, including lifecycle transitions and notifications for sales

Create set of as many as five lists (e.g., competitors, internal customers, SQLs, MQLs)

Integrate with Google Analytics

Exclude traffic and configure filtered views in reporting
Coaching Needs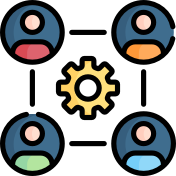 Persona Development
As we continued to partner with SmartBug, they helped us realize the extent of what we could achieve with inbound marketing and sales enablement tactics, powered through our HubSpot platform. We've now built a data-driven distribution function, with seamless integration between marketing and sales activities.
---
Chief Marketing Officer, Emles Advisors