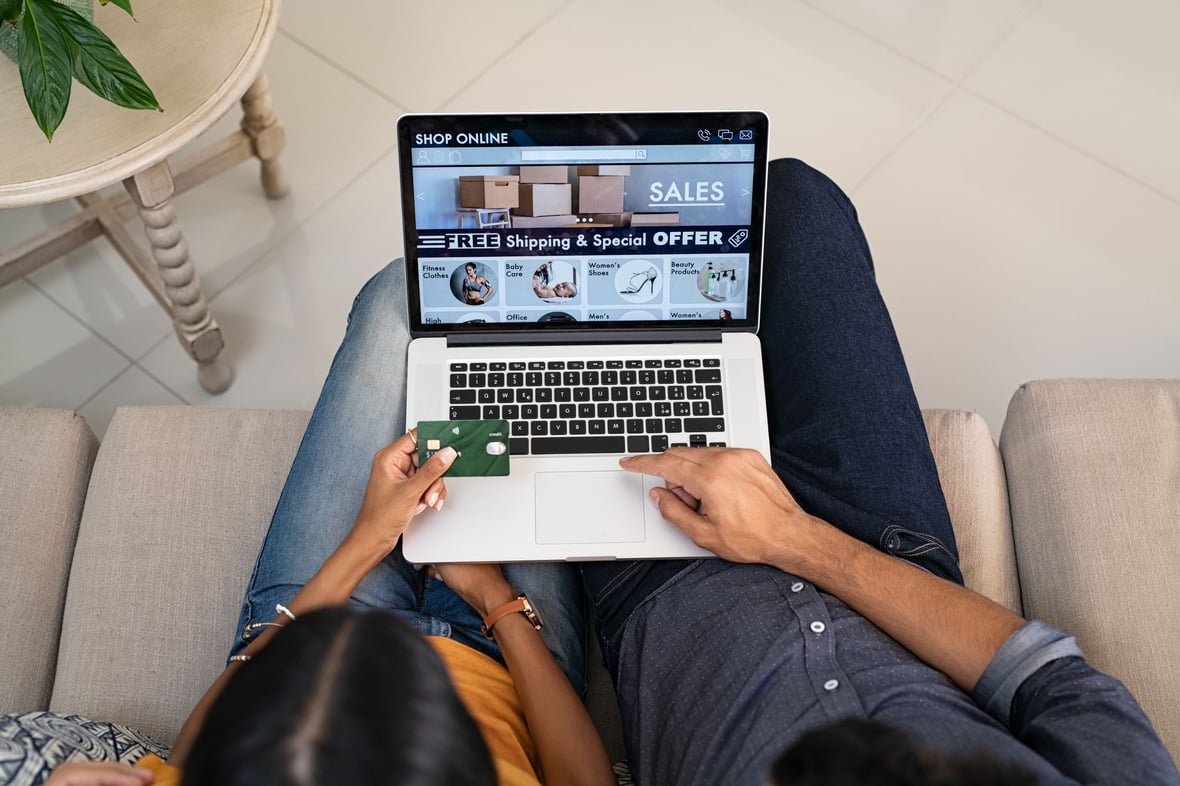 5 Strategies to Manage Window Shoppers and Drive Conversions
February 11, 2022
---
You might be familiar with the phrase "window shopper" as it relates to someone walking around a mall, hopping into a few stores to see what's available, check out sales, or compare prices between stores with similar products. As the digital world drastically takes hold of the shopping experience, "window shopping" is taking on a new meaning.
Those who window shop online have a level of interest in the brand or product but are not yet ready to buy. However, they might have an intent to buy in the future.
For marketers, understanding today's window shopper requires gaining insight into the shoppers' psychology:
They're very distracted by the number of options. Because of this, they are prone to decision fatigue.
They shop to compare products with other brands.
Life interrupts—unlike being in a physical store, something as simple as the buzzer to switch the laundry can distract the shopper from purchasing.
This is where digital window shopper strategies come into play. From collecting phone numbers before purchase to standing out from competitors, this blog post outlines strategies to push conversions.


Why Don't Window Shoppers Convert?
Online shopping cart abandonment is a great metric to look at when thinking about issues with converting window shoppers into buyers. In March 2021 alone, the total average of shopping cart abandonment was nearly 80 percent—that's huge!
So why don't they convert? Although the answers are nearly endless, it's good understand some of the biggest factors:
Brand standing: Next to price and affordability, trusting a brand

is the most important factor in a consumer's decision to buy from a new brand. A customer can get turned off by a business by reading bad reviews or by something as simple as not recognizing the brand.

Pricing: Pricing is the number one factor when it comes to purchasing decisions, which makes it easy for customers to turn away when discounts and other financial incentives aren't provided.
Shipping: These days, shipping is held to the Amazon standard (two-day shipping). Although most brands don't have the means to meet this standard, transparency and honesty go a long way. If a delay policy isn't found easily, it's easy for a customer to bounce.
Life distractions: As we mentioned, online shoppers can be very easily distracted, either by other things they'd like to look up online or by the world around them.
Payment hiccups: Once a user gets to payment information, bouncing can happen with something as small as filling out their credit card information, which is why a lot of brands are resolving to use quicker checkout methods such as PayPal.
Offer coupons that don't carry over: This often happens through coupon codes sent through email or SMS. If a customer clicks on the code and the code doesn't carry over into the cart, they're unlikely to go back to the email or message to find that code.
So now we have a solid foundational understanding of why customers bounce. Now, let's see how we can keep bouncing from happening.


Five Window Shopper Strategies to Turn Them into Buyers
Driving conversions with window shoppers is a slow but steady process. Although they aren't quite ready to pull the trigger, here are five strategies to encourage and nurture the customer:
Make micro-conversions happen.
When a customer says "yes" to one step, they have opened themselves up to the brand. This can look like:
A CTA that offers a discount on a product in exchange for an email address or phone number
Watching a video about the brand could lead to acquiring contact information, but it is also useful as a way to introduce the customer to the brand story
Whether it's an offering or entertainment, once you get a "yes," this opens up the chain for more yeses as the buyer journey proceeds.
Provide sample products.
Even though e-commerce is a virtual shopping experience, customers want the tangible experience of trying out products, much like they are able to try out products in brick-and-mortar storefronts.
Larger brands, such as Nike and Amazon, provide customers with the opportunity to try on a piece of apparel for a specific period of time. If you have the means to provide this option for your customer, they are more likely to choose your brand over a competitor that doesn't provide this advantage.
3. Understand why they don't convert.
As we've mentioned, there are a lot of reasons why a buyer doesn't convert. By gathering data on buyer objections, you can do a number of things, such as:
Retargeting on social media to deliver the product to a more accurate audience
Communicating with the customer through email or SMS and

shaping the messaging around buyer objectives

Delivering useful content, such as a blog article, to get them emotionally excited about the brand
Bringing the customer into the brand community by telling the brand story
4. Create an easy experience.
You want customers to be able to move through your buying process as easily as they move through a physical store. This means creating the easiest experience for customers to navigate through when it comes to your:
Website: From accessing product information to moving seamlessly through checkout
Customer support: Many brands miss out on providing easy access to automated or attended customer support.
5. Don't jump to selling.
These days, everyone notices when they are being sold to, which means your strategy needs to rely on something that's entertaining or educational in nature. This is where a blog strategy or video series can come in handy.
Looking for ways to be more competitive can be tricky, but if you can consistently be helpful, customers will think of your brand before others. The more you position your brand as a guide for customers through the buying process, the more trust you will establish with them.
Ready to learn how our e-comm marketers can help you? Get in touch!
What Happens When They Don't Convert?
Earlier, we mentioned the huge percentage of customers that don't convert. It's important to face the fact that a good number of people aren't going to become customers.
However, that doesn't mean that your relationship with them is over. Here's where your content team can really shine.
Customers abandon the shopping experience at different stages—some might leave a certain product page while others might leave at checkout. By tracking this information in Klaviyo, you can send messages that relate directly to their buying stage.
Remember, there are countless reasons why a customer might not convert, which means you need a robust messaging campaign that can:
Message them shortly after they abandon
Deliver several sequences over the next several days
Send one final message two weeks later
Here is an example of what the messaging strategy looks like on the back end:
The final message that is sent some weeks after the first is incredibly important but often neglected. Abandonment doesn't always happen because the customer is no longer interested; in fact, they might have just gone on vacation and forgot to checkout.
What should the messaging look like?
Even though you are trying to wrangle the customer back into buying, you're still not using the language of selling. Instead, you're creating content that surprises, delights, entertains, or even provides insight or advice.
Depending on the brand, you can get the customer's location and send messages that give directions to a physical store. There, you can collect email addresses so that you can start to market through the e-commerce realm.

Convert Leads into Customers with a Full-Scale Inbound Approach
Engaging with the customers takes on many different forms—from an SMS message to an e-book that serves as a go-to guide. Providing guidance, delight, and an educational experience is paramount to a successful relationship with the customer. You can make this happen with an inbound marketing campaign.
To learn more about different conversion strategies, check out our guide, The Busy Inbound Marketer's Guide to Converting Leads into Customers.

About the author
Ryan O'Connor was formerly SmartBug's Director of E-commerce Growth, product manager, and sales director. He enjoys helping readers learn how to solve big business challenges through consumer psychology within the constantly evolving e-commerce landscape. Over the past 10 years, Ryan has helped 1000s of DTC brands navigate challenges to grow fast through intelligent marketing. He's not afraid to get his hands dirty, having launched his own e-commerce stores from the ground up. Read more articles by Ryan O'Connor.
Subscribe to get our new blogs delivered right to your inbox
Other insights you might like