While the basic structure of all inbound marketing programs has the same foundational pillars (content, SEO, buyer personas, the buyer's journey, etc.), marketers in the B2B healthcare space face unique challenges that they must be prepared to handle. (To be fair, every vertical—in both B2B and B2C—has unique challenges; it's the nature of business!)
Challenge #1: Reaching Healthcare Organizations, Not Patients
Google has become an incredibly powerful tool that many of us use on a daily, if not hourly, basis. When it comes to health-related information, the advent of WebMD and medical chat forums has let patients take their health into their own hands, for better or worse. In fact, a Pew Research Study found that 35 percent of US adults have used "Dr. Google" (or more accurately, an online source) to diagnose a medical condition for themselves or someone they knew.
As consumers flock to Google, inbound marketing professionals may find it difficult to attract the right traffic (i.e. healthcare practitioners looking for a solution to their problem versus the general public).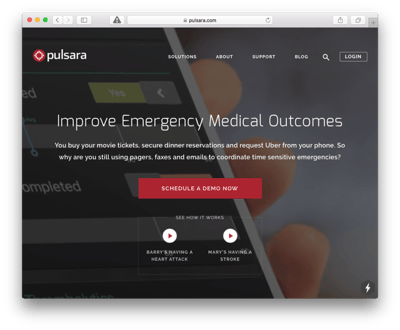 Take, for example, Pulsara—a company that creates mobile applications to facilitate communication between the teams caring for stroke and heart-attack patients. Pulsara published a blog post on lactate and sepsis, a key concern for Pulsara's buyer personas, no doubt. Yet, it's easy to see that if the blog post was titled What You Need to Know About Lactate and Sepsis in a Hospital Setting (instead of its actual title of Lactate and Sepsis: 10 things you need to know to save lives), it may attract the public and not the audience that Pulsara actually wants to target.
Challenge #2: Hospital Administration and the Length of the Sales Process
B2B sales can be complex with selection committees, IT influencers, and decision-makers in the finance department or the CEO. Yet, hospital administration takes this reality to a whole new level.
A great analogy: "Selling to a health system is like breaking your arm…When you break an arm, the cast will be on for six weeks. There are plenty of things you can do to aggravate it and extend the pain, but there's really nothing you can do to get rid of it faster. Sometimes you never really recover," as quoted by RedoxEngine.com, which interviewed J. Simpson, who works in the purchasing department at University of Texas System health campuses, including MD Anderson Cancer Center.
RedoxEngine.com concludes: "She's referring to the notoriously crippling 12- to 18-month sales cycles in healthcare enterprise sales. You crack your ulna on the way into the sales meeting. If you're lucky, you'll get a purchase order in 12 months. However, most of the time, you'll be looking at up to 18+ months, if you get through at all."
Challenge #3: Speed of the Industry (or, Rather, Lack Thereof)
On a related note, it comes as no surprise that practically everyone calls the pace of change in healthcare "slow." According to research done by Itamar Kandel, President of TigerConnect at TigerText, a solution for enabling clinical communications, there are two reasons for this fact as it relates to technology. The first is that people's health—and even life—is at risk: "Healthcare is conservative, but it is conservative for a reason: lives literally depend on it. Every new piece of technology needs to be bulletproof."
The second reason relates to how little time doctors and hospital staff have in any given day as explained by a practicing physician at Kaiser: "He explained to my team in painful detail the enormous workload clinicians face, the sliver of minutes they have to deliver care, and the rigid workflows that help them navigate the minefield that is their grueling workday. A deviation from an established workflow is risky and could be deadly, so the payoff needs to be significant."
Marketing in healthcare is no different. Some studies have found that healthcare marketing lags about two years behind in the use and implementation of content marketing. Consider these statistics:
43 percent of healthcare marketers use print newsletters versus 28 percent of all marketers.

58 percent of healthcare marketers use blogs versus 72 percent of all marketers.

56 percent of healthcare marketers use LinkedIn to distribute content versus 74 percent of all marketers.
According to Joe Pulizzi, founder of the Content Marketing Institute, "This makes sense—healthcare is a highly regulated industry, and fear is rampant."
Challenge #4: The Fear of HIPAA (and Other Regulations)
The Health Insurance Portability and Accountability Act (HIPAA) was passed in 1996 with a Privacy Rule that put patient-information safeguards in place and applies to any organization that handles medical or healthcare data. Companies that specialize in B2B healthcare software are well-versed in HIPAA compliance requirements and often mandate that employees in every department go through extensive training.
While HIPAA applies only to sharing an individual's medical information, healthcare marketers can become paranoid about giving away any information at all and let this fear paralyze their efforts. Content thus becomes stalled as legal and compliance departments must weigh in on every public-facing message.
Instead of being able to quickly move and adapt marketing efforts, professionals in this scenario can be caught in a trap of continual reviewing and content never going out the door.
For innovative organizations, these challenges merely represent hurdles that can be overcome with ingenuity, patience, and hard work.
To face these roadblocks, a best-in-class B2B healthcare inbound marketing program must include:


Component #1: A dedicated inbound marketer (or agency)
Perhaps it goes without saying, but in order to implement a B2B healthcare inbound marketing program, you'll need a professional marketer who is well-versed in inbound methodology with the experience to see it through. Inbound marketing cannot be a side project of the COO or Director of IT.
It also cannot be just one more thing that an overworked marketing department tackles as one of its numerous initiatives. Inbound must be the centerpiece of a digital marketing strategy that drives an organization forward.
If your company doesn't have the resources internally, get in touch with an inbound agency with healthcare expertise that can help you reach your goals.
Component #2: An organizational commitment to inbound marketing and the long-term vision to see it through
Inbound marketing is not the method to use for quick results (although there can be quick wins along the way). It may take six to nine months to start to see results from an aggressive program that includes consistent blogging, educational whitepapers and other content, social media engagement, and website optimization.
If a healthcare organization wants to "dip its toes" into inbound marketing, it most definitely will get a toe's worth of results. To truly succeed, an inbound marketing program must have organizational commitment from the top down to invest in a robust content strategy that will be maintained for at least a year.
Component #3: A passion for metrics
According to the Fournaise Marketing Group, 73 percent of CEOs think "marketers lack business credibility and are not the business growth generators they should be." The study also reports the following statistics for "CEOs say that marketers...":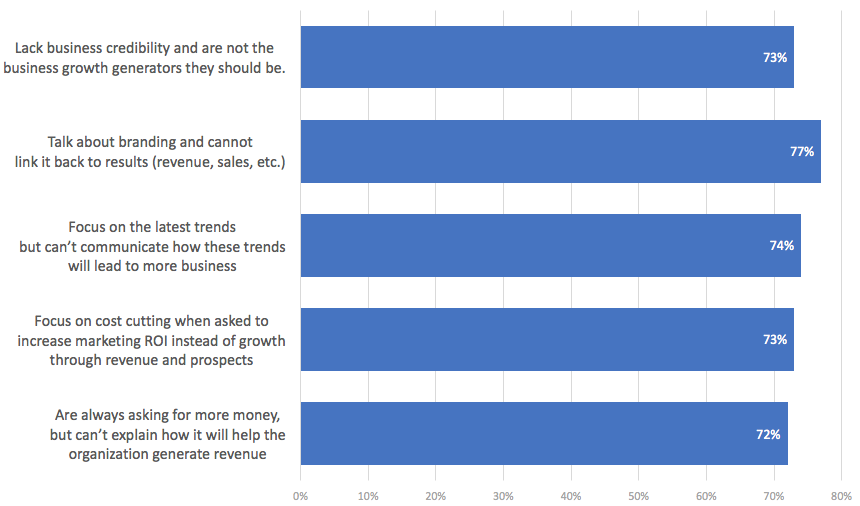 77 percent of CEOs say that marketers talk about branding and cannot link it back to results (revenue, sales, etc.).

74 percent of CEOs say that marketers focus on the latest trends but can't communicate how these trends will lead to more business.

73 percent of CEOs say that marketers focus on cost-cutting when asked to increase marketing ROI instead of growth through revenue and prospects.

72 percent of CEOs say that marketers are always asking for more money but can't explain how it will help the organization generate revenue.
The cure to these worrying statistics? A deep-down passion for metrics and digging into the numbers that matter to healthcare executives. According to HubSpot, there are seven metrics that must be analyzed regularly by marketers in healthcare organizations (adapted for B2B):
New-customer acquisition cost

Customer retention

Customer-service response time

Engagement

Effectiveness of premium content

Search engine rankings

Overall campaign evaluation
A marketing department can't succeed without measuring, testing, tweaking, and evolving. Through an iterative approach, the department can see what works and what doesn't and communicate those results with healthcare executives who are focused on the bottom line.

Component #4: A robust sales team that understands inbound marketing and the healthcare sales process
A sales team stuck in the traditional models of outbound selling will quickly realize that the world of healthcare B2B marketing has changed dramatically. According to Mace Horoff, author of Mastering Medical Sales: "[Who makes healthcare purchasing decisions] is changing, and the skills and sales process needs to change as well. Besides calling on the traditional end-users, salespeople must now engage hospital business executives and personnel who sit on various committees that will decide along with physicians which products will be used in patient care."
This year, the Healthcare IT Marketing and PR Conference (HITMC) echoed this concept by calling out the common theme of the healthcare sales cycle being a slow, complex process involving a great number of stakeholders. A blog on the HITMC website goes on: "With this concept in mind, it's no surprise that we often talk about the importance of content marketing as part of a healthcare IT company's strategy. The beauty of content marketing is that you can influence a wide group of stakeholders with your content as opposed to a salesperson who likely only builds a 1-to-1 relationship with only one person in the decision-making tree."
To make the most of the investment of an inbound marketing program, the sales team must be on the "inbound" bandwagon with a clear understanding of leads, MQLs, and SQLs, as well as the role that both marketing and sales play.
Component #5: Patience
Given healthcare's slow pace of change, massive amounts of regulation, and typical long sales cycles, inbound marketers must cultivate patience at every turn.
In MobiHealthNews, Bain Capital Managing Director Chris Gordon states that those who "want to innovate in the healthcare space know that it moves slowly, so a company also has to make sure their pace of innovation is similar to the pace of the healthcare system."


--
Healthcare can be a particularly difficult industry for a comprehensive inbound marketing program. Yet, with these five challenges in mind and these five components at hand, a B2B healthcare marketer can use the inbound methodology to reach his or her goals and ultimately see success.