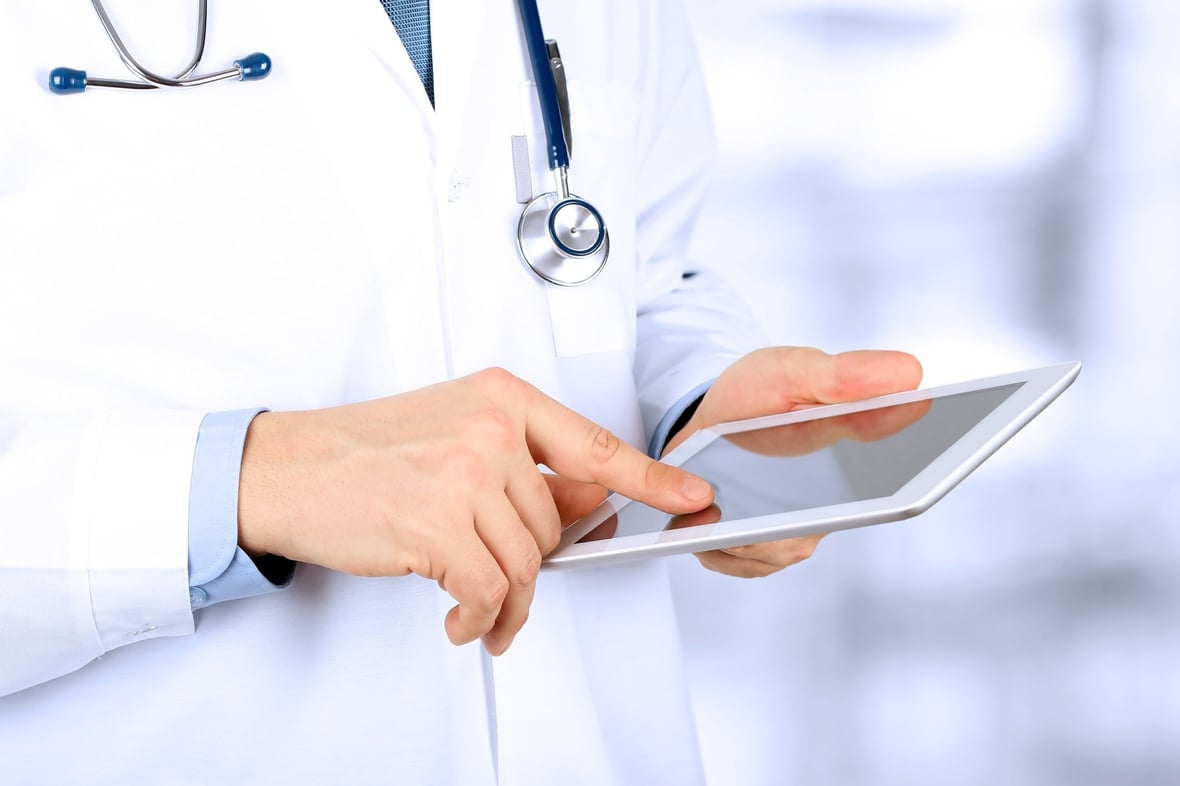 5 Essential Components of a B2B Healthcare Inbound Marketing Program
June 17, 2020
---
As a healthcare marketer, you may already know that a solid inbound marketing program is the key to sparking consistent, long-term growth. Unfortunately, if you've been in the B2B healthcare industry long, you've probably run into a handful of marketing challenges that are unique to the sector.
Want to set up an inbound marketing program specifically for healthcare? Below, I've highlighted the challenges you'll need to overcome first, along with the five essential components of a successful B2B healthcare inbound marketing program.


What Challenges Do Healthcare Inbound Marketing Programs Face?
Before diving into the components of a winning healthcare inbound marketing program, it's important to recognize the challenges marketers face. Here are a few:


Challenge #1: Reaching Healthcare Businesses
Google has become an incredibly powerful tool that many of us use on a daily, if not hourly, basis. When it comes to health-related information, WebMD and medical chat forums have enabled patients to take their health into their own hands.
As a result, it's becoming harder and harder for marketers to connect with the right customers online. If they aren't careful, healthcare marketers might be attracting the general public, rather than B2B customers like healthcare practitioners.


Challenge #2: A Long Sales Process
B2B sales can be complex—relying on everyone from selection committees and IT influencers, to decision makers in the finance department and the CEO. Add hospital administration to the equation, and you have the formula for a long, drawn-out sales process.
In many cases, the sales cycle for healthcare providers spans well over a year. For healthcare marketers, that means you may have to wait much longer before you see your efforts pay off in sales.


Challenge #3: A Slow Pace of Change
The healthcare industry is notorious for having a slow pace of change—and there are good reasons for sluggish moves.
First, people's health—and even lives—are at risk. That means every decision requires thought and planning.
Second, doctors and hospital staff are painfully busy. With all the pressures and duties that come with their daily routines, it's hard for these professionals to find time to champion change. In turn, the decision makers within the industry tend to stick to the routines they're used to.


Challenge #4: Heavy Regulations
Healthcare marketers have to navigate an industry that's saturated with regulations. For instance, the Health Insurance Portability and Accountability Act (HIPAA) includes a privacy rule that puts patient information safeguards in place and applies to any organization that handles medical or healthcare data.
Although companies that specialize in B2B healthcare software are usually well-versed in HIPAA compliance requirements, the fear of violating regulations can make healthcare marketers paranoid about giving away any information at all. Content thus is stalled as legal and compliance departments weigh in on every public-facing message.
Instead of being able to quickly move and adapt marketing efforts, professionals are caught in a trap of continual reviewing. As a result, content never goes out the door.


Essential Components of a Healthcare Inbound Marketing Program
For innovative organizations, these challenges represent hurdles that can be overcome with ingenuity, patience, hard work, and adoption of five essential healthcare inbound marketing components:


Component #1: A Dedicated Inbound Marketer
Inbound marketing has become a powerful tool. According to HubSpot, 70 percent of marketers are now relying on content marketing. Yet, inbound marketing takes a full-time commitment—something most healthcare pros simply don't have the time or expertise to give.
In order to implement a B2B healthcare inbound marketing program, you'll need a professional marketer who is well-versed in inbound methodology and has the experience to see it through. Inbound marketing can't be a side project for the COO or Director of IT.
It also can't be just one more thing that an overworked marketing department tackles as one of its numerous initiatives. Inbound must be the centerpiece of a digital marketing strategy that drives an organization forward.
If your company doesn't have the resources internally, get in touch with an inbound agency with healthcare expertise that can help you reach your goals.
Component #2: A Commitment to Long-Term Marketing Success
According to a HubSpot report, 75 percent of inbound marketers say their strategy is effective. However, those results take time to achieve. There may be quick wins along the way, but inbound marketing isn't designed to yield fast results. It may take six to nine months to start to see results from an aggressive program.
That's why healthcare marketers need to dedicate themselves to ongoing action and expect long-term results.
If healthcare marketers want to see results, they need to commit to consistently producing blog articles, educational white papers, social media, webinars, and other quality content.
Alternatively, if a healthcare organization dips its toes into inbound marketing, it most definitely will get a toe's worth of results. To truly succeed, an inbound marketing program must have organizational commitment from the top down and invest in a robust content strategy that is maintained for at least a year.


Component #3: A Plan Rooted in Metrics
In order to secure buy-in from executives and set up a successful inbound marketing campaign, healthcare marketers must base their strategies on metrics. Here are some of the most important B2B metrics healthcare marketers should be tracking:
Traffic and time on page
Website search engine rankings
Customer acquisition costs
Customer retention numbers
A marketing department can't succeed without measuring, testing, tweaking, and evolving. Through an iterative approach, the department can see what works and what doesn't. With clear figures in hand, you can communicate those results with healthcare executives who are focused on the bottom line and inspire investments.


Component #4: A Healthcare Sales Team that Understands Inbound Marketing
A sales team stuck in the traditional models of outbound selling will quickly realize that the world of healthcare B2B marketing has changed dramatically.
To make the most of your investment in inbound marketing, the sales team must be on the inbound bandwagon. That means the team needs a clear understanding of leads, MQLs, and SQLs, as well as the role that both marketing and sales play.
Not sure how to get everyone on the same page? Consider pointing your internal teams to educational resources about the inbound process, including webinars, e-books, blogs, and inbound marketing podcasts.


Component #5: A Masterful SEO Strategy
If your healthcare team is having a tough time reaching B2B clients, it may be because businesses can't find your services online easily. The cure is a masterful, long-term SEO strategy.
By doing keyword research, targeting the phrases your personas are searching for, and crafting quality content that answers their questions, you'll reach more businesses. Ultimately, stronger SEO won't just make your healthcare services more visible, but it will also help you attract the B2B customers that actually want to partner with you.


Take Your Healthcare Inbound Marketing Program to the Next Level
It can be difficult to build a comprehensive inbound marketing program within the healthcare industry. Yet, with these four challenges in mind and these five components in hand, you can use the inbound methodology to reach your goals and ultimately see success.
Wondering how your inbound marketing strategy stacks up? Take our Intelligent Inbound® Marketing Quiz for a custom analysis of your strategy and recommendations for improving your company's marketing plan.
This blog was originally published in January 2017 and has been updated since.

About the author
Jessica Vionas-Singer was formerly the Senior Director of Client Success at SmartBug Media where she lead a team of SmartBugs who focus on HubSpot onboarding for clients new to the system and other project-based work, oversaw new employee onboarding, and rolled out new process and procedures within the Client Services department. She fell in love with marketing at her first job at a technology company specializing in credit evaluation software. Her background includes more than 20 years of marketing experience in content creation and lead-driving tactics, online presence and blog creation, social media engagement, budgeting and project plans, webinar and trade show event management, public relations, comprehensive promotional campaigns, and analytics. Jessica has a BS in Sociology from Montana State University – Bozeman. Read more articles by Jessica Vionas-Singer.
Subscribe to get our new blogs delivered right to your inbox
Other insights you might like