HubSpot's CMS Hub
---
Build a beautifully branded website to attract quality leads with HubSpot's simple, scalable content management system (CMS).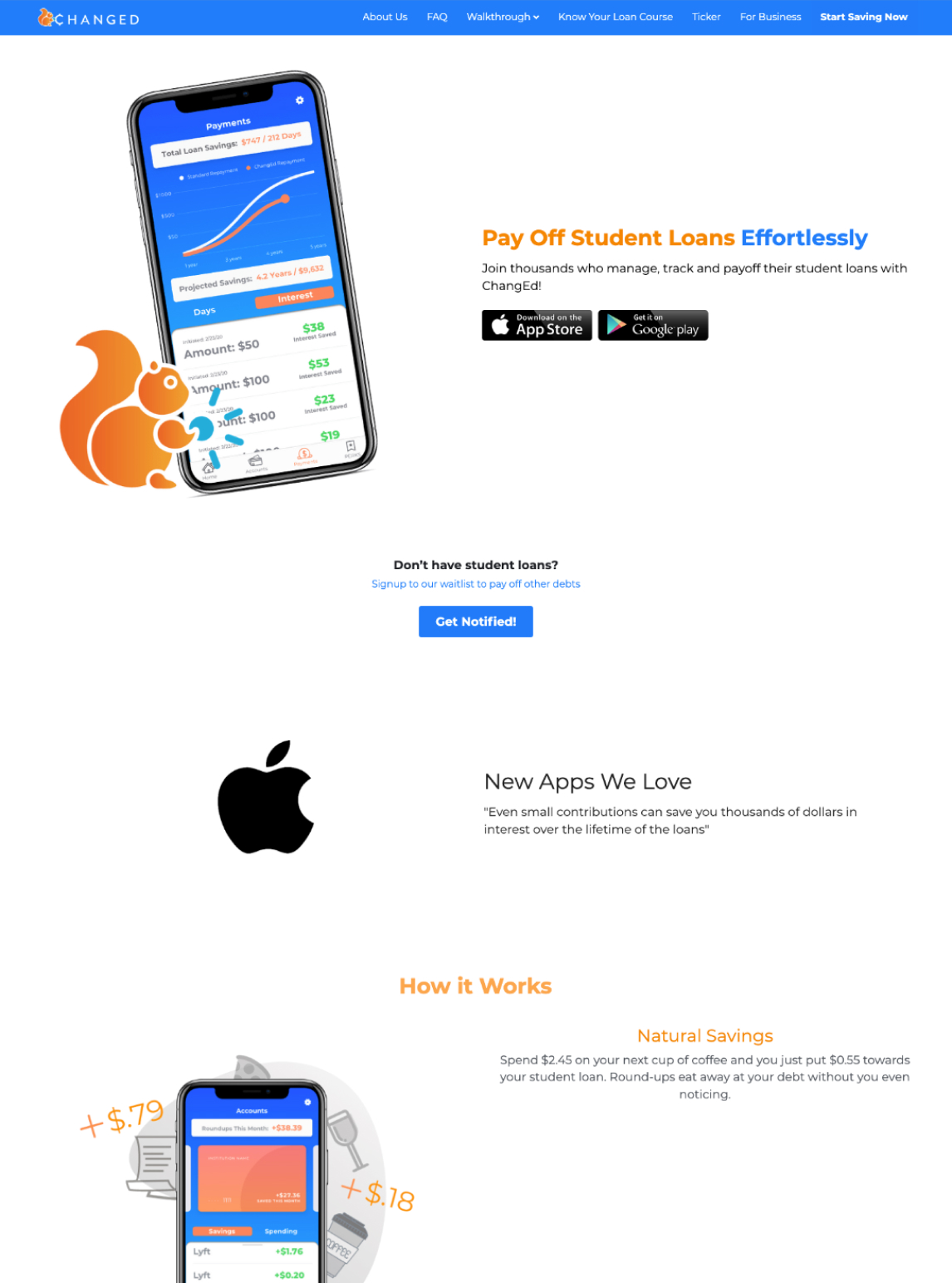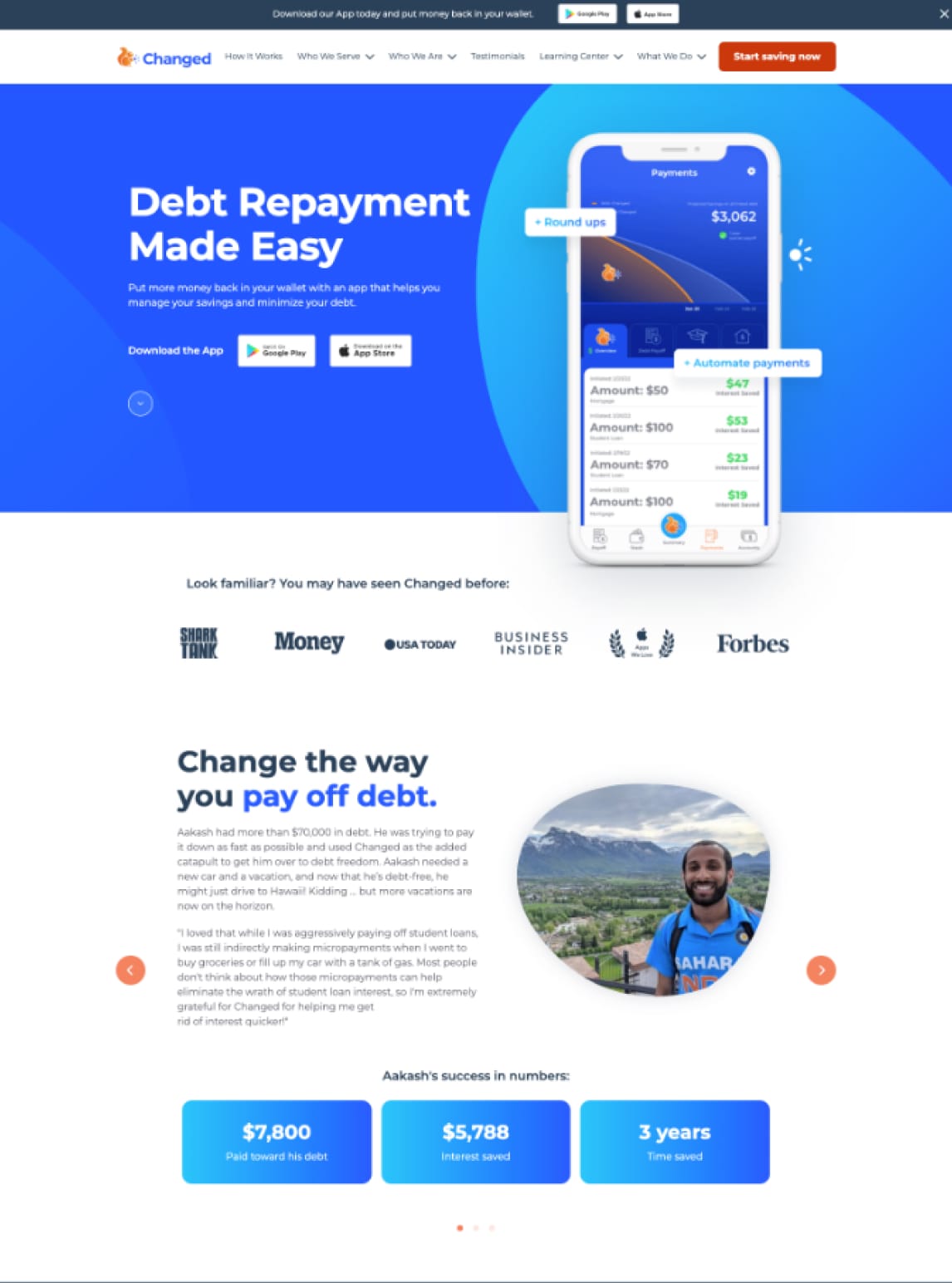 With HubSpot's dynamic CMS Hub, transformation is the expectation.
When former Shark Tank contestants Nick and Dan approached SmartBug®, they were looking for a fresh web redesign to showcase their debt repayment mobile app.
But beyond aesthetics and branding, the Changed team also needed a new website structure to appeal to both B2B and B2C audiences, drive engagement, and boost mobile app downloads.
Now, post-launch, visitors to the new website are greeted with a modern design, sleek functionality, and messaging specially tailored to attract new prospects.
What really set this web redesign apart?
Custom Calculator
B2B and B2C Navigation
Mobile App Display
Success Stories Spotlight
SmartBug's HubSpot Accreditations

Collaborate and innovate.
When it comes to your 24/7 storefront, you want your windows polished and your "Open" sign on full display. With HubSpot's CMS Hub, we'll collaborate to build a beautifully branded website from the ground up, overhaul an outdated site, or tweak pages here and there as your business goals and KPIs evolve.
Leverage flexible website themes, custom objects, smart content, and more with this intuitive, user-friendly platform.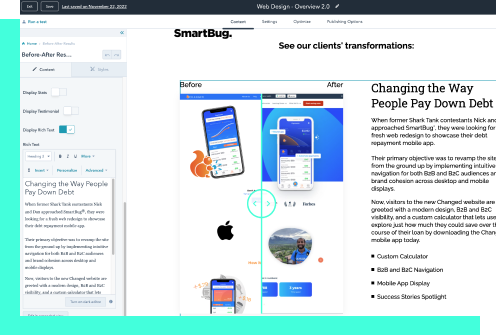 Edit on the fly.
Need to tweak existing content to appeal to new audiences or align with new segmentation? HubSpot makes it easy to collaborate across teams. Whether you're expanding your resources library, refining your SEO, or pulling new modules to support new products and features, scaling your website is simple when you've got all of your editing tools in one toolkit.
SmartBug is proud to be HubSpot's No. 1 partner agency with years of experience building and innovating in HubSpot's CMS. We build according to HubSpot's best practices and recommendations to ensure a cohesive management experience that aligns with their documentation for easy reference.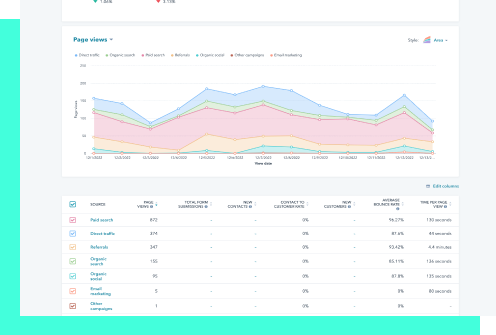 Unpack analytics and reporting.
Ready to find out where your website strategy is making the biggest impact? Post-launch, you'll want to monitor its impact over time. Thanks to HubSpot's fully integrated CRM, you (or SmartBug) can do just that. Track site visitors and map out their journey from one page to the next so we can help you hone your marketing strategy and deliver meaningful content that calls your customers to action.
Discover HubSpot CMS Hub's Standout Features:

Flexible Themes
Get your site up and running quickly with HubSpot's preset themes. Create cohesion across your site according to your branding guidelines.
Simple Hosting
Build seamless digital experiences for your customers with fully managed and optimized web hosting. Keep customer data secure and monitor ongoing engagement.
Drag-and-Drop Editing
With HubSpot's simple-to-use drag-and-drop editor, you can manage your site, update content, and pull in new elements in a matter of minutes, code-free and with no expertise required.

Smart Content
Keep up with your dynamic content as it evolves. Access your fully integrated CRM to organize and revise pricing pages, resources, calendars, and more according to SEO best practices.
24/7 Threat Prevention
Get peace of mind with the assurance that your customer and company data remains secure. HubSpot will manage your account and flag any potential attacks or areas of concern the moment they arise.
Multilingual Content Creation
Reach more customers around the globe with multilingual content creation. Manage multiple language domains and optimize your multilingual SEO strategy.

User & Team Permissions
Assign access credentials to teams and individual contributors through a single, centralized control center. Add and modify who can edit, publish, or configure your new site.
Fully Integrated CRM
Synthesize your sales and marketing efforts within your 24/7 storefront: your website. Track customer engagement and chart users' journeys throughout the site so you can create content that continues to resonate with customers.
Adaptive Testing
With this next iteration of A/B testing, leverage AI technology to test up to five-page variations at a time. See what copy, conversion points, and design elements customers engage with most, and identify where you need to pivot.
Explore the Impact of SmartBug + HubSpot's CMS Hub:
What Our Clients Say:
The spectrum of knowledge and expertise in all things inbound, website development, HubSpot CMS and lead gen is amazing.
Peter Mastrangelo
Harmony Healthcare International, Chief Financial Officer
Not only was the creative work outstanding, but the knowledge... that SmartBug Media has of the HubSpot platform is superior to any other service provider that we contacted.
Justin Stensrud
SouthStar Communities, Director of Marketing
If you are working within HubSpot, SmartBug has the people and know-how to build your website.
Michael Gin
Nomis, Creative Director
Frequently Asked Questions
Do I need a developer to use the CMS?
HubSpot's intuitive interface makes it easy for users to update and maintain basic functionality and content creation within the CMS hub.
For users looking to enhance their website and showcase products and services through advanced customization, offloading setup to a third party can free up users' time to focus on creative elements and big-picture marketing objectives.
SmartBug's team of in-house developers creates custom builds to support your products and services.
Learn more about our web strategy and web redesign service offerings.
How can I use HubSpot's CMS to scale my business operations?
HubSpot's CMS boasts effortless flexibility, so as your business scales, you and SmartBug can update your site's content, drag in new modules, add resources, and clone pages with ease. With your 24/7 digital storefront open for business, you can begin to drive traffic and engage new customers with SmartBug and HubSpot CMS while making regular updates to keep things fresh.
How does SmartBug support CMS Hub connections with Marketing Hub, Sales Hub, Service Hub, and Operations Hub?
HubSpot's unique hubs snap together seamlessly to create cohesive operations and analysis of every facet of your business, from engaging new prospects to nurturing leads to educating your customers and ensuring long-term success.
View all customer activity using HubSpot's single, centralized dashboard.
Get in touch with our team to learn more about how we can tailor each of your hubs to ease your day-to-day demands.
What integrations are available for CMS Hub and can SmartBug help us set them up?
Using HubSpot's CMS, users can access more than 1,250 certified integrations for optimal performance and ease of usability. Learn more about SmartBug's integrations services that can help you with complex configurations here.