By Carly Ries

It's that time of year where it's nice to cozy up by the fire and read a good book. For all the small business owner's out there who can't seem to shut off your brain when it comes to work, here is a list of 20 must-read books that will help you grow your business.
Sales and Marketing Books to Help You Grow Your Small Business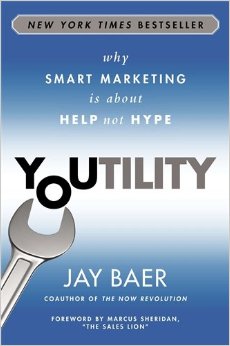 "

If you sell something, you make a customer today, but if you genuinely help someone, you create a customer for life." This book provides useful tips and real-life examples of marketing that is truly, and inherently useful.
In the 4th edition of this guide, you'll learn how to "

harness the power of modern marketing and PR to communicate with buyers directly, raise visibility, and increase sales."In addition to useful information, examples, how to's, and case studies, Scott also reviews popular tools within the industry that can assist you with growing your business.
Goodman proves that the secret to success is finding meaningful ways to engage with your customers over the long term. This book provides helpful ways to do just that through social media, email and other tactics. If you're looking for a no-nonsense approach, this book is for you.
Social media and other online platforms gives companies great opportunities to engage directly with their customers. Because of this, you have the opportunity to provide engaging and educational content and information for your audience that attracts them to you, as opposed to you chasing them all over the internet. This book walks you through how to create and promote this amazing content to help you cultivate fans and grow your business.
If you need help shaping your marketing message so that customers will willingly accept it, this is the book for you. This book helps you reach out to people who are interested in learning about your products or services so that you don't waste time with the others. It shows you how to develop relationships with customers and create trust, to help you get closer to your sale.
In this book, you'll learn "how to

apply data, technology, and inbound selling to every aspect of accelerating sales, including hiring, training, managing, and generating demand." This includes how to hold sales people accountable for the same process, providing people with quality leads, leveraging technology to provide a better sales experience for both the customer and salesman, and many other elements.
Ask. by Ryan Levesque

You should never have to guess what your prospects and customers are thinking. This book will help you discover exactly what your audience wants to buy, how to give it to them, and how to take your business to the next level.
Don't you just love this title? This book helps sales professionals "apply tactics of traditional marketing to their daily work." It will help them increase their effectiveness, stand out from the competition, and create valuable customer relationships.
Why do people say "yes"? This ebook will show you. Cialdini uses his studies and research to help you become a skilled persuader...and how to defend yourself against them as well. This book is a must to take your sales to the next level.
If you want new ways to reach your audience and market your own company, read this. This book will help you identify the customers you haven't been able to reach, how to reach them, and how to approach them with confidence.
Leadership Books to Help You Grow Your Small Business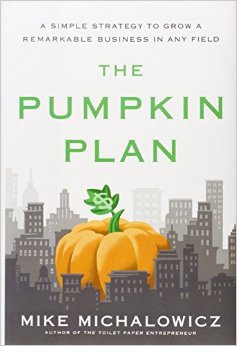 This book is a personal favorite. It was given to me by my boss and has been greatly impactful. This book provides insights, stories, and science-based information to help you set goals, build willpower, and avoid the kind of thinking that makes people fail.
In order to be successful, you need to learn how to get the right things done, and that's exactly what this book helps you do. In it, Drucker addresses time management, choosing what to contribute to the organization, knowing how to use your strengths for the best results, setting the right priorities, and how to tie all of them together.
Another one of my favorite titles! If you've read The Toilet Paper Entrepreneur (written by the same author) and loved it, you'll love this as well. Did you know that by applying a few simple methods that farmers use to grow their award-winning pumpkins, you can grow your business as well? It's true. Read this book to find out how.
This book will remind you that the most effective leaders are humble, and that the key to success starts with getting the right people on your team in the right role. This book will give you insights on how to be a successful leader and how to get your company from good to great.
This book will help you take an idea and turn it into a successful business that is focused around your customers, and not around your product. This book helps you track real progress rather than pay attention to the results that don't matter. It will truly help you change the way you think about your business.
REWORK by Jason Fried and David Heinemeier Hansson

This book is a short read with chapters as long as just a couple of pages, making it easy to digest all of the content the book provides. It throws old school methodologies out the window and provides tips and tricks to help your business succeed faster. The authors don't hold back their thoughts with their straightforward tone that helps you grow your business on your own terms.
This eye-opening book helps entrepreneurs manage their staff as well as their expectations of each employee. This book explains how the best managers select employees for talent, rather than skills and experience. It proves that there is a link between employee opinions and productivity, customer satisfaction, and turnover.
We all make mistakes, but we also all have great successes. In this book, successful entrepreneur, Derek Sivers, shares his personal experiences in these areas and how to create a successful company by following your passion.
This book is becoming more and more of a household name, and for good reason. It shines light on building business relationships. By reading it, you'll learn how to get people to like you, techniques to handle people, and how to get people to think like you.
If you're looking for a quick read (as in maybe an hour) that gives you a practical approach to starting your business, grab this book. You'll learn how to focus, attract more prospects, build repeat business, and develop a system for staying on track.
What books would you add to this list?