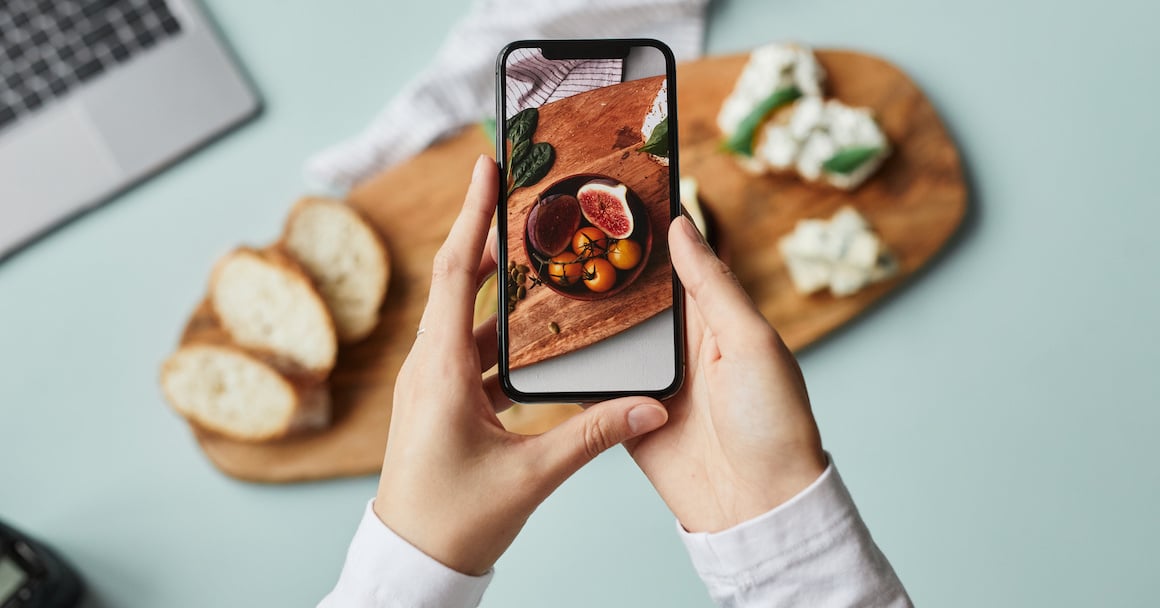 Among the many strategies and tactics available to marketers, one has remained consistently reliable and effective over time: email. It's one of the best ways for businesses to connect and stay in touch with customers. It's also a major revenue driver for e-commerce businesses.
But just because you say you do email marketing doesn't necessarily mean you're doing it right. It's not a set-it-and-forget it strategy. Instead, it takes a team of marketers who can execute effectively and learn from trends and mistakes. Combining the two together results in:
Subscribers who are engaged with your brand
Boosted revenue
Customers who are loyal to your brand
At SmartBug, our team of e-commerce experts have worked with many businesses in the food and beverage industry to help them see serious results—sometimes in as little as 30 days.
In this blog post, you'll learn how three clients in food and beverage gained real results from powerful email marketing strategies.
Email Marketing with Tangible Results
As a marketer, it's your job to meet your customers in the channels they engage in most. When it comes to email marketing, our research on certain demographics provides helpful insight into the frequency and rate at which people check their email:
Ninety-nine percent of email users check their inbox every day, with some checking 20 times a day.
Of those people, 58 percent of consumers check their email first thing in the morning.
74 percent of baby boomers think email is the most personal channel to receive communications from brands, followed by 72 percent of Gen X, 64 percent of millennials, and 60 percent of Gen Z.
Keeping your customers up to date on events, new products, and sales promotions while creating personalized content geared toward the appropriate stage of the customer journey is almost certain to result in increased sales.
The foundation of your email marketing strategy is based in two types of emails:
Flow emails are triggered every time a certain behavior occurs, such as when a customer adds products to their online cart but never purchases.
Campaign emails are manually created and scheduled around big sales events, such as Black Friday and Cyber Monday.
With constant changes to the ways success is measured in email marketing, delivering unique, organic content that compels your customers to come back for more should always remain a top priority.
Now, let's go over how successful email marketing helped drive revenue for three of our food and beverage clients.
Case 1: Promoting High Quality Food with High-Quality Content
Beginning in July 2021, our engagement with Evergood Sausage Company resulted in 35 percent of their total revenue coming through our email marketing services, a 64 percent increase from the previous year.
Evergood Sausage approached SmartBug Media to help solve challenges such as a low rate of returning customers and lack of engagement in email campaigns and flows. Evergood Sausage also wanted help personalizing its communications to elevate the brand above its competition.
Over the course of the first six months of our engagement together, SmartBug:
Built a new communication strategy to include a new content strategy that didn't rely solely on sales and promotions.
Built a personalization strategy to turn customers into repeat buyers and further delight customers who were already loyal to the brand.
Elevated design and copywriting to reflect brand values.
Applied psychology and UX principles to deepen engagement with subscribers and improve KPIs such as clicks, conversions, and LTV.
As a result, some of the best-performing metrics observed include:
14 percent average monthly click-through rate
23.1 percent average monthly open rate
Of the yearly KPIs derived from email marketing:
Revenue from Klaviyo increased by 64 percent
Flow revenue increased by 56 percent
Campaign revenue increased by 9 percent
Here were our most successful email engagements:

Best Automated Flow: Welcome Series
Welcome emails are one of the most successful types of emails. More than eight out of 10 people will open a welcome email, generating four times as many opens and 10 times as many clicks as other types of emails.
We built a longer series of 10-12 emails over 2-3 weeks to match Evergood Sausage's purchase cycle. We included some brand warming content to complement a first purchase coupon, and we split the flow to continue to send to people who opened a prior welcome email but didn't yet purchase.
The welcome series for Evergood Sausage Company resulted in:
19.2 percent click rate
48 percent open rate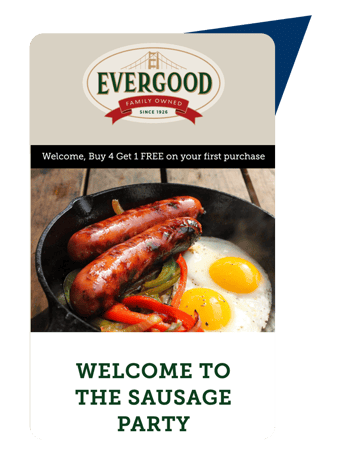 Best Email Campaign: Labor Day Last Call
The holidays are a great time to create excitement and exclusivity with your subscribers. There's no better combination of product and holiday than grilling sausages and Labor Day.
These clever Labor Day email campaigns resulted in:
4.1 percent click rate
18.9 percent open rate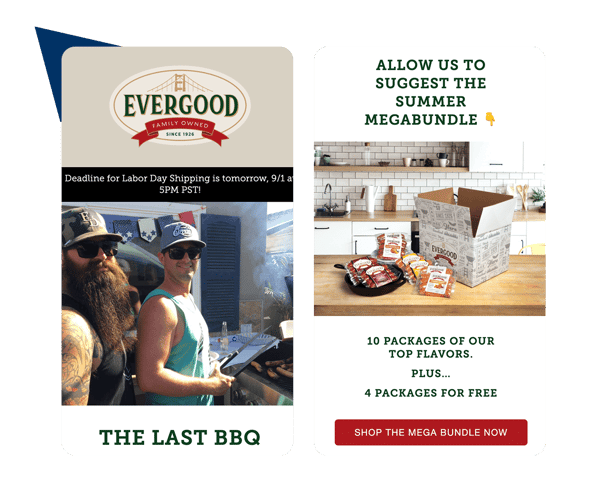 Ready to learn how our e-comm marketers can help you? Get in touch!
Case 2: Cooking Up Results
A cookie and desserts delivery company (that chose to remain anonymous) made $1,138,189 (50 percent) of total revenue from email and SMS alone in the course of a year thanks to our engagement that began in October 2020. Before this, the company derived only 25 percent of its total revenue from Klaviyo.
This cookie company was ready to fully elevate its marketing game and communications with subscribers. Its Klaviyo system lacked any sophistication, and the company needed to build out a more robust system. It also wanted to build out new technology that integrated with Klaviyo, such as a loyalty and rewards program, a communication strategy that prevented refunds and instead encouraged exchanges, a way to collect data directly from customers, and more.
In a year, we were able to double email and SMS revenue by building personalized email flows for different customer personas, collecting and reusing customer data intelligently to improve the customer experience, diversifying email campaign content strategy to rely less on coupons or sales events, and increasing email and SMS sign-ups to more quickly grow the list and convert more first-time customers.
Of the yearly revenue derived from email marketing:
5o percent came from Klaviyo
38 percent came from flow emails
12 percent came from campaign emails
Some of its best-performing metrics include:
18.3 percent average monthly open rate
7.8 percent average monthly click-through rate
Here were our most successful email engagements:

Best Automated Flow: Welcome Series
A welcome email is your first impression. Make it fun yet useful with a lead magnet to reel them in, like a discount on their first order, content about the brand, social proof, and content that will turn a weary shopper into an eager customer.
We created a complete welcome series revamp and expansion to personalize text, images, and products based on what the subscriber viewed on the site, and we conducted rigorous A/B testing to improve KPIs. After six months the welcome series delivered:
More than $313K total revenue
5 percent click rate
42 percent open rate
9 percent of total monthly revenue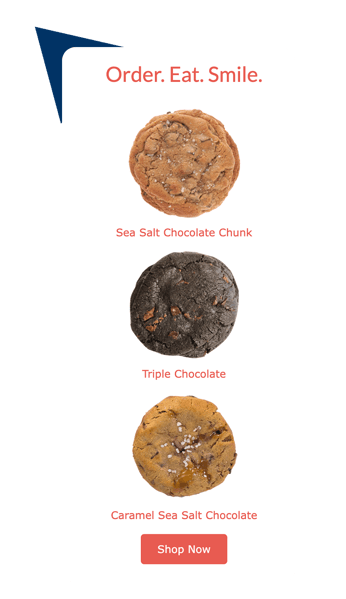 Best Email Campaign: Valentine's Day Sale
Is your product the perfect gift for a specific holiday? Remind your subscribers and treat them to a festive sale.
The Valentine's Day sale email campaign delivered:
More than $10K total revenue
2.3 percent click rate
14.6 percent open rate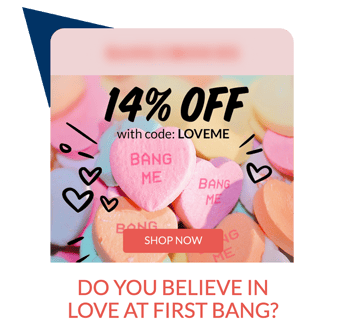 Case 3: Unboxing Revenue with Emails That Tell Stories
We began providing email marketing services for Artza Box, a Christian subscription box company that shares Israeli stories, food, and crafts in every subscription box, in the beginning of July 2021. Over the course of a year, our email marketing services drove 26 percent of Artza's total revenue.
Some of its best-performing metrics include:
24.7 percent average monthly open rate
11.3 percent average monthly click-through rate
Of the yearly revenue derived from email marketing:
Revenue from Klaviyo increased by 7 percent
Campaign revenue increased by 6 percent
Here were our most successful email engagements:

Best Automated Flow: Welcome No. 1
What can the reader expect by subscribing? Make it crystal-clear. Because Artza Box is subscription-based, the reader gets a quick introduction to the benefits of subscribing and how the process works—and a discount incentive to get started.
The Welcome No. 1 series resulted in:
36.8 percent open rate
8.4 percent click rate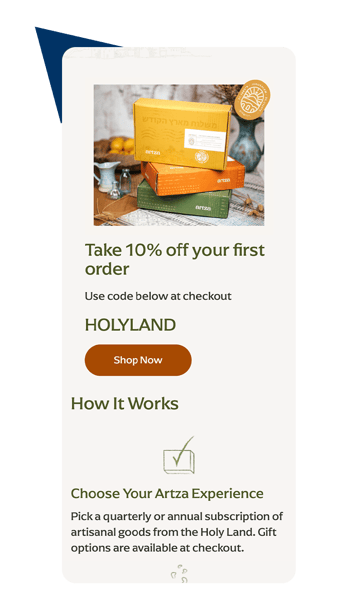 Best Email Campaign: Social Proof
Share what makes your brand unique. Artza Box supports Israeli businesses and artisans by sharing their stories, food, and crafts in every subscription box. Customer reviews help highlight Artza's tight-knit community and reinforce its mission and values.
This email campaign resulted in:
1.7 percent click rate
20.8 percent open rate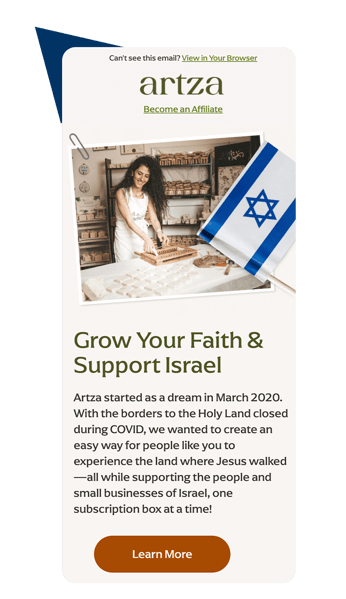 Drive Revenue with SmartBug's E-Commerce Experts
At SmartBug Media, our dynamic team of email marketers and Klaviyo experts have helped businesses in the food and beverage industry tailor an email strategy to engage audiences, grow sales, and cultivate brand loyalty.
Ready to find out how we can do the same for you? Get in touch with us today!

About the author
Ryan O'Connor was formerly SmartBug's Director of E-commerce Growth, product manager, and sales director. He enjoys helping readers learn how to solve big business challenges through consumer psychology within the constantly evolving e-commerce landscape. Over the past 10 years, Ryan has helped 1000s of DTC brands navigate challenges to grow fast through intelligent marketing. He's not afraid to get his hands dirty, having launched his own e-commerce stores from the ground up. Read more articles by Ryan O'Connor.
Subscribe to get our new blogs delivered right to your inbox
Other insights you might like