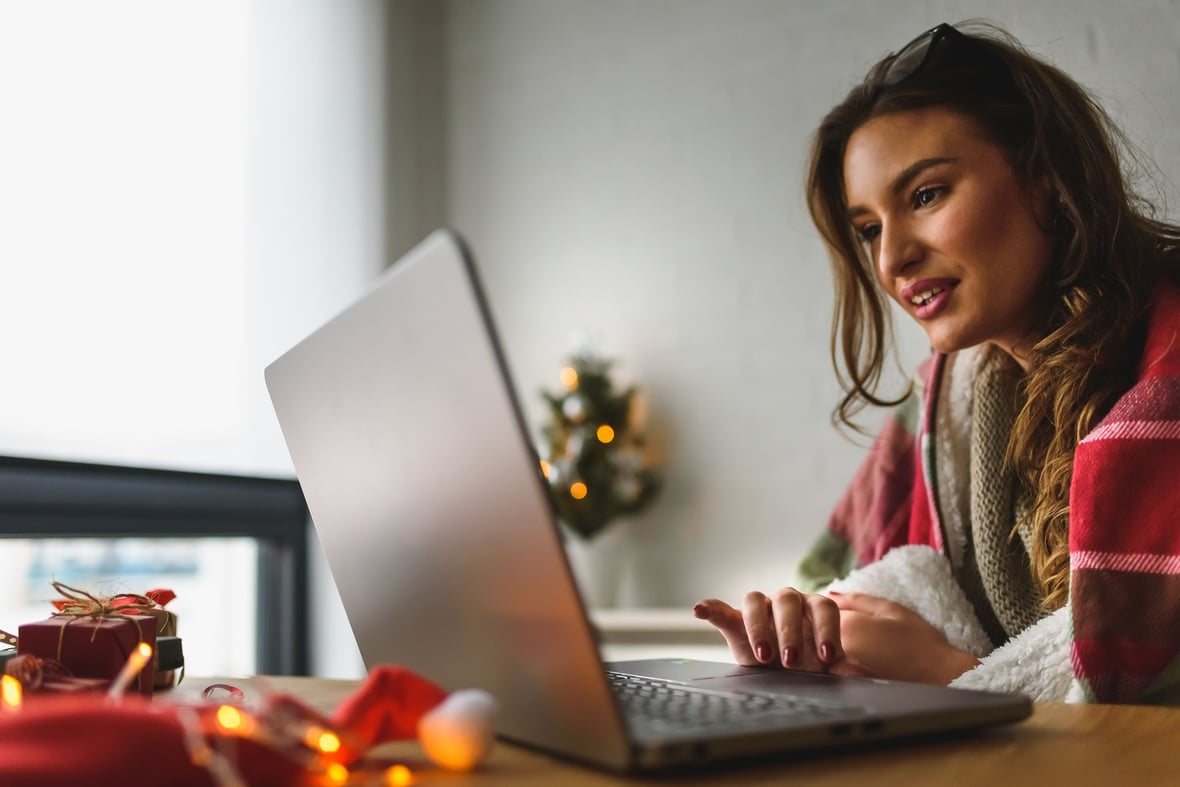 Black Friday and Cyber Monday (BFCM) are quickly approaching, and you know what that means: It's crunch time for you to start improving your website for Christmas sales!
If you're scrambling to finalize your holiday promo and forgot about improving your site, don't worry—we've got you. Here are five simple suggestions to help improve your conversions before the holiday shopping season kicks off.
1. Improve Site Speed
Why is site speed so important?
Have you ever heard the phrase, "Time is money"? Well, when it comes to site speed in the e-comm world, the longer your site takes to load, the less money you're going to make. For example, just a one-second delay could cost you 11 percent fewer page views, 16 percent decrease in customer satisfaction, and a 7 percent loss in conversions! Like I said: TIME IS MONEY!
How fast should your website/page load?
According to TruConversion, 83 percent of consumers expect a webpage to load within three seconds. Anything more and you risk an abandonment rate of over 40 percent! And because Google's ranking algorithm takes site speed into account, your search ranking will likely drop and your ad cost will likely increase.
How do we prevent this?
The first thing you need to do is test your site. And since 85 percent of Americans own a smartphone today, you'll likely want to focus on mobile optimization first. A few options that I would recommend are Google PageSpeed and GTXMetics. Both are pretty easy to use: Just place your URL in the box provided and click analyze. Sixty seconds later, POOF! Your detailed report has arrived. Inside your report you'll find recommendations for both mobile and desktop that you can quickly share with your developer friend so they can begin optimizing!
2. Optimize Product Images
What is image optimization?
Essentially, optimizing an image means reducing the file size as much as possible without compromising the image's quality. Ideally, you want the images to look flawless on both mobile and desktop.
Does size really matter?
Evidently, it does when it comes to the performance of your website. Think about it for a second ... when you go to a website, where is your focus usually drawn? I bet it's drawn to the biggest, prettiest picture on the screen.
Shocker, right? So how do we ensure we are using the right image sizes to attract visitors and, more importantly, keep them? You'll want the sizes to be large enough to make your product feel like it's on display but detailed enough to answer all your customers' questions—but, at the same time, not so big they slow down your site.
We say follow Shopify's recommendation of 800 by 800 pixels and above. More importantly, make sure you keep all the image sizes consistent so that your site looks tidy. Remember: You only get one shot at a first impression.
Will Shopify's automatic compression affect the image quality?
Unfortunately, it can. With JPGs or JPEGs, you can expect the quality of your image to drop anywhere from 10-35 percent, which can be a dramatic change in your product images. You could probably get away with it on desktop, but 73 percent of online purchases are made through mobile devices. So the format you select has to look flawless on mobile.
Because of this drop in quality with JPGs, we recommend using PNG files instead. These are typically your Photoshop-type files that haven't been compressed or altered. You can expect the quality of a PNG image to drop 1-10 percent, if any.
How many product images should I have?
There isn't really a definitive answer to this. If you do a quick Google search, you'll notice there is a very wide range of recommendations. What I found works best is a picture of the front of the product, one of the back, and a detail shot. Then I like to use a lifestyle image that communicates a feeling (preferably happiness). For the last image, I'll usually go with a comparison chart; I'll find a competitor's product that is very similar and highlight a few things that make our product the better choice.
3. Reconsider the Add-to-Cart Button
Now let's talk about the single most crucial element of your product page that's often neglected and viewed as an afterthought: the add-to-cart (ATC) button.
I know, I know—it's just a button, right?
WRONG!
Overlooking the importance of this button's design may result in lost revenue opportunities.
Lucky for you, we have three quick, simple best practices you can implement to optimize your ATC button.
Call-to-Action Text
Commonly used text like "buy now," "add to cart," "check out now," and "add to bag" might seem cliché. However, when selecting your text, you want to keep it as simple as possible for your customers. They are used to seeing one of these four options, so let's not try not to reinvent the wheel. The less thinking they have to do, the less likely they are to question the next step.
The language you use for that next step depends on whether or not you're using a cart page. For example, when customers see text like "buy now," they likely think that when they click the button, they will actually buy your product. In contrast, when they see something like "add to cart," they expect to be able to continue shopping. That's why we recommend using "add to cart" or "add to bag" when using a cart page. If your customer goes directly to checkout once they hit your CTA button, then using "buy now," "shop now," or "check out now" is perfectly fine.
Color Psychology
Now for the big reveal! The best color for add-to-cart buttons is ...
Whatever color you want!
The only caveat is it must be the most prominent color on the page.
From a visual hierarchy standpoint, the more a particular element stands out, the more important it will seem to your customer. Use a color that is not used on any other parts of your product page so that it draws them in.
Button Shapes
Many of the largest e-commerce websites out there use different shapes for their "add to cart" buttons.
The most common shapes used are the pill- and rectangle-shaped buttons. For example, Amazon, Walmart, and Wayfair all use the pill-shaped buttons, while Costco, Macy's, and Best Buy all use rectangles. The important thing is to be consistent. If you choose the rectangle shape, then make all your CTA buttons rectangle.
And keep it above the fold!
4. Use UVP or USP Icons
OK, let's play a game. Without using words, how would you explain to your customer why they should buy from you and what makes you different from your competitor?
The clock is ticking!
Answer: unique value proposition (UVP) or unique selling proposition (USP) images.
What are these, you ask? They are the images right below the ATC button that quickly explains why your company is different from your competition.
Why use images?
Because it's easier for people to process images compared to text. Actually our brains process images 60,000 times faster. And with often-cited research suggesting that 65 percent of the population is visual learners, these images play a huge role in the buying decisions. Ninety-three percent of consumers consider images essential in purchasing decisions.
Here are some examples of things you could turn into UVP/USPs:
Free Shipping and Returns
Lifetime Warranty
Cruelty-Free
Feeding the Homeless
If you're still having trouble, a simple Google search for UVP or USP images will provide all kinds of examples.
Make sure you come up with 3-4 good UVPs or USPs and stick them directly under the ATC button.
5. Display Reviews/Testimonials/Social Proof
One of the most important elements of your e-commerce store is social proof. The purpose of this is not only to establish trust in your business, but also to provide your customers with information about the products you sell.
One of the main reasons people buy online is to see what other people have to say about the item. To avoid overwhelming customers, it's important that your store displays user reviews clearly and provides enough resources to help them to find them.
Featured Testimonials
As much as we would love to take credit for this brilliant idea, unfortunately, we can't. We actually picked this gem up from Ezra Firestone, CEO of Zipify Apps and BOOM! by Cindy Joseph and founder of Smart Marketer. He recommends opening with a featured testimonial. He's found that, instead of using an actual product name, leading with a featured testimonial builds credibility right off the bat.
Clickable Review Stars
Following the featured testimonial should be your review stars and average ratings. The stars should be clickable with an auto scroll option that allows your customer to instantly identify and access the reviews right after the product description without having to scroll to the bottom of the page.
What to Do with Negative Reviews
You might think that showing only the 4- and 5-star reviews is the best way to build credibility—but this couldn't be further from the truth. Honestly, it makes your company look spammy.
Sure, we get it; receiving a negative review can really put a damper on your day. But bad reviews are part of the reality of owning a business. Face it: Nobody's product is perfect. There will be defects, delays in shipping, or whatever other issues from time to time. How you respond and handle them publicly is what really matters.
What are customers looking for here? They want to see how you handle negative situations—how you speak to the customers and if you offer a solution. Do you provide a direct number or email so the person complaining can get their issue resolved quickly?
If done correctly, this gives them the confidence they need to make their purchase. They know that your company will stand behind your product, which ultimately builds trust.
There are a lot of ways to increase conversions. In the end, it's all about knowing what your audience wants and giving it to them. If you keep these five tips in mind when finalizing your Black Friday Cyber Monday prep, you'll be sure to see an increase in conversions!

About the author
Nick Mercurio is an E-Commerce Specialist for SmartBug Media. Nick uses his diverse range of experience across multiple industries to help his clients grow their business. His unique and innovative approach enables him to provide quick and easy to understand solutions that maximized his clients ROI. Certified in Digital, SMS and Email marketing Nick also has a passion for increasing his clients conversion rates through website/ product page optimization. In the ever changing e-commerce landscape Nick stay on top of trends and not afraid to jump in and get his hands dirty. Read more articles by Nick Mercurio.
Subscribe to get our new blogs delivered right to your inbox
Other insights you might like