By Andrew Macey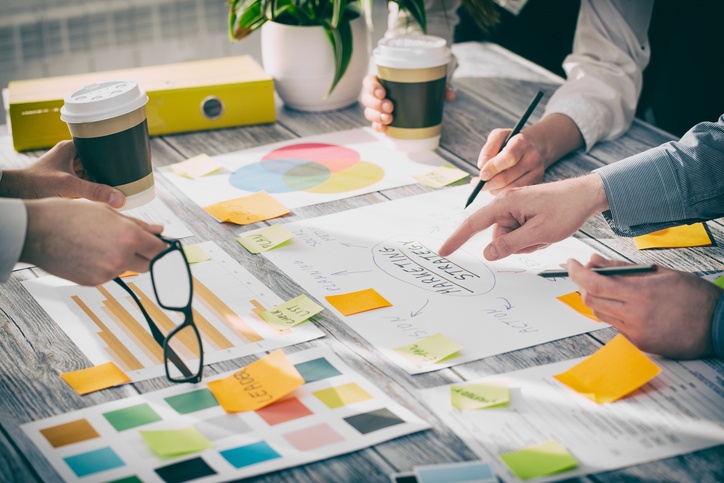 Trash is a necessary evil for businesses of all sizes. It generates over time and costs money to either recycle or dispose of. When managed by Federal International, however, trash can boost profitability. How so? The company helps businesses realize savings and improve profitability by implementing smart, innovative recycling and waste solutions.
Federal International was founded in 1914 in St. Louis and has grown from a local paper recycler to a provider of waste and recycling services to companies throughout the US, and an international shipper of recycled commodities. As anyone involved in branding knows, 100 years speaks for itself (seriously, how many businesses can say they're more than a century old?).
The Challenge
The Federal International value proposition is a no-brainer: they help companies reduce and recycle their waste efficiently, while enabling them to make money in the process. However, making their services appealing, while catering to a wide variety of consumers, was a major problem that their old website did not address. Also, despite their extensive brand potential, the former Federal International website was bland and outdated.
Federal International came to SmartBug in search of a clean, polished, and professional website that clearly conveyed their brand promises and value propositions. They envisioned a website that explicitly discussed the numerous benefits of their services to target audiences, but removed the stigmas of the trash industry.
With six recycling plants that service local businesses, national accounts that focus on the needs of larger businesses, and a trading group that buys and sells recycled commodities, Federal International has quite the reach. Their old website, however, did not clearly communicate to these audiences; in fact, it did very little to differentiate them in the first place. Federal International wanted the redesign to cater to these three segments, all while converting at higher percentages.
The Design
How do you make trash appealing? That was the main problem Federal International faced before contacting SmartBug Media for a website redesign. The SmartBug team knew that we wanted to make the redesign visually stimulating and modern.
To help create drive home this design aesthetic, we were able to utilize photography from their actual centers. From cleverly cropped collage of wood pallets, to surprisingly colorful images of plastic refuse, we worked hard to blend practicality with creativity. The end-result is a clean design that takes an streamlined, creative approach to branding a waste company.
Because Federal International offers services to a variety of disparate industries—from grocery stores and warehouses to schools and universities—we knew that presenting clear, concise information was paramount to their success. To help Federal International cater to their wide variety of consumers, we visualized their brand promises and improved website copy to focus on the end user. By creating industry-specific pages, our design enables users to easily locate pertinent information.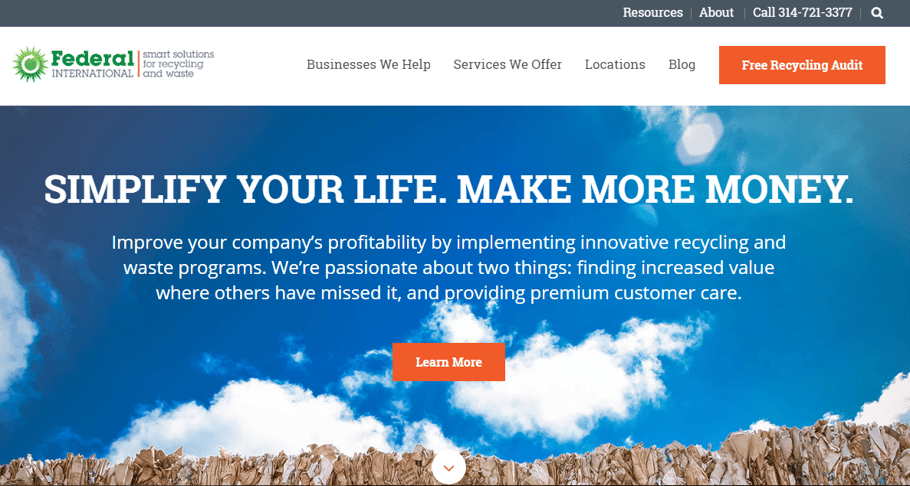 The Results
Whereas the old Federal International website was neither responsive nor optimized for mobile, the SmartBug Media redesign is image-heavy and mobile-friendly, and incorporates modern parallax elements and hover movements that attract and engage the user. From copy to design, the new site caters to industry- and service-specific needs.
This attractive, intuitive design helped boost average monthly website traffic—a 20 percent increase since launching the new site. By developing a journey for the end user that helped guide segments to appropriate resources, information, and call-to-action buttons, SmartBug Media helped increase average monthly leads by 25 percent. Finally, website visits to lead conversion rate increased a whopping 100 percent (from 55 percent in October 2016 to 1.09 percent in February 2016).
"Smart Bug not only produced a great site for us on time, but their management of the whole process was extraordinary," said John Daniel, Chief Executive Officer of Federal International. "We were very busy with other projects, and Smart Bug continued to keep the project on track, while coming up with creative solutions and a great product."