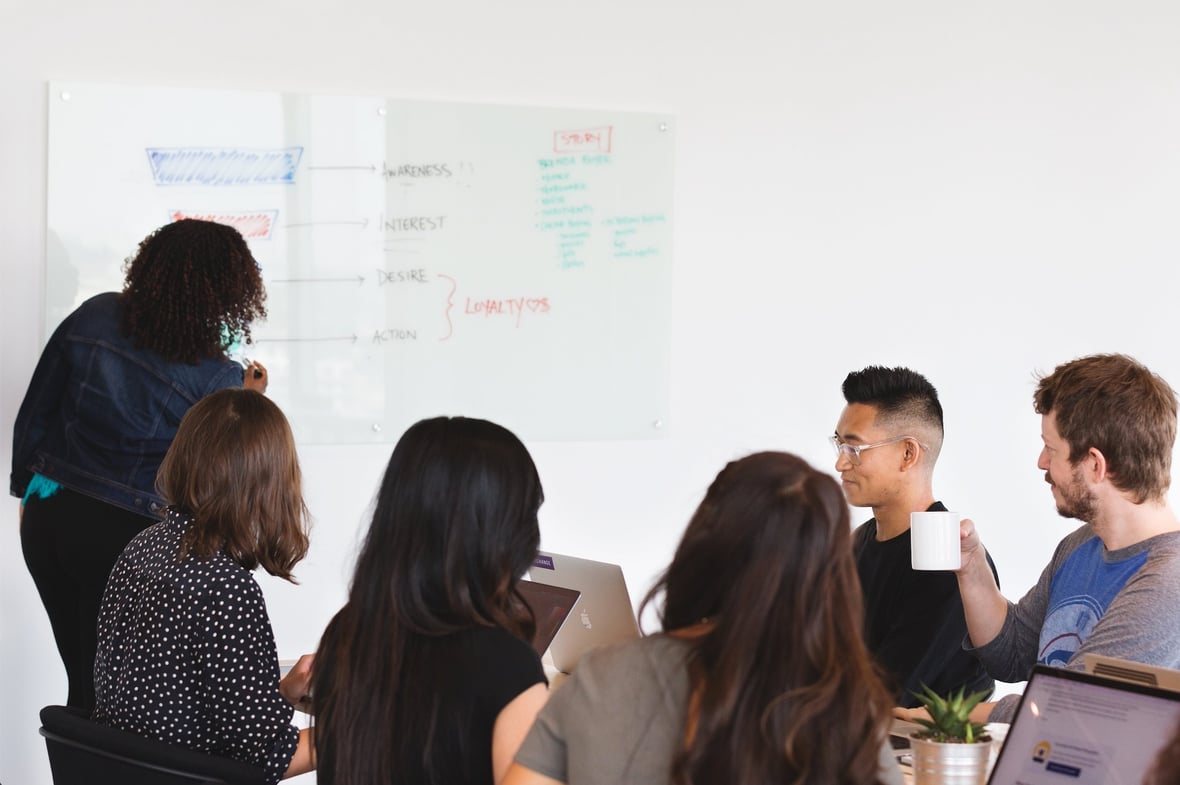 2020 Growth Hacking Ideas for SaaS Companies
June 15, 2020
---
Growing a small to medium-sized business is challenging for companies in all industries. But for a software-as-a-service (SaaS) company, it can be especially difficult to get noticed. That's because the industry is flooded with competition, all of whom are vying for the already limited attention spans of consumers in both the B2B and B2C spaces.
In the marketing vertical alone, there are over 8,000 different technology solutions. Eight thousand! That's up 5,233 percent since 2011. The MarTech 5000 does a great job of visually representing just how saturated the market is, and in turn, how much competition SaaS companies in the marketing space will be forced to overcome.
The massive growth in the SaaS industry isn't expected to slow down anytime soon, either. In 2018, the global SaaS market was valued at about $134.44 billion, and recent projections are anticipating the value to grow to $220.21 billion by 2022.
What can SaaS companies do to not only stand out in a crowded market, but also find a cost-effective way to acquire new customers?
Enter: growth hacking. Much more than just a buzzword, growth hacking is a viable business solution that empowers small SaaS companies to scales quickly on a limited budget.
If you're looking for ways to quickly grow your SaaS business, here are four ideas to get the creative juices flowing:


1. Invest in Content Marketing
Content marketing has proven to be an extremely successful strategy for businesses in all industries. And it's also an incredibly cost-effective growth hacking tool.
When the content you're producing is optimized for SEO, you're able to capitalize on organic traffic. The more content you produce, the more traffic you'll receive. This is the ideal scenario for any growth hacker because you are attracting new visitors to your website … for free! And the best part? High-quality content drives more leads—three times more than paid advertising, to be exact. Talk about a win-win!
Content marketing can also help you stand apart from the competition. Beyond establishing yourself as a thought leader in the industry, you are developing an evergreen library of helpful, educational content that keeps visitors coming back for more.
HubSpot is a shining example of a SaaS company that built a content empire to fuel its growth. In addition to developing a thorough, well-optimized blog about all things inbound marketing, HubSpot developed a library of free online training courses and certifications. Because these courses are not limited to HubSpot customers, HubSpot has been able to provide instant value to its web visitors without requiring an investment from them. What's even better? The courses help showcase the value of the HubSpot platform, driving visitors one step closer to a purchase.
What can we learn from this? Growth hacking doesn't always have to be an extravagant, outside-the-box idea. It's all about leveraging your expertise and building a long-term content marketing strategy around it. For teams with limited bandwidth, look for ways to repurpose the content you already have across different mediums. It can be a huge timesaver!
2. Offer Free Trials
One of the best growth hacks for a SaaS company is offering a free version of your software. It may seem scary to let visitors use your product with no strings attached, but rest assured that there are many benefits.
Free trials allow warm leads to familiarize themselves with your product for a short period of time before requiring them to pay for it. Throughout the process, they get hands-on experience using the tool and are able to decide for themselves if your product is worth investing in. Many times, this trial period also helps reduce the perceived risk associated with making a purchase. Additionally, free trials are the perfect opportunity to demonstrate value quickly and gain traction without requiring an upfront investment. You'll find yourself establishing trust and building loyal advocates for your product—all before they become paying customers.
Slack, a leading workplace messaging app, is known for being one of the fastest-growing SaaS businesses ever. Although there are many things that have contributed to its exponential growth, one of the most notable was Slack's use of a freemium model.
Within the freemium model, users are able to utilize all aspects of the software before making any investment—and there is no limit on how long they can access the free version. The only time a user needs to upgrade is if they'd like enhanced features such as additional storage. The onboarding process is also simple. Unlike some free trials that require credit card information to unlock the platform (and essentially lock you into making a purchase down the road), Slack's model only requires an email address to get started.


3. Grow Your Presence in Online Directories
As a smaller SaaS company, you are likely faced with two common marketing challenges:
Getting noticed in a saturated market
Growing your domain authority to match that of some of your larger competitors
With both of these challenges in front of you, it can be difficult for your content to rank well on search engine results pages (SERPs).
A quick way to jump-start not only your brand recognition, but also domain authority is to grow your presence in online directories. Some of the most popular for SaaS organizations include G2 Crowd, Capterra, and GetApp; however, many verticals have their own online directories as well. For example, there's MarTech Health Directory for healthcare, ClickZ for marketing, and Digital Commerce 360 for e-commerce apps. An added bonus is that many of these online directories allow people to leave reviews, which can further establish you as a trusted business partner.
Although many online directories require you to pay for some of their premium services, most will, at the very least, allow you to list your business and acquire that coveted backlink.


4. Create a Referral Network
Referrals are a growth hacker's best friend. Take a moment to consider these stats:
The lifetime value for a new referral customer is 16 percent higher than non-referrals.
People are four times more likely to buy when referred by a friend.
Companies with formalized referral programs experienced 86 percent more revenue growth during the past two years when compared to the rest.
If that isn't enough to get you excited, remember that referrals are an absolutely free form of marketing that can have a major impact on your brand.
The caveat? You have to proactively ask your user base for referrals. This may seem obvious, but it's an important step in the process. In fact, a recent study found that although 83 percent of consumers are willing to refer after a positive experience, only 29 percent actually follow through.
Dropbox is a popular document-sharing platform that successfully implemented a referral program that paid off in a big way. Rather than simply ask their customers for referrals, they incentivized both parties with additional free storage. This tactic went viral and contributed to exponential growth of the company. I mean, who doesn't like free things?


Growth Hacking Best Practice for SaaS Companies
Now that we've got your creative juices flowing, here are a few best practices to keep in mind when employing your own growth hacking ideas:
One size does not fit all. Growth hacking will look different for every company. What may be wildly successful for one may have no effect on another. That's because what will work for your growth hacking strategy depends on your particular product offering, target market, and industry. The key to finding the right solution for your organization is to be creative, ask questions, analyze what's working (and what might not be), and pivot based on your findings.
Keep your focus contained. The goal of growth hacking is to quickly grow a business on a limited budget, but that doesn't mean you should try to target everyone. The best place to start is focusing on 1-2 buyer personas, semi-fictional representations of your ideal customers. Containing your focus can help guide your growth hacking strategy and prevent you from bringing the wrong people into the pipeline.
Listen to your users. For any company trying to successfully grow, listening to your users is key. Their insight can provide valuable information about the things you are doing right, areas to improve, or even potential modifications to your software. Accept criticism with humility and look at it as an opportunity to grow.
Focus on the customer experience. Although the goal of growth hacking is to, well, grow, you still don't want to forget about the people who are already helping you get there. By rocking the customer experience, you can turn ordinary customers into loyal brand advocates. Remember, referrals are much more valuable to your business than other forms of traffic. The more you can delight your customers, the more likely they will be to refer your product to others.
At its core, growth hacking may look very similar to traditional marketing, but they each have very different sets of goals. Marketers focus on building awareness and driving people to purchase a product or service; growth hackers are only focused on growth and will find creative, innovative, and budget-conscious "hacks" to achieve it.
In order to be truly effective at growth hacking, it's important to always provide value to your prospective customers (rather than strictly promoting your product) and keep the inbound methodology in mind. For a complete deep dive into what it takes to build a successful inbound marketing program for your SaaS company, sign up for our free five-week training series here.
This post was originally published in August 2019 and has been updated since.

About the author
Christina Clark was formerly an Inbound Marketing Strategist at SmartBug Media and brings a wealth of creative talent to the organization. She has experience implementing both traditional and inbound marketing strategies for companies in various industries and has been a HubSpot power-user since 2015. She specializes in lead generation, lead nurturing, and content marketing tactics. Read more articles by Christina Clark.
Subscribe to get our new blogs delivered right to your inbox
Other insights you might like