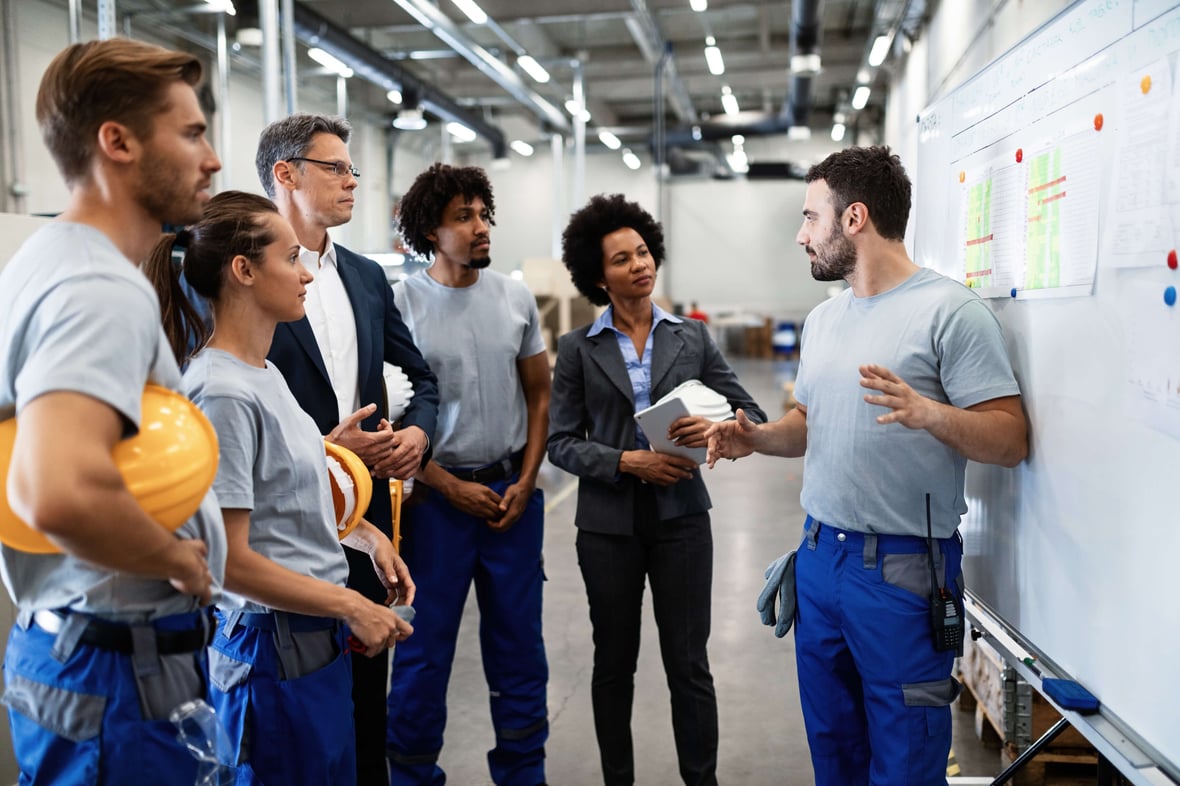 By Drew Cohen
Believe it or not, there are still industries that haven't yet made a serious jump into digital marketing across the board—and one of those is manufacturing.
Although some companies are incredibly far along in their digital marketing efforts, others are lagging behind, and those who fall into that second category tend to fear the unknown and feel that it's too long a road to travel down before they'd see any ROI.
One of my favorite discussions with prospects or clients in the manufacturing industry is about quick wins. After all, who doesn't want to make an investment in marketing and see initial returns rather quickly?
But what I'm about to dive into in this post isn't magic—it's a series of evergreen lead nurturing strategies (automated email campaigns triggered by the activities of a contact in your CRM) that your organization can implement in a fairly short period of time. It's important to note that these strategies assume several key pieces are in place: a marketing automation tool (Marketo or HubSpot, for example), an integration with an ERP or CRM tool, and a functional website that has up-to-date content.
Let's dive in and explore three evergreen lead nurturing strategies for manufacturing professionals.

Open Quote Reminders for Prospects and Potential First-Time Customers
Getting a prospect to take a chance on your organization can seem challenging.
In the last five years, the cost of acquiring new customers has increased by over 50 percent, which shows the challenge that companies (and marketers) face in trying to convert prospects into paying customers.
A proven strategy that we've used with manufacturing clients (and others) are open quote reminders. Here's the flow of this lead nurturing strategy:
Prospect X comes to the website and subscribes to the blog.
Several weeks later, prospect X submits a request for a quote after clicking a call to action on a blog post about a new product.
Sales receives the quote request and generates the quote for prospect X.
Prospect X takes no action for 24 hours.
Prospect X is sent a short automated reminder letting them know that they requested a quote 24 hours ago but haven't yet completed the process. They are provided the phone number and email address to the sales department to address any specific questions or concerns.
If prospect X still does not become a customer 24 hours later, they are sent an additional email reminder that also contains background information and a few subtle mentions of awards that the company has won (to reaffirm that this is a reputable company that is trusted by industry professionals).
Bonus Tactic
Adding breakup-style emails to the tail end of the lead nurturing campaign can be beneficial. Using subject lines with personalization tokens can grab a contact's attention. For example, an email that says "[First Name], was there something I missed?" can encourage the user to open. Once they do, the email can answer some frequently asked questions about the ordering process, remind them of their open quote, and provide contact info for the sales team.


Takeaway
Acquiring new customers is difficult, and using data and automation to your advantage can give you a leg up on the competitive landscape. Communicating as efficiently as possible with warm leads that request quotes is beneficial to both parties. With an open quote reminder style of lead nurturing campaign, your most sales-ready leads are helped across the finish line.


Replenishment Reminder Emails for Manufacturing Customers
More often than not, companies in the manufacturing industry are selling high volumes of product.
Because of this, being able to use previous order history/data to anticipate customer needs can provide a massive boost to the bottom line. How? Let's use an example customer named John Smith. Here's the flow:
John Smith orders a specific kind of fastener in January.
Every 30 days that no order is placed, an automated email is sent.
The email features "Products you may like" and some of the most popular fasteners (based on John Smith's previous order history).
If no order is placed in 60 days, an automated internal notification is sent to an internal sales representative to follow up with John Smith via a personalized phone call.
Every 90 days, a recap email is sent with the top products ordered by John Smith in the previous quarter. In that email, there is also a "featured" product and a discount offer.
Bonus Tactic
If your integration can sync order quantity, you can use personalization tokens to craft messaging like:
"Hi John,
You recently ordered [insert product quantity here] of [insert product here]. As a courtesy, we wanted to let you know that it's been X days since your last order.
Also, I wanted to let you know that [insert featured product name / link] is currently on sale for 20% off with a purchase of X units or more."


Takeaway
As you can see, this tactic utilizes fairly basic data that is passed by an integration (from ordering system to marketing automation tool). This type of hyper-personalized messaging can be a true game changer for busy manufacturing professionals needing to make quick decisions regarding which vendor to choose.


Featured Resources for Contacts Who Have Not Visited Website in 30+ Days
As an inbound marketing agency, we live and breathe high-quality content, and iIn this lead nurturing strategy, we leverage your organization's content. This could be in the form of blog posts, infographics, white papers, fact sheets, brochures, e-books, and more.
(Note: If you're concerned because you don't have these assets, don't worry—we work with clients to create content. Let's chat.)
If you have a few assets, that's all we need to get started with this proven lead nurturing winner. Here's the flow:
Contact x entered your system from a trade show list, manufacturing-focused social media campaign, previous conversation, subscription to the blog, or any other channel.
Contact x's last website visit was more than 30 days ago.
Contact x is sent an email offering a free guide: The Definitive Guide to Purchasing [insert your manufacturing product category here].
If contact x does not visit the website in the next 30 days, they are sent an email 48 hours later with a vendor comparison chart. The email has a few bullet points of what the contact can expect from the comparison chart, with a CTA to download.
72 hours later, if the contact x still has not visited the website, they are sent an email with a registration page for an upcoming webinar.
Bonus Tactic
As a bonus, if your organization determines "unengaged contacts" are those who do not make a purchase within 120 days, you can trigger a final breakup email in the series that offers a steep discount for first-time customers. If they still do not buy, you can have an internal notification be sent to your marketing manager to opt them out of future emails (database cleanliness is key!).


Takeaway
Leveraging your content is a foundational inbound tactic, and combining that with the power of lead nurturing is a recipe for success. Your business is full of experts in your field, and utilizing various content formats to bring that expertise to life can result in a surge of leads and new customers. Educating your customers where they are in their specific, unique buying journey is going to be much more beneficial than cold emailing or cold calling prospects.

About the author
Drew Cohen was formerly the Senior Director of Revenue Operations at SmartBug. Drew developed strategies for organizations in both B2C and B2B verticals. He has unique experience in private-equity owned organizations, early-stage technology startups, sports & entertainment and healthcare. When not marketing, you can find Drew yelling at his television during any Philadelphia team's sporting event. Read more articles by Drew Cohen.
Subscribe to get our new blogs delivered right to your inbox
Other insights you might like