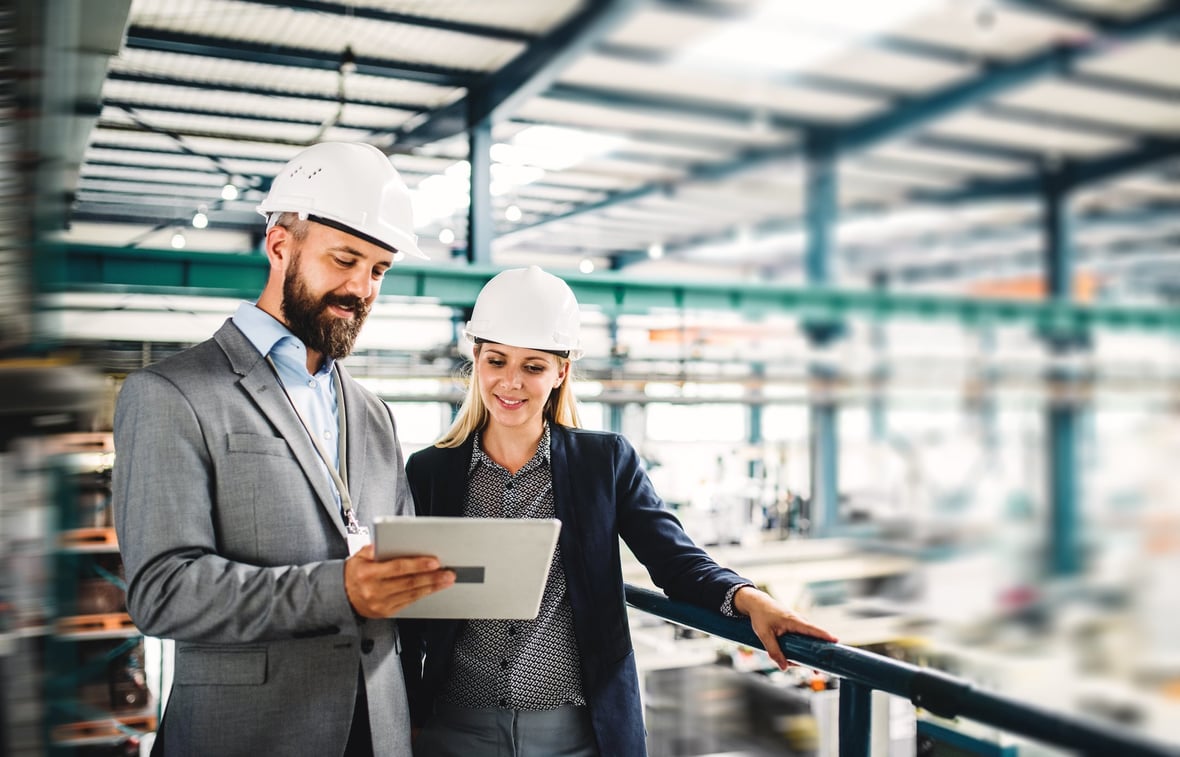 Manufacturing has a lifespan that few industries can measure up to, and over time, as processes and technology evolved, so did the industrial buying process.
Long gone are the days when buyers would pick up the phone to reach out to a handful of companies to get information, advice, and pricing — they're finding that information online and doing their research long before you even know they are searching for your products and/or services.
Consider this:
This clear shift means that manufacturers with a strong online presence will find and connect with potential buyers and earn the majority of online sales. While an up-to-date website that's optimized for search engines is the strong foundation for any inbound marketing strategy, another fantastic way to connect with new prospects, generate leads, and find new sales opportunities is by utilizing social media channels — particularly LinkedIn.
With over 575 million users, LinkedIn is by far one of the most obvious ways for you to connect with business professionals and network with new prospects who are interested in what your company has to offer. Research shows that 75 percent of buyers utilize social media to make buying decisions and 76 percent of B2B buyers incorporate recommendations from their social networks into their decision-making processes.
To find new buyers, make connections, and increase sales, here are seven ways manufacturing companies should use LinkedIn to reach new buyers:



1. Create a Prospect Database
Before you start reaching out to brand new prospects, be sure to start building up your database with existing prospects.
It is likely that you already have a list of all your connections' names and email addresses that can be downloaded as a .CSV file, — and LinkedIn allows you to download all your LinkedIn contacts into their own .CSV file?
By simply downloading your LinkedIn contacts and merging them with your current contacts, you'll have one master file of all your contacts. From there, you can easily comb through your database and send direct emails to any relevant prospects.

2. Invite Group Members to Connect
Once you've created your master prospect database with all your current contacts, you'll want to start adding new contacts to that database. The more prospects, the higher your chances for closing that next sale.
One way to do this is to comb through the LinkedIn Groups you're a part of and send a connect request to members of the group you've identified as a potential prospect.
Include a personal (not generic) note with each connect request. It is likely a request from a stranger will be declined, but that is much less likely if the request comes with a personalized message speaking to something the two of you have in common.
Bad: Hi Jim—let's connect!
Good: Hi Jim, I recently read an article in Forbes that covered the work you're doing and was very impressed. I'm really passionate about recycling and corporate sustainability initiatives. Would love to connect and share ideas!


3. Follow Company Pages
Connecting with new prospects can also be done by following the pages of companies you have identified as good prospects.
Following a company page is an easy way to stay up to date on that company's news. Company pages also enable you to find people who work for or have worked for that company.
Utilizing the above strategy for inviting group members to connect, identify the good prospects by viewing their job titles and noting buyers, researchers, and decision makers.


4. Use Advanced Search to Find Potential Prospects
Not sure what companies to target for prospects? No problem.
With LinkedIn's advanced search filters, you can easily identify specific LinkedIn users by searching for specific keywords, job titles, locations, industries, company sizes, seniority levels, and experience.
(If you're not sure what parameters to use in your search, review your buyer personas.)


5. Send InMail
Okay, so, you just found the perfect prospect — but you aren't connected with them and don't have their contact information. LinkedIn allows users to connect with one another by using InMail. InMail allows you to send a private message to any LinkedIn user. It isn't free, but LinkedIn claims InMail is 2.6 times as effective as regular email.
LinkedIn Premium accounts range from $29.99 to $119.95 a month and come with a set amount of InMails you can send each month. Extra InMails can be purchased for around $10 each — so you'll want to use them wisely, otherwise this cost can easily add up.
Because users know that you've paid to email them directly, you'll want to adjust your messaging slightly. Be genuine and straightforward, and offer them something of value.
Bad: Have we got a great deal for you: Click this link!
Good: Hi Mary, I saw on a recent LinkedIn post that you attended the "2020 Green Manufacturer's International Conference." Can I send you our notes on how to reduce your organization's paper waste?


6. Designate an Official LinkedIn Rep
Just as it's important to reach out and connect with potential prospects, it's also important to keep your company page up to date and active.
The best way to accomplish this is to designate an official LinkedIn representative. This person will be charged with developing new content and making new posts, commenting on posts, engaging with followers, responding to questions and proposals, and being active in your industry's online community.
(We have a blog post on optimizing your LinkedIn profile for business if you're interested.)


7. Utilize LinkedIn's Sales Prospecting Tool
Part of LinkedIn's sales solutions is the LinkedIn Sales Navigator tool, which goes above and beyond the capabilities of LinkedIn's Premium account. This tool allows for real-time sales updates (relevant insights on accounts/leads, job changes, news mentions), custom lead recommendations, which shows you the best way to connect with prospects, InMail, and a CRM widget that can integrate into Salesforce or Microsoft Dynamics.

About the author
Jennifer Shore was formerly the Director of Marketing of SmartBug and a Seattle-based writer who has received numerous awards for her work. In her role at SmartBug, she is responsible for the development, execution, and optimization of the high-growth lead funnel, nurturing, and customer acquisition. Read more articles by Jennifer Shore.
Subscribe to get our new blogs delivered right to your inbox
Other insights you might like