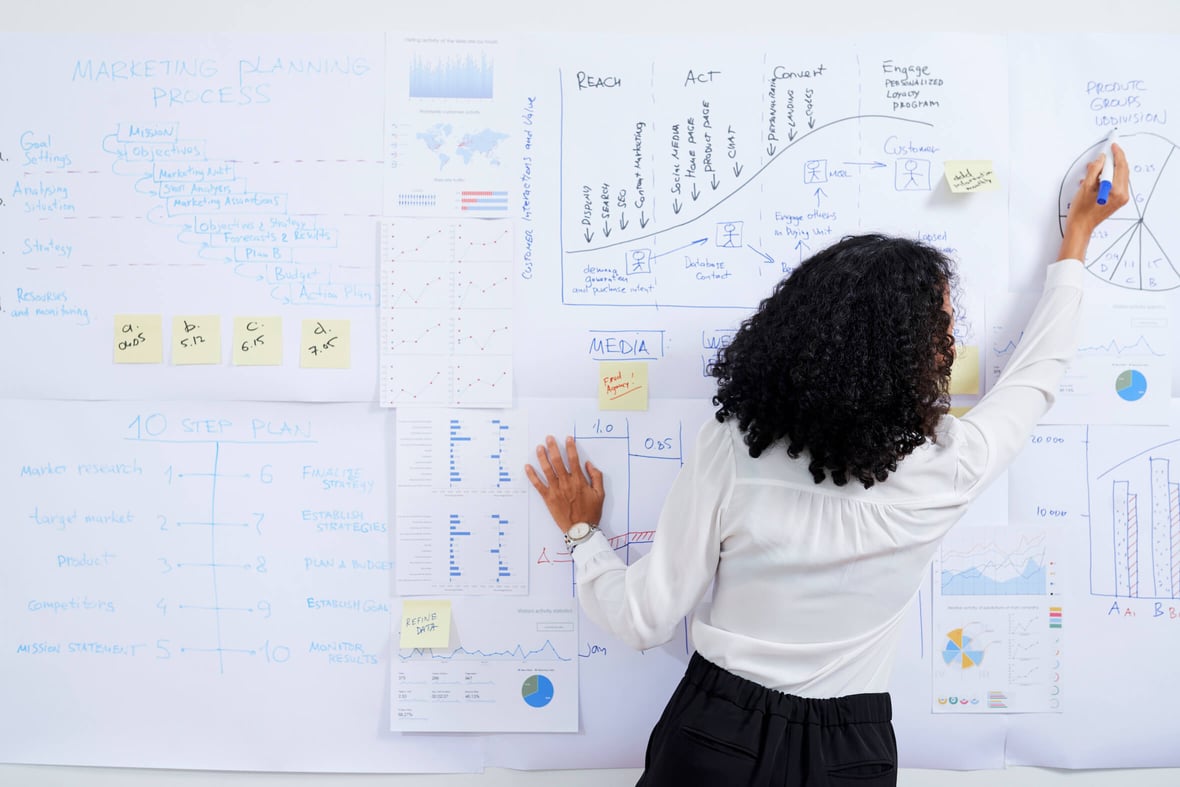 5 Fundamentals of Any Demand Generation Marketing Strategy
October 17, 2019
---
Picture it. You have a product or service that isn't getting the attention you hoped for and, therefore, you're not meeting the goals you had for it either. Why is this happening? Maybe it's a new product no one knows about yet or maybe you improved a service offering, but your customers just want what they are familiar with. No matter what the issue might be, a great way to address it is with a strong demand generation marketing strategy. Sound intimidating? Don't worry—by the time you finish reading this, you will understand the essential elements of demand generation marketing and how it can provide you with a solution.


Another Type of Marketing?
Demand generation is exactly what it sounds like: generating demand. It includes every point of contact a prospect or customer has with your brand, from before a lead enters your funnel through ongoing services that keep them returning to you as a happy customer.
If demand generation is the "what," the marketing strategy is the "how." Demand generation marketing runs alongside those interactions to increase the success of each touchpoint and ultimately have a positive impact on revenue. To guide you through doing that well, here are five fundamentals of a strong demand generation marketing strategy.


Building the Foundation of Your Demand Generation Marketing Strategy


1. Planning and Goal-Setting
Recognizing the need to increase demand is just the beginning of your demand generation marketing. Your efforts will span every life stage of your prospective customer, so in this initial planning phase, you have to look at the big picture goals as well as specific sales and marketing goals. It's important to identify the results you'd like to see for your product, service, or brand, and evaluate whether those align with your buyers' needs.


2. Brand Awareness
Creating awareness is the first step in the demand generation strategy and the key to doing it well is understanding your audience. You can't expect them to want to know about you if you haven't taken the time to understand who they are and why they might care about your company, products, or services. Developing buyer personas is a great way to identify your ideal customers and what content aligns with their goals.
It's also crucial to create a strong, consistent brand that makes it easy for your target audience to find you. Once you have established who you want to connect with and removed any barriers to them becoming a follower, boom! The foundation has been laid. You are on your way to building a community of supporters around your brand.


The Plan in Action

3. Inbound Marketing
Inbound marketing's significance to demand generation is in the role it plays in creating that demand. Although inbound marketing is just one type of demand generation activity, it is a great way to familiarize an audience with a brand. Creating and consistently sharing targeted, optimized content across various channels will begin naturally attracting leads, educating them about your organization, and showing them your level of expertise in your industry. All of this establishes trust, as well as awareness, and helps you create a culture around your brand. Once they get used to referring to you as their go-to on the topic, their demand for information will continue to increase, and you will generate qualified leads from their engagement.
Some inbound marketing tactics are more ideal for demand generation, such as the use of social media and video. Social media is a great tool for connecting with leads and prospects where they are and giving them a variety of platforms to learn about you and become an advocate for your organization. Engage with them, answer questions, and make them feel that they are part of something by supporting you—soon, interacting with your brand will become a regular part of their day or week. Video is ideal for attracting an audience and is a great way to quickly build trust by showcasing the personality of the brand or demonstrating how to use a product.


The Role of Marketing Beyond Marketing

4. Sales Enablement
Your sales process is crucial to the success of your demand generation strategy. Marketing and sales will need to be fully aligned to continue a positive experience for leads and allow for demand growth. The sales team should approach all interactions from the buyer's perspective, focusing on their needs and goals and understanding their position in the sales process.
You can use your demand generation marketing as a way to keep leads moving through the sales process by maintaining the same level of quality content they are used to engaging with. This will help them continue to feel comfortable with the brand and trust their reliability and expertise as they make sales decisions.


Testing/Analysis
With any marketing initiative, analyzing your results is key, but it's especially important with demand generation marketing. Effective demand generation is a data-driven strategy where the frequent evaluation of how leads respond dictates your future efforts. In order to maintain and grow the demand, your marketing strategy should be flexible and allow you to experiment to find what works. The data should also be able to show how your demand generation marketing is contributing to the revenue overall, which can influence your decisions moving forward.
Do you feel ready to dive into planning your first demand generation marketing strategy? The key is to remember how all-encompassing demand generation is and not let your efforts get siloed. Keep your audience in mind throughout the process and use marketing to help them get to know you better and soon wonder how they lived without your organization.
If you want to learn more, check out our Customer Success Marketing Campaigns for Demand Generation and take your expertise on the topic to the next level.
About the author
Karleigh Fantacone is a SmartBug Inbound Marketing Senior Specialist based in Columbus, OH. She has both in-house and agency experience managing and executing all aspects of digital marketing campaigns. Her design background influences her creative, detail-oriented approach to her work overall, and she loves diving into everything HubSpot has to offer. Read more articles by Karleigh Fantacone.
Subscribe to get our new blogs delivered right to your inbox
Other insights you might like