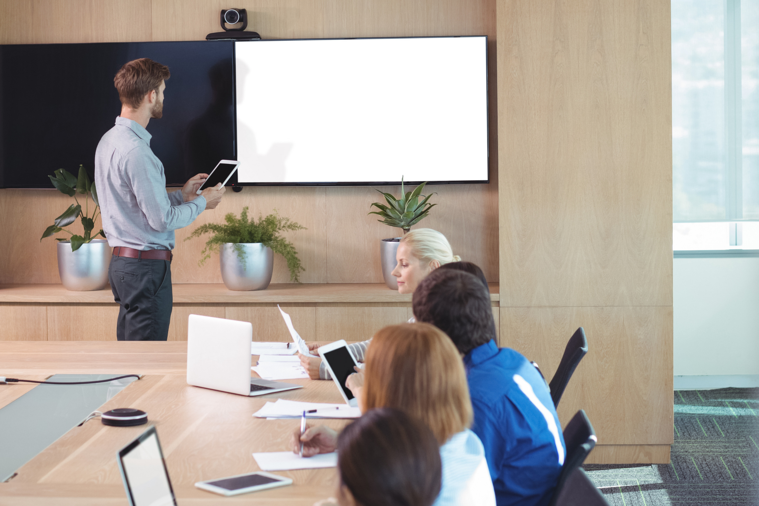 By Jen Spencer
The possibility of a global recession continues to loom, slowing down the market and causing businesses to find ways to protect revenue, regardless of industry. In a recession, products and services cost more, budgets are cut, and businesses are more selective on how they're spending money.
For industries that continue to be relevant during a recession, short-term solutions aren't necessary. Customers are likely reliant on your services, which means you should focus on long-term solutions that benefit existing customers and anticipate the needs of future customers.
That's where Intelligent Inbound marketing comes into play. Intelligent Inbound marketing brings in customers by creating valuable content and experiences tailored to them.
In every industry, the great benefit of inbound is meeting customer needs by understanding who they are, their pain points, and which goals they're prioritizing. People want value first, and that's why inbound works so beautifully: It provides value upfront.
As you consider strategies to address market slowdown, your marketing isn't just a secondary response. It needs to be prioritized in the same manner as other strategies to maintain the health of your business.
How Can Intelligent Inbound Marketing Help in Recession-Proof Industries?
While some companies have considered it necessary to cut their marketing budgets and others have argued that you shouldn't cut your marketing budget at all during a recession, you might find yourself in the middle, asking, "If people need my services even in a recession, why do I need to pay attention to marketing?"
Here's the truth: Now is the best time to audit your marketing strategy for new ways to attract new customers, retain existing customers, and anticipate the needs of future customers.
Inbound marketing is the marketing methodology that attracts customers with valuable content and experiences tailored to them. Where outbound marketing interrupts, inbound forms more natural connections with an audience that is actively seeking to solve their existing problems.
This methodology is suited to connecting with both existing and prospective customers through:
Attraction: Drawing in the right people with valuable content that establishes you as a trusted advisor and someone they want to engage with.
Engagement: Presenting insights and solutions that address their pain points and goals, so they are more likely to do business with you.
Delight: Providing continuous help and support to empower your customers to find success in their purchase of your services.
By implementing inbound marketing, you benefit from:
Reduced expenses: Inbound is far less expensive (and more powerful!) than outbound marketing. Inbound tends to be leaner and directed toward a

target audience

.
Greater trust and credibility: When a prospect finds your content through organic means, they're more likely to trust your brand because you've brought value and potentially solved a pain point.
Quality traffic and leads: Inbound is based on knowing your target customers before creating the content. This means people consuming your content and becoming leads are more likely to be a good fit for you and your product—they're the kind of people you're seeking to do business with.
Opportunities to learn: The things you know about your audience will adjust over time as the audience changes and their needs grow. Part of inbound marketing is listening in on conversations from direct feedback and social media, sources of data that help you better align your product and messaging.
Intelligent Inbound marketing is beneficial to every recession-proof industry. Below, we dive into strategies for aligning marketing strategies in five industries: tech, healthcare, financial services, retail, and higher education.
Driving Growth and Customer Lifetime Value in Tech
Customer success plays a big role during a time of economic volatility. As expenses are higher, people need to be selective about where they are putting their energy.
Many of the thousands of marketing and sales technology platforms out there run into the issue of truly only solving for one challenge rather than providing customers with a complete solution. Even platform companies face a similar challenge where their user base may only be utilizing a small portion of the platform, usually because of lack of exposure and coaching in utilizing the full platform. In these situations, the churn risk increases. The more of the platform the customer uses, the more ingrained they are and the less likely it will be for them to leave.
So, the solution begins with prioritizing the use of product data to drive better decisions and outcomes that lead to growth and customer lifetime value. Understand how the customer is using your platform and how they aren't. Once you extract the data to know where the user is using the platform, you should do the following:
Integrate the data with a platform like

HubSpot

.
Run reports.
Create nurture campaigns that compliment the most frequently utilized feature.
Unfortunately, you can't just hit the ground running with nurture campaigns. Before implementing a nurture campaign, you'll need to create educational resources that will help the user easily implement the feature into their operations. These resources can then be promoted through your marketing channels such as email, social media, and blog posts.
Embracing Digitization in Healthcare
Even before COVID-19 struck in the spring of 2020, the healthcare industry was facing a digitization issue. This has been, in part, due to a growing population of digital natives within the millennial and Gen Z demographics that expect to be marketed to via digital means.
For example, these demographics expect to be able to book a dentist appointment regardless of whether or not the office is open. They're more likely to make an appointment through an online portal than by picking up the phone during business hours.
Even for older generations that aren't digital natives, the expectations for finding information about healthcare is changing. If they're interested in learning about senior living communities, they're more likely to search for this information online, which requires the senior living industry to have a footprint created through blog articles, e-books, and infographics based on a localized SEO strategy.
To create effective, engaging content, it's crucial to provide a full-fledged experience that informs and motivates people toward action.
Prioritizing Platforms in the FinServ Industry
Plenty of companies in the financial service (finserv) industry are measuring marketing performance and optimizing the impact of investments through unified analytics and real-time AI insights. Others—especially in banking—are still behind in catering to newer generations' demands and preferences.
Younger generations such as millennials and Gen Z desire more financial literacy and online banking options. Even before COVID-19 forced the need for more online banking, these generations preferred banking via digital and mobile platforms instead of in person at a local branch. Additionally, we see more and more that Gen Z is interested in partnering with businesses with ethical practices that align with their own values. It will be interesting to watch how this trend progresses and whether companies continue to invest in their environmental, social and governance (ESG) criteria and policies.
The solution? Know your audience. Make sure you truly understand your buyer-demographics and psychographics. Then, create more brand awareness and educational content through blog articles, e-books, and influencer marketing. Banks need to think outside of the very traditional banking box that has been in place for ages.
Creating Memorable Experiences in Retail
During COVID-19, plenty of claims were made about the downfall of in-person retail experiences. Although the e-commerce industry experienced massive acceleration, brick-and-mortar stores are still alive and well—they're just changing.
Shoppers still crave the experiences, community, assistance, and convenience of in-person shopping. Rather than relying on sales (which are promoted more effectively online), brick-and-mortar stores are going to be successful if they provide both online and in-store experiences, catering to the needs of their customers in both venues.
Brands can do that by learning who their customers are (in other words, creating buyer personas), discovering what they value, and marketing to them appropriately—with online sales or content that illustrates the in-person experience.
Providing More Digital Options in Higher Education
Universities and colleges are reevaluating their value proposition, student experience, and delivery channels to ensure that all potential markets are reached and that students' needs are met. We've discovered that, much like the shift to remote work in the corporate world, some students prefer a digital learning experience–though certainly not all. Regardless, this opens up opportunities for both students and universities to meet their respective needs.
As we discovered while working with Southern Nazarene University, a digital overhaul that focused on lead generation through content creation and content management increased student leads, website traffic, and applications, and produced many other tangible results.
Inbound Marketing for the Future
The future holds many uncertainties and changes. Even if your industry is recession-proof, you can prepare for the future and changing demographics by implementing Intelligent Inbound marketing that helps you:
Understand your customers, their values, and their needs.
Adapt to the changing needs of future generations.
Identify new channels for promoting existing services.
Learn how you can drive more revenue, retain customers, and uncover new prospects by reading Where RevOps and Inbound Collide, a report that discusses the state of RevOps and the newest approaches and tactics revenue leaders need to take to create successful organizational alignment.

About the author
Jen Spencer oversees all operations, executing on SmartBug's growth and market expansion strategy, which is focused on delivering superior, cutting-edge service to the company's customers and partners while continuing to invest in the people and culture that make SmartBug® a great place for employees to work and develop their careers. Read more articles by Jen Spencer.
Subscribe to get our new blogs delivered right to your inbox
Other insights you might like