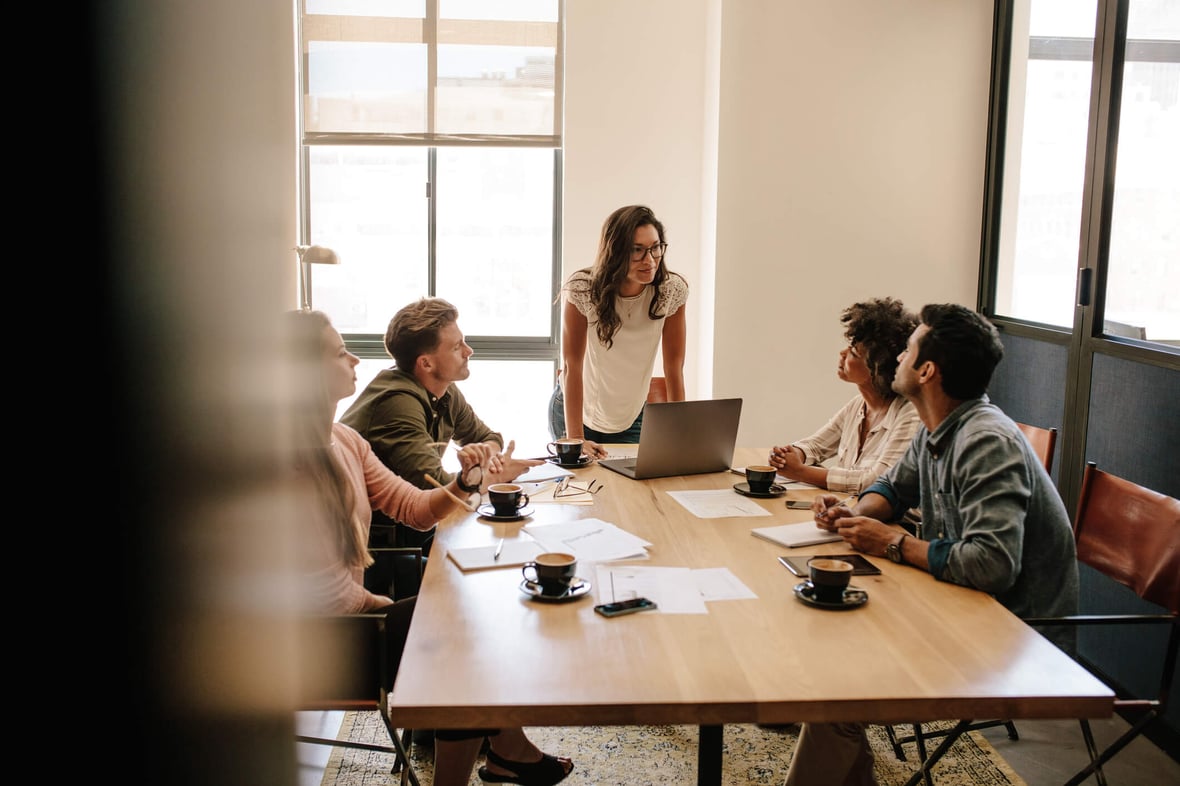 HubSpot Default Themes Explained
May 28, 2021
---
By Mark Ryba
Web developers and marketers now have a powerful tool to quickly craft stunning websites: HubSpot Default Themes. This feature makes it easier than ever to build web assets and broadcast your brand's messages across pages—all with less effort on your end.

Wondering what this new tool is all about and how you can use it to quickly create an eye-catching website? These are the secrets to using and getting the most out of HubSpot Default Themes.


What are Default HubSpot Themes?
HubSpot Default Themes act like starter packets for designing your website. They're a package of styles, templates, and modules that you can use to build a full, unified website. These coded files are built into your CMS Hub accounts, and they're customizable. Here's a list of files your HubSpot Themes are made up of:


Templates
You can choose from a packet of pre-crafted templates that provide a framework for important assets, including homepages, landing pages, blog templates, and about pages. With a drag and drop page editor, it's easy to customize templates to fit your branding or layout preferences.


Modules
You can save time by accessing premade theme modules. Easily add modules that match your theme within your page template.


Styles
You can choose from fonts, spacing, and color options within your default settings section of templates. Once you adjust the style of a template, you can broadcast that same style across all of your page assets.


Global Content
If you want to edit global content, such as headers or footers, and repeat them across multiple pages, it's as easy as dragging and dropping them onto your template.


Why use HubSpot Themes?
HubSpot Default Themes makes it easier than ever for web developers, content professionals, and marketers to radiate a consistent look and feel across their sites. There was a time when developers needed to manually craft messages from page to page, being careful to replicate content, colors, and other brand essentials that resonated with their audiences. Default Themes simplify this whole process. They give you access to templates that you can customize and publish across your site.
Here are some advantages that HubSpot Themes open up:


Unify Messages
Default themes aren't set in stone. With a page editor that's 100 percent built on top of the drag and drop editor, you can easily customize the colors, look, and feel of your site to fit your brand. Better yet, because the themes are global, you can make changes once and push them across your entire site.


Save Time
These themes include reusable elements. That means you don't need to spend extra time creating new components.


Copy Themes Across Accounts
Themes are easy to copy and move from account to account, so you don't need to start from scratch or risk mismatching your brand's feel on different assets.


Who are HubSpot Default Themes for?
Because Themes are customizable and templated, they're a powerful option for both advanced developers as well as marketers who have less in-depth coding experience but still love creating content. They're also set up to fit the specific needs of different industries.
Here are a few sectors that industry-specific themes are geared towards:
Construction
Education
Martech
Business Services
Marketing Agencies
Healthcare
Consumer Services
SaaS
And more
How do I use HubSpot Default Themes?
Installing and using HubSpot Default Themes is easy, and it gives you more control over the look and feel you're trying to communicate to your audiences. Here's a look at how easy creating pages with HubSpot Default Themes is:
Choose the theme that fits your company best.
Select the theme you picked for your template. This will be available in the "Your Themes" and "HubSpot Themes" sidebar of your HubSpot portal.
Start customizing your homepage. When you go in to edit your page, you'll be asked to name it. Once you've named your homepage, click "Create Page." From there, you'll be brought into the page editor.
Adjust modules and your site's layout. To adjust the layout of your page, simply drag modules to rearrange them. You can also replicate or add modules to align with your preferences.
Change styles to fit your brand. If you want to adjust fonts, colors, or other styles to fit your brand, head to the design tab. Select "Edit Theme Settings." From there, you can edit styles for all of your pages within that theme.
Click publish to launch your theme. Select the "Publish" button to make changes live across all of your assets.
Get the most ROI out of your HubSpot platform.
HubSpots's Default Themes are the perfect tool to launch into your HubSpot platform and start bringing in more leads, but they're just the tip of the iceberg when it comes to HubSpot's latest tools. Watch our SmartTake episode, What's New with HubSpot Integrations, now to learn how you can get the most out of your HubSpot platform.

About the author
Mark Ryba was formerly a Senior Developer at SmartBug who is passionate about creating incredible online experiences. When not experimenting with the latest front-end JavaScript frameworks, pushing CSS to new limits, or creating custom full-stack application solutions, you'll find him with a camera in his hand, welding in the garage, or practicing to be the next World Champion of Darts. Read more articles by Mark Ryba.
Subscribe to get our new blogs delivered right to your inbox
Other insights you might like