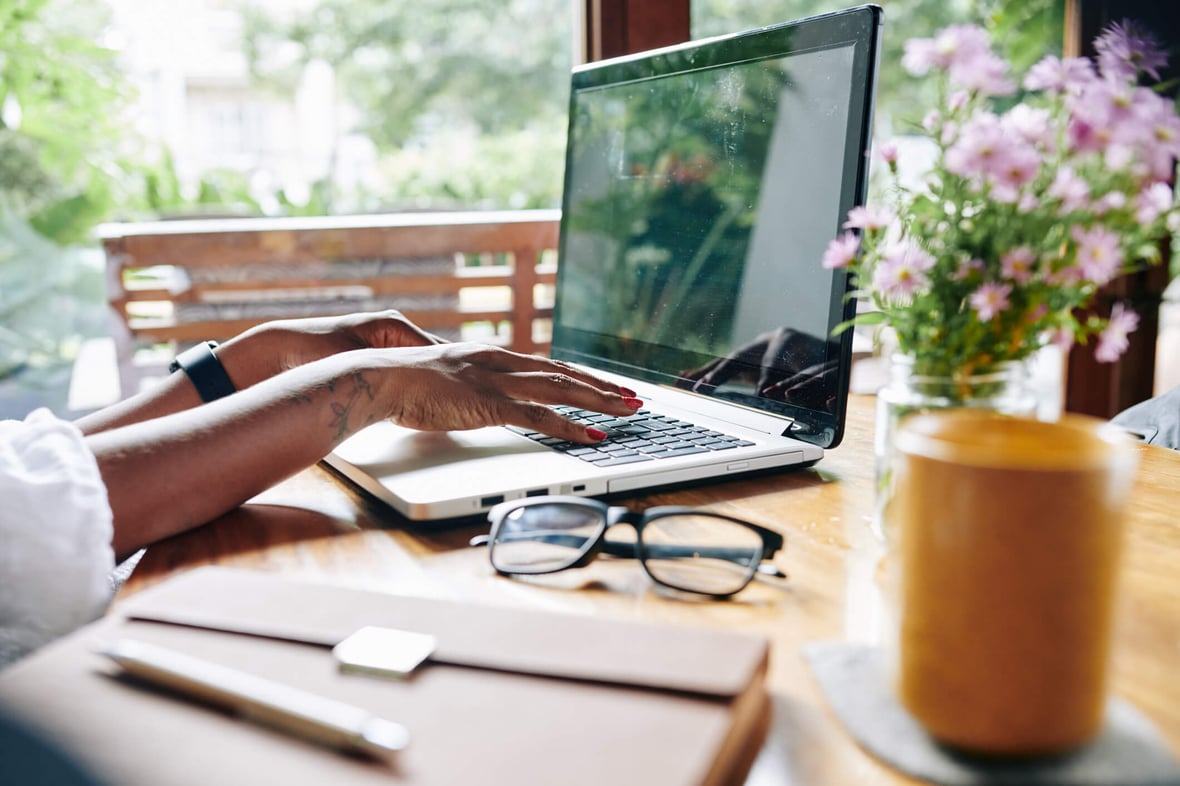 How to Increase Lead Conversions with Thank You Pages
March 11, 2021
---
By Megan Golden
In the inbound marketing world, you likely understand the importance of a landing page to help convert visitors into leads. But perhaps you haven't thought about how a thank you page could be considered a landing page's partner in crime.
A thank you page presents a great opportunity to upsell/cross-sell visitors that are already interested in the information you're putting out there.
Look at it this way: When you go into a retail store, you pick out the perfect shirt and head to the checkout counter. If the sales associate is well trained, they will stop to ask if you would also like to see the jacket that matches the shirt. If you owned the retail store, you'd certainly advocate upsell opportunities like this.
However, many have forgotten this basic sales and marketing tactic in their inbound strategies. Instead, they create a great landing page followed by a simple message thanking the lead for their submission.
You've taken the time to implement best practices on your landing page, so why end those best practices after the lead hits the submit button? Here's how to use thank you pages to increase your lead conversions.
The Two Types of Thank You Pages
The first type of thank you page is one that includes a form on the page for an additional offer that moves the lead down the funnel. For example, perhaps a visitor has just downloaded a vendor comparison on your website. You now know that visitor is considering your services. With this in mind, your thank you page could include a form to sign up for a free demo or perhaps an upcoming webinar that discusses next steps for choosing a vendor.
The second type of thank you page does not actually include a form on the thank you page. This type of thank you page uses calls to action (CTAs) to other relevant offers to increase lead conversions.
In the example below, a lead has just submitted a form on a landing page for SmartBug Media's Agile Planning for Remote Teams Templates Bundle. On the thank you page, the lead can download the templates, but they are also asked if they would be interested in a Goal Setting and Reporting Bundle. See how they go hand in hand?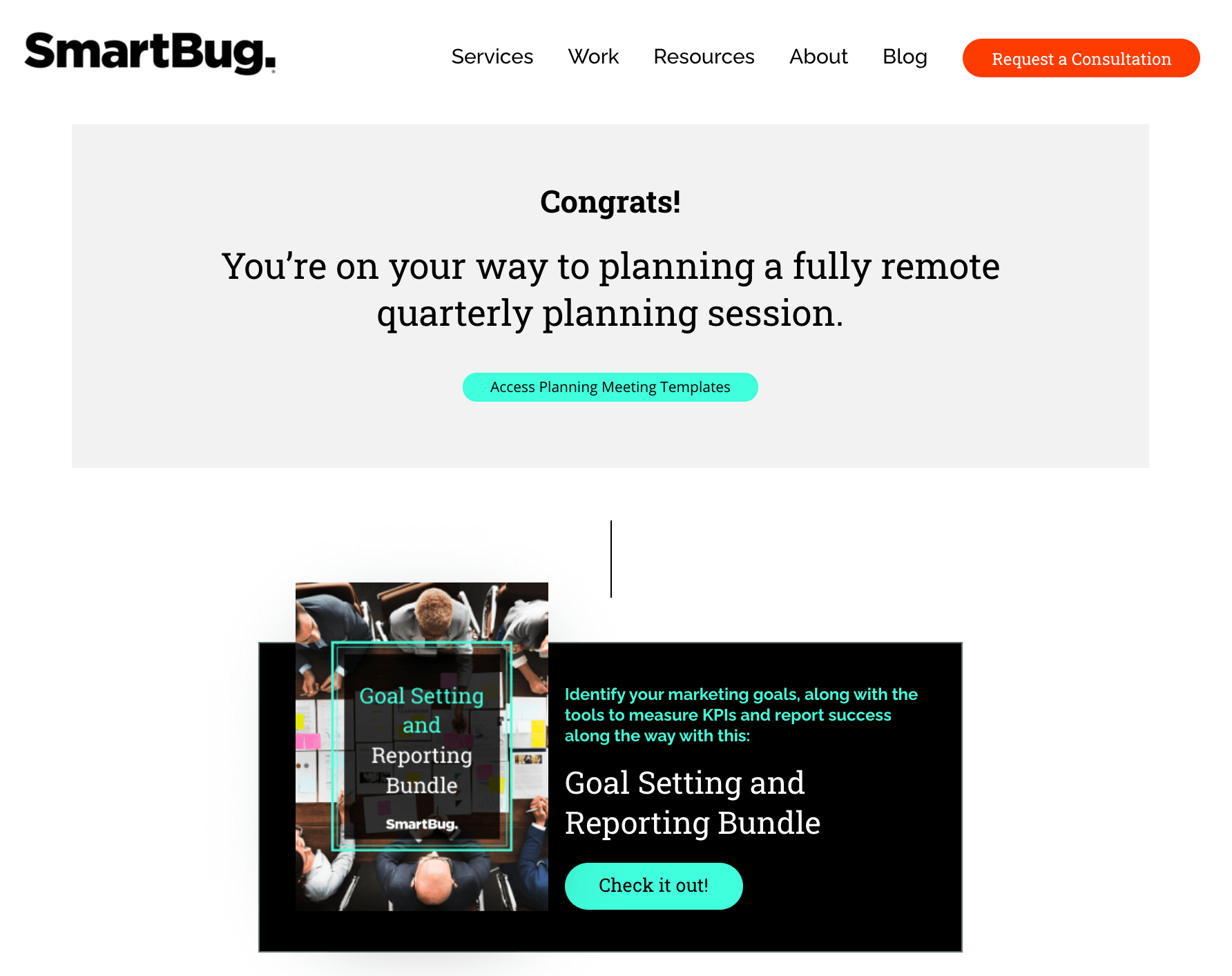 Depending on your industry and the type of offer, you may also consider showcasing your latest blog posts or adding a video to your thank you page. The rule of thumb here is that you test what tactics are more effective for your thank you pages. Above all, remember your thank you page should complement your landing page's original offer.


Best Practices to Create a High-Converting Thank You Page
A thank you page can be easily created by using an existing landing page template in HubSpot. You will either keep or remove the form on the landing page, depending on which type of format you choose. After that, just follow these next steps:


1. Link to the original offer.
The first step is to use an anchor link or button to the original offer's content. If the offer is some type of consultation or assessment, tell the lead what to expect next. For example, you can include text like this: "Thank you for your interest in a free demo. Our consultants will be contacting you within the next 48 hours." Make sure to restate the value of the original offer in the copy surrounding the anchor link or button.


2. Add relevant CTAs.
If you are not using a form on the thank you page or want to share more than one offer, you can add CTAs that link to relevant offers. For example, your lead just downloaded an e-book. Move them further down the funnel by adding CTAs for your upcoming webinars or a free demo.


3. Insert social sharing buttons.
Adding social share buttons to your thank you page gives your new lead the chance to share the offer with others in their network. Link the social share buttons to your original landing page, rather than the thank you page.


4. Consider using smart content.
Perhaps you already have some information about the visitor, such as what pages they've already visited on your site. Use this information to determine the best content that will relate to this visitor and move them through the Buyer's Journey. Of course, it's important to follow a few crucial steps when using smart content on your thank you pages.


Bonus Tip
If you're using a form, add a field to enable progressive profiling. You may be thinking, "Why would I add another form if I just got their information on the original landing page?" The additional form allows you to use progressive profiling to gather additional information from your lead in the right context. If you choose to use the thank you page with the form directly on it, you can learn more about your lead in the second form.
Note: When you add an additional form, make sure to not repeat form fields. If you do repeat form fields, ensure they are auto-populated to make conversion easier for the lead.
Thank you pages are often underutilized for lead conversions despite the fact that not only does a thank you page create a better user experience, it will also tell your new lead what the logical next step is. Ultimately, thank you pages help you to close more sales.
This post was originally published in December 2013 and has been updated since.

About the author
Megan Golden is an Inbound Marketing Strategist for SmartBug. She has had previous experience with strategic campaign planning, content development, and implementing inbound marketing campaigns. She really enjoys collaborating with coworkers and clients and seeing new ideas develop into successful marketing campaigns. Read more articles by Megan Golden.
Subscribe to get our new blogs delivered right to your inbox
Other insights you might like