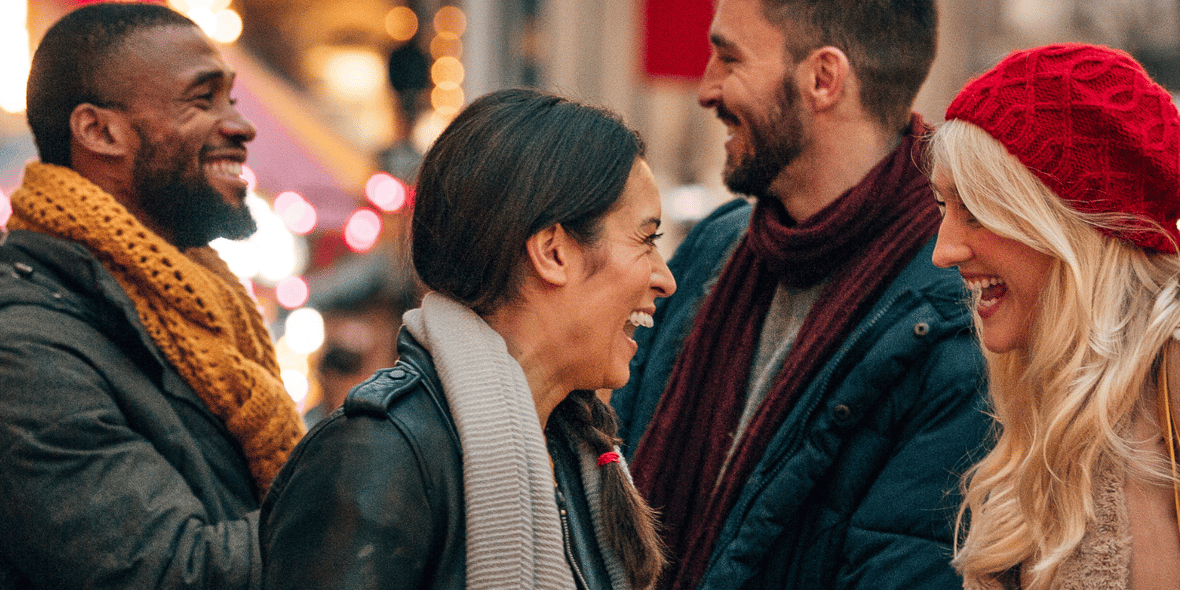 Picture this: You create a master holiday plan that offers discounts and deals just in time for peak gift-buying season, but as soon as you expect the sales to start coming in, your shoppers can't find the discounts—or, worse, they have totally forgotten about your deals.
This happens more often than you'd think. Why? In 2022, we're seeing more competition online than ever before.
To ensure brands are top of mind for the holidays, we have a few website and email/SMS tips for our clients:
Website hacks

that highlight sales with banners, pop-ups, and automatically applied coupons

Email automations & hacks that mirror holiday nostalgia to tap into buyers' imaginations
Campaign calendars that ensure you're sending your sales at the right time
Holiday promotions through bundled deals, free gifts for minimum purchase, and a new strategy offering personalized gift guides
Ready to make your holiday sales shine brighter? Let's dive into the tips!
Website Hacks: Tapping into Nostalgia
One of the easiest ways to increase conversions during Q4 sales is to recreate the nostalgia of a holiday retail shopping experience.
For most, the holidays are a wonderful time of the year. People have pep in their steps and smiles on their faces. They're more inclined to say hello. And, of course, shoppers are willing to spend more on themselves and loved ones.
Many brands don't think to use this holiday spirit as part of their marketing strategy. It's actually rather easy to implement on your website:
Brand your website with holiday designs to recreate the nostalgia. This can be as easy as changing your logo to add some snowflakes, or you could level up by rebranding all promos, landing pages, and site architecture.

Here are some tips from Shopify

.
Highlight your sales with banners and pop-ups in Black Friday Cyber Monday (

BFCM

), Christmas, and New Year themes. This is easy to do with

Justuno's pre-built templates

.
Automatically apply site-wide coupons to carts to make the shopping experience easy.
Offer a free holiday-themed gift or an extra 5 percent discount in an exit intent pop-up designed to share the holiday spirit.
During your actual big sales days like Black Friday, pop-ups should display only your sale information or coupon codes.
These website hacks combine two important drivers for the holiday season: delighting the customer with content and offering incredible sales.
Holiday Email Automations
Our clients that use the nostalgia of the holiday season during November and December in their email marketing strategy see conversions nearly double.
Imagine this: You're shopping in a mall, and a brightly lit Christmas tree surrounded by toys catches your eye at the entrance to Macy's. You and your loved ones immediately go in to start looking around. What do you think happens next? You and your family find yourselves in great moods and become more likely to buy something.
To recreate the feeling of this in-store experience for your email automations, here are some tips and tricks:
For new subscribers, build a welcome series mixing your brand and the holiday (Black Friday, Cyber Monday, Christmas, New Year, and so on). Let them know when sales start and end. You can even give early access to deals.
Reconvert buyers a second or third time in personalized customer flows with unique gifts or extra discounts like 5 percent off for a 2nd or 3rd purchase.
Encourage referrals from holiday buyers.
Design your second and third

abandoned cart emails

to have a small extra incentive special for subscribers.
Just like your holiday-themed website, your email automations can be broken down into two components: highly engaging content that taps into nostalgia and incredible offers.
Ready to learn how our e-comm marketers can help you? Get in touch!
Creating a Holiday Calendar
From October to January, it can be difficult to know how much is too much when sending emails to your subscribers. After all, you don't want people to unsubscribe—but at the same time, you don't want subscribers to miss your deals among a sea of offers from your competitors.
Sending the right volume of promotions at the right time is critical to your brand's success during the holiday season. Here are some tips and hacks:
Send More Emails When Consumer Fatigue Is Low
Consumer fatigue is lower in November and December because people are looking for deals and expect a larger volume of emails. The same is true for email providers like Gmail or Yahoo. They expect a higher volume of emails to be sent from brands like yours.
You should plan to send:
October: 10-12 email/SMS campaigns
November: 30-40 email/SMS campaigns
December: 14-20 email/SMS campaigns
Note: the volume can be higher if you plan to tailor unique campaigns to different customer segments rather than a wider list
Be Clever with Your Timing
For timing, send at a few minutes past the hour or half hour. Don't send your promotions at 9 a.m. on the dot—this is what everyone else does. Send at 9:05 or 9:07 to come in at the top of the inbox.
Send different campaigns to the following segments:
30 day engaged
VIP list
Full list
Past BFCM purchasers
To get started with creating a holiday calendar, download our campaign calendar to use for your promotions.
Holiday Promotions
The holidays are the best time to not only offer the best deals but also be at the top of your strategic game. It's a fine line to walk between offering too much and too little. And, as always, the right timing can really drive sales.
One important thing to note for all of your holiday promotions: Make them time-sensitive. Time pressure can be very helpful in increasing conversions.
Bundled Product Deals
Creating bundled deals can increase your average order value (AOV) dramatically. After all, it's better to sell more products at a discount than to sell just one at full price.
These bundles should match products that make sense together, offering savings between 30-40 percent.
Create Gift Guides
Gift guides are a great way to help customers find products they'll immediately love. No one wants to endlessly navigate through a website!
Gift guides should be directed toward your different buyer personas, as well as new and existing customers. For instance, if you're a health food store, create an email campaign that directs your subscribers to different pages, such as gluten-free or sugar-free products.
You can also create emails for segmented groups of existing customers based on their buying history so that they're only receiving content and products they're interested in.
Offer Daily or Weekly Deals
Frequent deals cause customers to keep their eye on their emails to see when a product they want goes on sale. While they're waiting for that deal to come across, a different product might catch their attention. Now, you've made two sales instead of just one.
Offer Free Reward Gifts
Some brands are discount-averse, believing the discount cheapens their product value and trains consumers to wait for the sale.
If you're in this boat, there's another way to offer rewards. Come up with a product or package deal that can only be accessed if the customer hits a minimum purchase amount or number of purchases.
Hidden Earned Discounts
We call this one a "hidden" discount because it's not promoted—it appears as soon as a customer makes their first purchase.
Once they make that first purchase, offer them 5 percent off their next purchase. If they make a second purchase, offer the same deal to push a third sale.
This is great for buyers who see something they want for themselves while they are searching for a gift for someone else.
Get Expert Holiday Strategy from SmartBug's E-Comm Team
Do any of the strategies outlined in this article sound helpful but also a bit overwhelming? Don't worry; we've got you covered.
By partnering with SmartBug Media's team of e-commerce experts, you get a team of writers, designers, and strategists who are ready to create content that delights and converts. All you have to do? Wait for the holiday cash to come in.
Ready to get started? Get in touch with us today!

About the author
Ryan O'Connor was formerly SmartBug's Director of E-commerce Growth, product manager, and sales director. He enjoys helping readers learn how to solve big business challenges through consumer psychology within the constantly evolving e-commerce landscape. Over the past 10 years, Ryan has helped 1000s of DTC brands navigate challenges to grow fast through intelligent marketing. He's not afraid to get his hands dirty, having launched his own e-commerce stores from the ground up. Read more articles by Ryan O'Connor.
Subscribe to get our new blogs delivered right to your inbox
Other insights you might like