Content Calendar Template
Black Friday Cyber Monday and Holiday Email and SMS Calendar
Remove the guesswork on what and when to send.
Download Now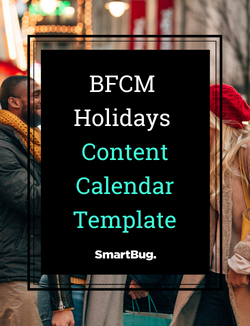 From November to January it's difficult to know how many is too many emails to send to your subscriber list. There's a fine balance between sending a steady cadence of emails into your recipient's inbox to the point of unsubscribing, and sending too infrequently meaning your deals are missed amongst a sea of your competitors' communications.
To get straight to the point - sending the right volume of promotions at the right time is critical to your brand's success over the holiday season. This content calendar will help take the guesswork out of which channel to use for communication, to who, and how frequently. We've done the hard work for you.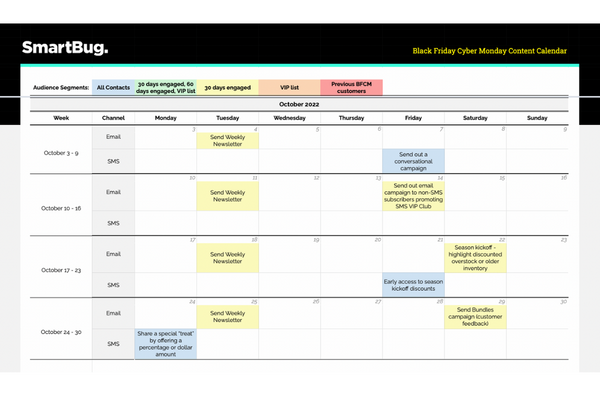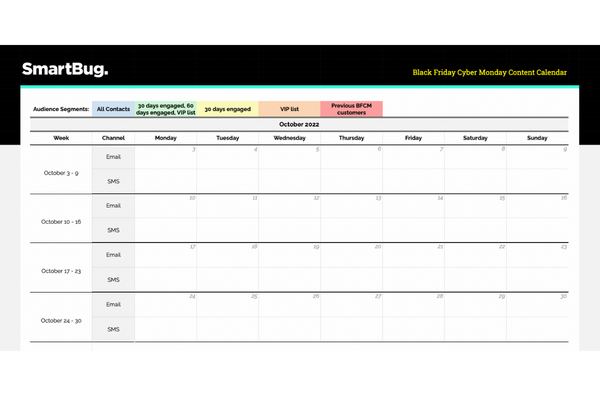 Some tips to get you started:
As a general guide you can plan to send 10 communications in October, 30 in November, and 15 in December.
Segments that you will want to consider sending to are 30 days engaged, 60 days engaged, your VIP list, and previous BFCM customers.
Know when your audience is checking their email and online shopping to choose your send times.
What is a content calendar?
A content calendar is a strategic tool that maps out your marketing content in advance, aligning your efforts with key sales periods. It's a visual guide that gives you a bird's-eye view of your marketing strategy so you can deliver a cohesive and consistent message across all platforms.
Use our BFCM Holiday Email and SMS Calendar to create a big-picture overview of your email and SMS strategy, ensuring you deliver consistent messaging to the right audience at the right time to maximize your holiday conversions.
How do I build a BFCM marketing campaign?
To construct an effective BFCM and holiday marketing campaign for e-commerce brands, the use of data-driven insights is essential. By analyzing customer behavior, preferences, and engagement patterns, you can craft personalized and targeted messages that will resonate with your audience. Pair this information with industry benchmarks to ensure your campaign aligns with best practices and consumer expectations.
Your BFCM email and SMS content calendar should be a strategic tool that outlines what promotional content will be distributed and when. For instance, you could schedule a series of emails offering exclusive discounts, teaser SMS messages building anticipation, or informative content providing practical advice for holiday shopping. Remember, every brand has a unique audience with distinct preferences and needs. Your campaign should be tailored accordingly, offering experiences that resonate with your customer base.
When should I start my Black Friday and Cyber Monday marketing?
Starting your Black Friday and Cyber Monday marketing in a timely manner is crucial for maximizing engagement and sales. As we've seen in previous years, brands that plan and optimize their strategies early often outperform those that wait until the last minute.
Your planning should start a couple months before the BFCM and holiday season so you can plan what discounts you will offer, re-engage and build your audience list, gauge your customers' interests to prepare your inventory, and begin developing your email and SMS campaigns and automations.
What content should I send between BFCM and Christmas, Hanukkah, and the New Year?
For e-commerce brands, the period between BFCM and Christmas and Hanukkah is a pivotal time for engaging customers and driving sales.
As the festive season approaches, consider creating visually appealing and personalized gift guides for different demographics or interests, subtly promoting your products while offering practical advice. Educational content, such as how-to guides or product tutorials, can help customers understand the value of your products. Build anticipation with a Hanukkah or Christmas countdown revealing a new deal, tip, or piece of content each day. Lastly, reinforce your relationship with customers by sending a heartfelt season's greeting.
Your exact content strategy should be unique to your branding and what resonates with your audience.
How will you use my personal information?
We may use or disclose the personal information we collect for one or more of the following business purposes:
To provide you with information, products, or services that you request from us
To provide you with email alerts, event registration confirmation, and other notices concerning products, services, events, or news that may be of interest to you
To carry out our obligations and enforce our rights arising from any contracts entered into between you and us, including for billing and collections
To carry out our obligations and enforce our rights arising from any contracts entered into with our clients
To improve our website and present its contents to you
For testing, research, analysis, and product development
As necessary or appropriate to protect the rights, property, or safety of us, our clients, or others
To respond to law enforcement requests and as required by applicable law, court order, or governmental regulations
As described to you when collecting your personal information or as otherwise set forth in the CCPA
We will not collect additional categories of personal information or use the personal information we collect for materially different, unrelated, or incompatible purposes without providing you notice.
Your Content Calendar Awaits
Fill out the form to get your template.