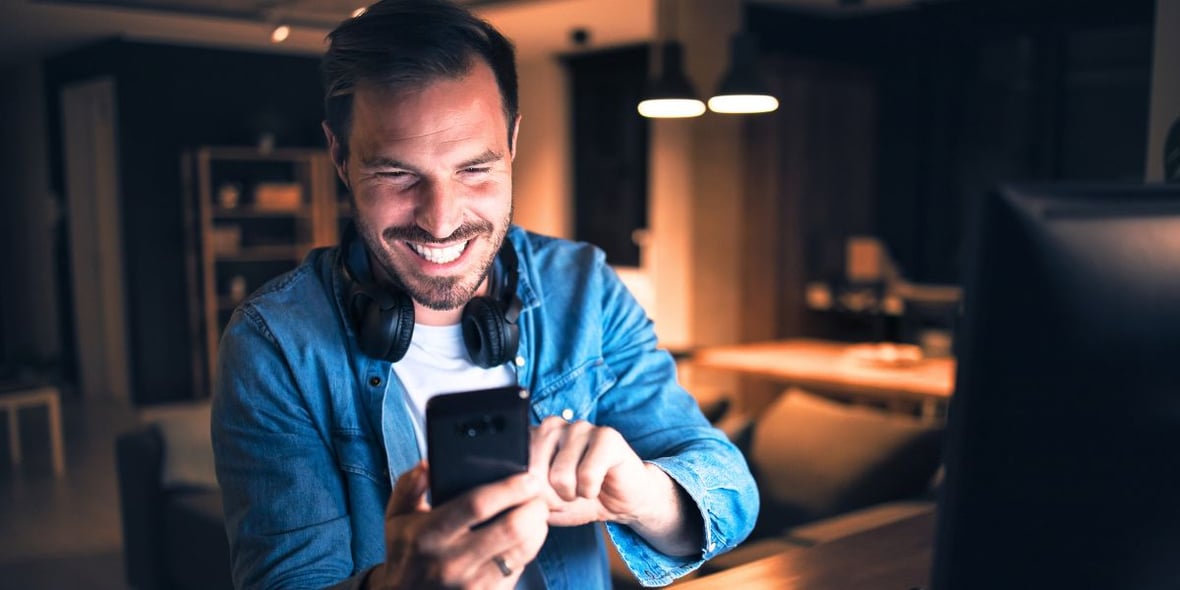 SMS marketing is equally effective and engaging—and brands are taking note.
More and more companies are embracing SMS marketing to engage with customers where they're already most active. At least 70 percent of consumers subscribed to SMS marketing in 2022, and that number is already on the rise this year.
If you're thinking about adopting SMS marketing, you may have some questions about how to develop and implement a strategy that works. Let's talk about your SMS marketing strategy with tips and important considerations to help you get started.
SMS vs. Email Marketing: How they Support Each Other
First, let's talk about how SMS compares to email marketing. SMS and email are both powerful marketing channels with the potential to generate maximum ROI for brands. However, there are very attractive benefits that come with SMS specifically, including:
Increased Reach
Because customers are already so active on their phones, SMS messages have much higher reach than emails. Brands can use SMS marketing to reach customers who may not regularly check their email inboxes.
Higher Open Rates
SMS messages are so accessible that open rates are extremely high compared to email marketing. In fact, sometimes SMS open rates are even as high as 98 percent, a perk that's highly enticing for marketers.
Timely Communication
SMS can be used to communicate time-sensitive information, such as flash sales or limited-time offers. Sharing these offers via SMS often leads to faster actions taken by customers. SMS is also the perfect channel for sending event reminders, whether it be a live online event, shipping notification, or an important action taken by the customer.
Complimentary Messaging
Despite these advantages, SMS and email work best when used to support one another.
SMS and email marketing can work together to provide complementary messaging to customers. For example, you can use email to provide more detailed information about a product or promotion while using SMS to provide a quick reminder or alert about the promotion in question.
When used in tandem, the likelihood of customers reading and engaging with your messaging increases significantly. Additionally, you can use email to drive more sign-ups for your SMS list and vice versa. Combining forces is truly a win-win!
3 Tips for Developing Your SMS Marketing Strategy
Developing an SMS marketing strategy from scratch? Keep the following tips in mind:
1. Define SMS Goals and Key Performance Indicators (KPIs)
Your SMS marketing strategy should be closely aligned with your goals. What does success look like for your brand? Many brands turn to SMS marketing with goals such as:
Driving increased SMS sales and revenue

Boosting traffic to key products, deals, or content

Improving customer engagement and retention
Once you determine your goals, you can track your progress using different SMS marketing KPIs, such as click-through rate, lifetime value, average order value, and your brand's conversion rate.
2. Grow Your SMS Marketing List
After deciding on your SMS marketing goals and KPIs, it's time to start growing your subscriber list. To start growing your SMS list:
Promote your SMS channel through email campaigns. Consider offering email subscribers an extra deal, a special gift, or exclusive access to content that email subscribers don't receive to increase sign-ups.

Capture phone numbers through forms and pop-ups. The best practice is to ask for a subscriber's phone number after they have already entered their email address into a static or pop-up form. Often, you can offer a small, extra discount—think 2-5 percent—or a unique gift for signing up for SMS notifications.

Ask customers during the checkout process. Customers are often willing to provide their phone numbers to receive marketing messages and shipping notifications, which makes this an easy and effective way to grow your list.

Run social media campaigns and promotions. You can also start running social media and retail campaigns—with or without exclusive promotions—to increase awareness. Use QR codes to drive direct SMS sign-ups via a unique landing page.
3. Use SMS Marketing Automation
Automated text messaging helps brands engage with subscribers as efficiently as possible. Rather than manually texting every customer on your list, you can use technology to automate sending of SMS messages using predefined triggers and templates.
For example, you might send a birthday text message with a special promotion for customers during their birthday month. Or, perhaps you would like to request feedback via a survey immediately following a purchase or customer support experience.
Knowing how to properly segment your audience—and then using technology to reach them with the right messages at the right times—will help improve the effectiveness of your outreach and make it easier to reach your SMS marketing goals.
SMS Marketing Best Practices and Important Considerations
Even after your SMS marketing strategy is up and running, there are still certain best practices to keep in mind. For example, when kick-starting your SMS strategy and launching campaigns, you should make it a point to always:
Be mindful of laws around SMS marketing. For example, it's important that you always ask customers to opt in before sending messages and clearly identify yourself when you do. Plus, you should always give customers the opportunity to unsubscribe—and just make your messages so engaging that they won't want to!

Make a plan for international text messaging. If you would like to include international customers in your SMS marketing strategy, you need to consider the associated costs, which typically vary by country. You'll also need to ensure your sign-up forms allow international users to enter their phone numbers in the correct format.

Deliver instant value with carefully timed offers. Use SMS for real-time updates and short-term discounts to offer immediate value to your customers. Lead with the offer to get straight to the point and engage your customers right away. When possible, make the offer exclusive to reward your SMS subscribers.

Invest in exceptional SMS marketing messages. Copy is very important—especially when you only have 160 characters to convince a customer to take action. Invest in good copy that's personalized to each individual (or each audience segment). You can also create different iterations and then perform A/B tests to see what works best.

Make sure every message has a direct call to action. Give your subscribers direction and let them know exactly what their next move should be with a clear and direct call to action. Try to create a sense of urgency by including words such as "now" and "quickly" to encourage customers to take fast and immediate action.
Develop an E-Commerce Marketing Strategy that Wows
The tips and tricks in this article are just scratching the surface: Developing and implementing a rock star SMS marketing strategy—and your e-commerce marketing strategy as a whole—requires careful attention to detail and continuous innovation.
If you have questions about developing your SMS marketing strategy, our team of e-commerce experts is here to help! Get in touch to get started.

About the author
Ryan O'Connor was formerly SmartBug's Director of E-commerce Growth, product manager, and sales director. He enjoys helping readers learn how to solve big business challenges through consumer psychology within the constantly evolving e-commerce landscape. Over the past 10 years, Ryan has helped 1000s of DTC brands navigate challenges to grow fast through intelligent marketing. He's not afraid to get his hands dirty, having launched his own e-commerce stores from the ground up. Read more articles by Ryan O'Connor.
Subscribe to get our new blogs delivered right to your inbox
Other insights you might like