By Dolly Howard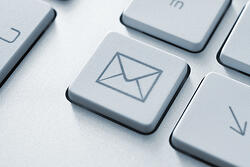 Inbound marketing doesn't stop when a visitor clicks a call-to-action and fills out a form… that's just the beginning of the conversation. If you haven't been implementing lead nurturing into your inbound plan, up to 79 percent of your marketing leads may never convert to sales.
Let's aim higher than these conversion rates by rolling up our sleeves, adding some awesome workflows, and really make a connection:
Step 1: Have a solid understanding of your sales cycle
Understanding where your lead is in your sales cycle sets the stage for what your workflows will offer. Typically, the sales cycle is:
Attract
Top of the Funnel (TOFU)
Middle of the Funnel (MOFU)
Bottom of the Funnel (BOFU)
Delight
Each part of the cycle offers some type of content that continues to engage and move your lead to a customer. To best understand your company's sales cycle, you need to know how your lead thinks, so you're offering the right content at the right time in the buying process.
Step 2: Decide which persona you're targeting
Buyer personas. The foundation of inbound marketing. Before you can create an email or your content offers, you must know to whom you are targeting. Mother Mary shouldn't be receiving Brother Brad's emails. It just doesn't work that way in inbound marketing. Check out this great eBook on developing your buyer personas.
Step 3: Set goals for the campaign
Most responses are... That's easy, more leads! Done and done. Let's try to get a bit more specific. If you've taken a leadership course, you may have heard of SMART goals: Specific, Measurable, Attainable, Realistic, and Timely. These apply to inbound marketing, too.
Typical campaign goals are:
Build trust and thought leadership with people in the early stages of the sales cycle
Move leads in the Awareness stage to the Consideration stage
Move leads in the Consideration stage to the Purchase stage
Re-engage leads that fell to the wayside or were unqualified at an earlier date
Step 4: Map your content
Simplified, mapping your content is:
To find the logical pathways your lead takes from attract to purchase
To determine which content pieces will move the lead through the process
To take inventory of what content you need
To adjust the content for a specific buyer persona
If you need help mapping your content, check out this free template.
Step 5: Write emails using the best practices
An email campaign is not intended to bombard your lead with tons and tons of emails, so she has to remember you. Instead, be intential. Consider your message and decide from there how many emails are required to get it to your lead... it shouldn't be more than eight. Consider these best practices for your email campaign.
Step 6: Build your workflow
If you're a HubSpot user, this is pretty easy. Once you've created your list or form to trigger the workflow, write your emails and save them for automation. From there, you can go to the HubSpot Workflow Tool to set up the rules. For a more in depth tutorial, download this guide.
Step 7: Test the campaign before launching
It never hurts to have a second, third, or fourth set of eyes when sending out a campaign to your customers. Double check the links, check for typos, and make sure your message is clear.
Step 8: Make the workflow live and start collecting data
It's alive! And now it's collecting data. Which we really, really like.
Step 9: Analyze the results and tweak emails accordingly
How is your campaign doing? Is it meeting those goals we set in Step 3? Let's analyze the data:
Click-through rate (at least 5 percent)
Check your conversions for each landing page
Unsubscribe rate (less than 1 percent)
From here, you can tweak your campaign, if needed. Common adjustments are:
Subject line
Copy/body of email
Offer
Frequency
Value proposition
In conclusion, remember to view lead nurturing as more than just what your website provides. The first download is an invitation to a conversation about how you can be the solution to the lead's challenge. It's up to you to make some awesome workflows to prove it.
- -
If you're interested in learning more about lead nurturing workflows, download this eBook. It will walk you through the do's and don'ts of email marketing and lead nurturing campaigns.