By Dolly Howard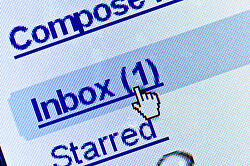 Social media may be the buzzword for inbound marketing, but emails aren't dead just yet. In fact, HubSpot found in its 2013 State of Inbound Marketing report that 13 percent of leads came from email marketing. Coupled with having the highest ROI at 4,300 percent – yes, that's crazy high – email is alive and well.
What does all this mean? If email isn't already a part of your inbound marketing plan, then it should be.
The following 5 must-haves will help you create a killer email campaign:
Segmented Lists
You can't get any more inbound-y than a segmented list in an email campaign. We want to email the right people with the right message. Blasting something to all your customers will only lead to a high unsubscribe rate.
If you're using forms and other contact tracking techniques, you can easily segment contacts by interests, offers, and where they are in the funnel.
Personalization
We like to receive things with our name it…like a gift or a card. It means there's something in it just for us, and we know to open it. This works for email, too.
We personalize email because we want contacts to know two things: we know who they are and they know who we are.
Who Are You?
You can do this by including a field in your email template. Two easy places to add a name field are in the subject line and greeting. Typically, a first name will do.
Who Am I?
You are a person, not an alias. Sending an email should reflect that. When you set up the "from" field, make sure to select an actual person's name and email address. Include this same name in the email signature, too.
Image
A study shows that 40 percent of people respond better to visual information than plain text. When you're sending an email about a free cruise, include a picture of the cruise ship. Help the contact envision herself sailing the open seas, not just reading about it.
Call-To-Action
Send 'em packing…to your website. A call-to-action should be used anywhere you have customer contact. If you have an email campaign about a new computer, add a software eBook call-to-action at the bottom.
Take advantage of having your contact's attention, and send them somewhere that will keep their interest. And remember to always link the call-to-action to a landing page.
Social Sharing Buttons
Sharing is caring, especially in inbound marketing. If your email campaign allows for it, include social sharing buttons for the contact to promote your message.
What's an email campaign must-have for your company?