By Ryan Malone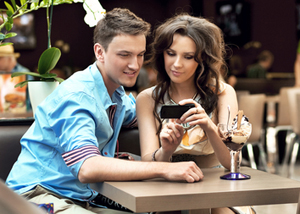 By now you've either created a mobile website or optimized your main site for mobile users. But have you just created it and let it be or are you continuing to develop it for the ever changing needs of mobile users? According to Mary Meeker, a partner at Kleiner Perkins Caulfield and Byers and renowned internet guru, global mobile internet traffic reached 13% in November of 2012. She predicts by 2014 that smart phones and tablets will overtake desktops and laptops in accessing the internet. When a prospect or customer accesses a website on a phone or tablet they are most likely on the go. They want the information they are looking for – fast and concise. Here are some key ideas to keep in mind when you're stepping up your mobile marketing game.
Less is More
Although mobile is increasingly becoming the method of choice for accessing internet sites, content and information should be scaled to fit the screens and patience level of users. Immense landing and product pages, over-run with hi-res images and paragraph after paragraph of keyword-filled text will not win mobile fans. Ensure that your mobile site is free of Flash and optimized for fast accessibility on mobile devices. Keep the content clean, concise and uncluttered for fast access.
Know Your Visitors
Google Analytics provides critical data to analyze your website's mobile traffic. It can help you understand which pages are successful and resonating with mobile users and what platforms they are using to reach your site. It can show you how your site is performing, which mobile platforms are working best, and where your traffic is coming from. All of this information will help you tailor your mobile website for the traffic you're receiving or even help you figure out what you're missing.
Make It Easy
According to Hubspot, 76% of users want to get location or operating hours from a mobile site. Be sure that is the first information that they see. They also want to be able to quickly call or email so "click-to-call" or "email us" buttons that are conveniently located will ensure that they don't bounce out of frustration and go to a competitor.
People Want a Deal
Do you have an offer or coupon? Have customers opt-in to receive text or email messages when new deals are made available. Be sure to include links prominently on your mobile website for them to get the coupon or code. If you've sent out an email with links to the offer make the email clean and easy to read for mobile and tablet viewers.
Apples and Oranges ARE Different
Make sure your mobile content is viewable on multiple platforms. What works for an iPhone may not be functional on a Samsung. Test, test, test to determine the right balance of hi-tech and functionality for different levels of technology adoption.
Transitioning from a traditional image and text heavy site to fast paced, easy-to-read mobile site may be difficult for some, but when you master the art of "Less is More" you'll come to appreciate the clean lines and direct flow of your mobile site. Not sure where to begin or need some assistance in your mobile website development? Contact SmartBug Media, we'll help you create a mobile website you and your customers will love.
What challenges you the most when reaching out to mobile users?