By Andrew Macey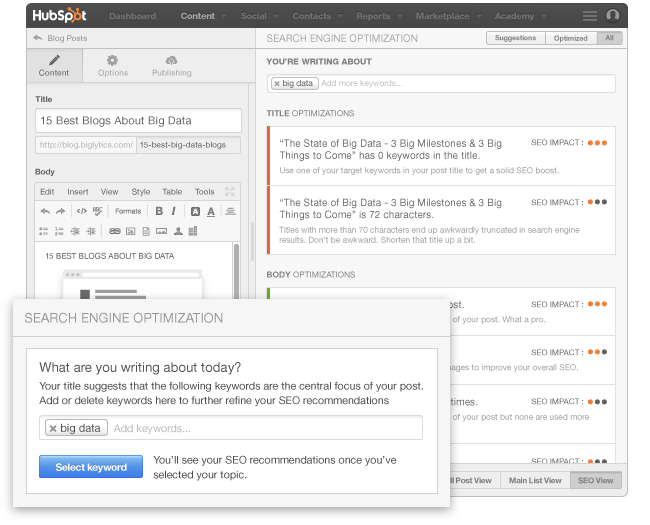 All marketers understand the value of blogging regularly. A consistent blogging effort adds fresh content to your website and helps to fuel social promotion. More often than not, just having a blog and updating it often isn't enough to see actionable results in Google. What's needed is optimization. With each article published, there is a series of best practices and steps to take to ensure that the blog is well optimized and setup for success. To help keep this list front of mind, the HubSpot blog tool features a new SEO View. This view serves as a checklist, covering the key components of blog optimization to ensure your posts are always optimized for Google. Let's look at this in more detail:
1. Selecting Target Keywords
When optimizing your blog post, it's important to choose the target keywords, so HubSpot knows what we are optimizing the article around. This can be one specific keyword that you have chosen to write the content about, or a few long-tail keywords that have been incorporated into the article. Once these have been selected, the SEO view will adjust and provide suggestions on how to best optimize this blog.
2. Title Optimization
When choosing the best title for your blog, there are 2 factors to consider: keyword inclusion and length. The title of your blog should contain the target keyword you have selected and should not exceed 70 characters. This is important as the title of the blog also becomes the page title and part of the URL when the blog is published. Hubspot will alert you if you do not have your target keyword included in the title and you've gone past the 70 character limit.
3. Body Optimization
Once you've optimized the title, it's important to look at the actual body of the article. Hubspot's SEO view assesses this in four sections:
Included keywords

Internal links

Keyword repetition

CTA's
Like title optimization, this tool is looking to see that there are target keywords included in the body of the article. Additionally, the content is checked to make sure these keywords are not used too many times. This can be considered "keyword stuffing" therefore it's important to be conscious of how many times a keyword is repeated. This tool also makes sure there are internal links in the body of the article. Because internal linking can encourage additional click-through as well as connect the article to related content on other pages, it is important to include internal links into the article. Finally, HubSpot wants to see that there is at least one call-to-action in the post. The highest performing blogs are those that link to a relevant landing page, therefore including CTAs is a must.
4. Image Optimization
Blogs without images tend to have lower readership and fewer social shares. HubSpot's SEO view looks to make sure each blog has a relevant image and furthermore, each image is properly optimized for SEO as well. This means that there should be alt text on each image, related to the target keywords of the articles.
5. Meta Optimization
The final section of the SEO view deals with meta optimization. This looks primarily at the URL and meta description of the article. As mentioned before, it's important that your URL contains a target keyword. This part of the tool checks to make sure that this is included. When looking at the meta description, Google suggests keeping the length below 150 characters and including keywords as well. That being said, HubSpot checks the length and for an included keyword, and alerts you if either should be adjusted.
Making these additions to the blogging tool, HubSpot has guaranteed that each article published on their platform follows best practice and is well optimized. As a marketer, time is often spent on the content of the article, with optimization left for the end, which can sometimes be forgotten. Before publishing, HubSpot alerts the user of any suggestions or changes that need to be made to the blog before it can go live. This provides much needed peace of mind and additional resource to help guarantee success from your blogging efforts.