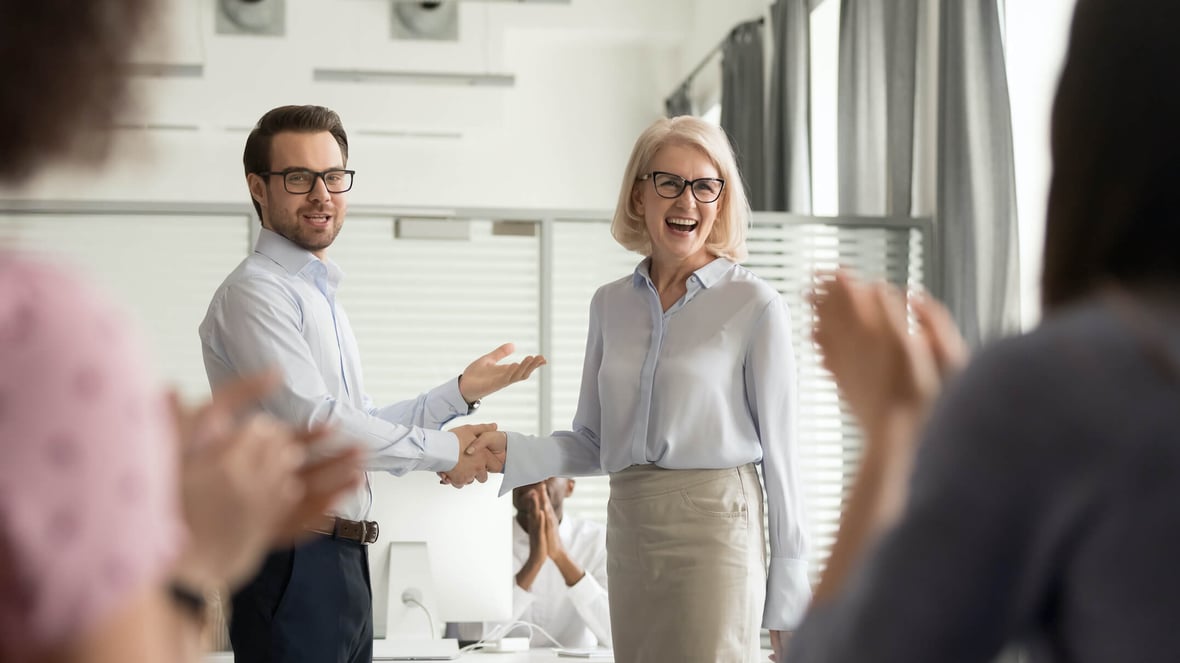 5 KPIs to Measure Thought Leadership
January 24, 2020
---
By Julia Bye
Changing the way your industry thinks is quite a lofty goal. But there's a reason for sayings like, "If you shoot for the moon, you will land among the stars." Goals to influence thought leadership are ambitious, but achievable—you just have to know how to measure them.
On the surface, thought leadership goals feel fluffy. How do you know if you are growing your reputation and if people in your industry are talking about you? As with all marketing goals, your thought leadership goals should be SMART (specific, measurable, attainable, relevant, time-based). By setting SMART goals, you ensure that you are able to quantify progress in your thought leadership.
Let's discuss the KPIs that can help you track thought-leadership growth.


1. Traffic to Your Website
Website traffic is perhaps the most obvious KPI for measuring influence. The more you grow your reputation, the more people will begin to pay attention to you and your business, thus driving traffic to your website.
When measuring traffic, look at month-over-month growth. If you speak at or attend an event, make note of any spikes in the number of visitors you see during and after that event.
Also, pay close attention to your traffic sources. Where are the most visitors coming from, and why? As a thought leader, you may have a strong personal brand on social media. If so, it won't be uncommon to see social media traffic making up a large portion of traffic to the website as you grow your influence.
If you notice certain sources or pages performing well on an ongoing basis, include additional tactics in your strategy to support that channel. Let the KPIs you are tracking dictate the strategies you try. For instance, an increase in traffic to your blog indicates that your audience looks for information—so be sure to create specific blog posts that cover exactly what you are trying to change in your industry.

2. Social Media Followers
These days, it's not rare to hear about a beauty or fashion influencer on Instagram getting their own makeup or clothing line to be sold by a national retailer. Social media has taken the world by storm, making "normal" people influencers in specific industries.
You probably won't wake up one day and see a huge spike in social media followers, but you should plan and set goals for incremental growth. If you notice one platform growing more quickly than others, put additional time and energy into the posts you are sharing. If one type of post resonates more with an audience than others, do more posts in that style.


3. Branded Queries
In a traditional inbound marketing plan, we usually focus on growing the number of non-branded keywords ranking for a website. The number of branded queries is also an important KPI to measure when it comes to thought leadership.
Branded queries are when people type something specifically related to you or your brand into Google (or another search engine). This could be your name, your organization's name, or the unique influence on a topic you are trying to make. Branded queries indicate that people are talking about you.


4. Number of Backlinks
Related to referral website traffic, you will also want to closely measure the number of backlinks you have to your site. Backlinks are when another website has included a link to a page on your website somewhere on their website. Set a goal for how many backlinks you want to gain each month or quarter.
Not only do backlinks help your SEO efforts, but they also tell a larger audience who an authority is on a given subject. Backlinks are like the cool kid in high school that everyone wants to be friends with. If you're friends with that person, you look cooler. Backlinks increase your website's authority by affiliating it with other authoritative pages.
However, different from high school, sometimes the easiest way to grow the number of backlinks is to ask. Use tools like SEMrush to track who has mentioned your site but not linked to it. Send that website an email with a link to the page asking them to add your website link. More often than not, you'll get a yes and earn another backlink.


5. Media Mentions
This metric is more of a public relations metric, but if growing thought leadership is a priority for your organization, pairing a PR strategy with your marketing plan is a good idea.
Set a goal for how many media mentions you want to gain over a certain period of time. As you grow your thought leadership, some mentions will happen naturally as more outlets want to cover your story, but it also helps to frequently pitch bylined articles and post to platforms like PR Newswire.
As with any marketing goals, your thought leadership goals should be reviewed regularly and your strategy tweaked based on what metrics you're seeing. This will set you up for success in the long run and send you on your way to becoming an influential thought leader.

About the author
Julia Bye is a Minneapolis-based Director, Client Strategy for SmartBug Media. With a background in agency marketing, she specializes in lead generation, lead nurturing, sales enablement, and content-based tactics that focus on her client's sales and marketing goals. Read more articles by Julia Bye.
Subscribe to get our new blogs delivered right to your inbox
Other insights you might like