Ah, the beginning of a new year! It's just around the corner, and while many of us take January 1 as an opportunity to make New Year's resolutions (Lose 10 pounds! Quit complaining! Start flossing!), it's also a time for those with incredible crystal-ball abilities to predict what the next year brings.
Okay, I don't have incredible crystal-ball abilities, but I'll sure take a stab at it.
Content, in all forms, is really the cornerstone of inbound marketing—that is, getting your prospects to come to you and then fostering a relationship with them until they are ready to buy your product or service. Remarkable content takes vanilla content one step further, though, and makes it truly something special.
Quick sidebar: What is "remarkable content"?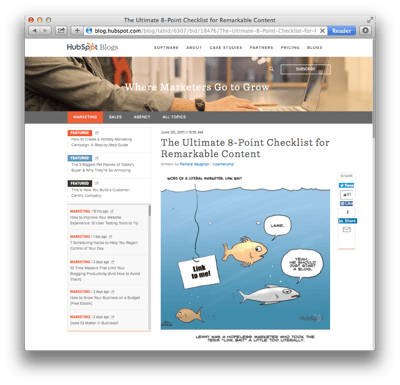 The term "remarkable content" has been around for a while, with HubSpot publishing on the topic in 2011.
Here I summarize for you HubSpot's eight-point guide in determining if something is remarkable content:
Is it share-worthy? Does it have a propensity to become viral?
Are you offering a particularly unique perspective? Or an opinion on a controversial topic?
Does your content have original research?
Is the information presented in a new or different way?
Does it make the reader think?
Are you talking about a current trend or idea?
Is your content easy to understand and follow?
Is it of high quality?
Now that we have a working definition of remarkable content, let's discuss some new and ongoing trends for 2016.
Prediction #1: Remarkable content will be more… raw, more…real
"I'll tell you how my life is…lonely. I feel like the loneliest person in the whole entire world actually. I have no boyfriend who loves me. No one is there for me if I can't pay my rent on the first of the month. And my phone only rings between the hours of 9 to 5—sometimes till 9 because of time-zone differences."
No, that isn't a Facebook or Twitter post. It's from "Go where you're celebrated, not tolerated" by Lauren Holliday, HubSpot/Inbound.org Growth Expert.
"During the boring times, my other spammer buddies and I would BS on Skype about our lives. One guy made $100k a week for a time selling garcinia cambogia pills after Dr. Oz fraudulently proclaimed them to be a magic weight loss supplement.... They spent their earnings like spoiled little kids.

"They bought luxury cars and $5,000 bottles of champagne to spray their spammer buddies at conventions. They ate ADHD medication like candy, trying to stay awake and focused to work as long as possible. They traded NLP secrets to work on their powers of female seduction. When that didn't pan out, there was always the old staples of prostitutes and cocaine."
No, that isn't a snippet from The Wolf of Wall Street—it's an Inbound.org original article by Jeff Deutsch, Ptengine's VP of Marketing, entitled "Confessions of a Google Spammer."
What do those two pieces of content have in common?
I read both of them to the end. And I didn't skim.
As technology becomes embedded into every part of our lives, we find ourselves yearning for human connection. For authenticity. For realness. People are drawn to other people being raw.
"Real" content is where it's at in order to be truly remarkable.
Prediction #2: Visual content will remain huge, but only if it offers something new
We love visuals—infographics, videos, interactive displays—all of these things grab our attention. But in order for them to keep our attention in today's modern age, visual media will have to offer something new or different in order to be remarkable.
This year—2015—brought the introduction of Meerkat and Periscope, social apps for live streaming via any video camera, laptop, or phone in an uncut, unfiltered view of reality (ready or not!). (Have you had a chance to read my blog post on ways to incorporate live streaming into your inbound marketing campaigns?)
Although they have been around for a while, this year also saw the popularity of gifographics (animated infographics) grow. Here is an example of a gifographic from SEO Expert Page, featured on Content Marketing Institute's website:
Both live-streaming apps and gifographics point toward a growing trend of new and innovative ways to present content in a visual way. Visual will continue to be huge in 2016, but for a piece to be remarkable, it will need to bring something new to the table.
Prediction #3: Listicles will die (or at least start to die a slow death)
"10 most beautiful travel adventures to take around the world"

"25 Images That Will Make You Feel Better About Your Kids Today"

"11 Foods You Should Never Reheat"

"15 survival myths that could actually kill you"

"19 signs your thyroid isn't working right"

"10 Behaviors That Could Signal Asperger's Syndrome"

"26 Quinoa Salads That'll Save You From a Sad Desk Lunch"
Those are just a sample of articles on MSN.com today that use the listicle format. There are at least double that in my quick scan of MSN.com's home page.
Listicles aren't bad. Heck, we at SmartBug, including me, use them all the time! However, listicles are getting a "clickbait" reputation, and as they devolve into slideshow articles and multipage presentation formats in order to maximize ad revenue, I predict that remarkable content will move away from numbered lists and toward a more natural narrative.
Well, in case my crystal ball is just a little bit foggy, here are some other great predictions for content marketing in 2016:
What do you think? How can remarkable content get more remarkable in 2016? How do you plan on creating remarkable content next year? What will 2016 bring us, and how can we, as marketers, use these trends to reach our target audiences?
Note: HUGE SHOUT-OUT to Carly Ries and Laura Hogan for their insight on the topic and contribution to this article!