A competitor sales battlecard is one of the most effective sales enablement tools that exist. They are internal guides that will educate and train your sales team with the best approaches to sell your software solution and gain new customers based on your competitor's current efforts.


How can a sales battlecard help your team?
Provides specific talking points your team can use during a sales call or along their sales process with a prospect
On-page sheets that provide quick answers to sales trap questions and prospect objections
Compiles all the specific details and information from your competitor's business to stay ahead of the game - always one step closer!

This template will allow your team to compile information on:
Competitor's pricing
Competitor's software integrations
Datapoints that outline the costs of not buying from you
Competitor strengths and weaknesses, as well as how to address them
Customer reviews

Have you studied your opponent's moves?
Fill out the form and get started!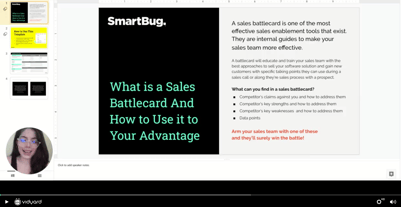 Want to see the template before filling out the form? Here's a 3 min sneak peek! Click on the image above to watch on-page, or click here to watch the video full-size.