Template
The SaaS Sales Battlecard Template
By giving your team the right sales enablement tools, you'll see improvements in average sales cycle length and overall close rate.
Download Now
As if hitting customer acquisition and revenue goals wasn't hard enough, competition—especially in the software industry—is fierce. SaaS customers are usually overwhelmed with options, which puts your sales team in a pickle. Give your team the right tools and you'll see a major impact on your company's bottom line.
Battlecards are powerful sales tools for aggressively selling against a specific competitor. Our battlecard template—specifically designed for SaaS sales teams—provides your team with key talking points and sales trap questions against specific competitors, all centered around your customer's pain points and needs.
A sales battlecard will help your team:
Access specific talking points they can use during a sales call or along their sales process with a prospect.
Provide quick answers to sales trap questions and prospect objections.
Compile all of the specific details and information from your competitors' businesses to stay ahead of the game.
A competitor sales battlecard is one of the most effective sales enablement tools that exist. They are internal guides that educate and train your sales team with the best approaches to selling your software solution and gaining new customers based on your competitors' offering.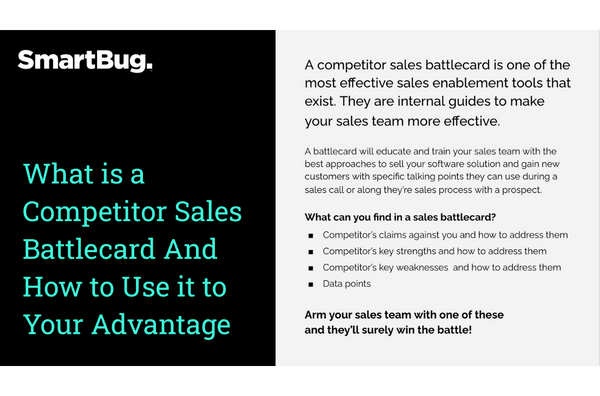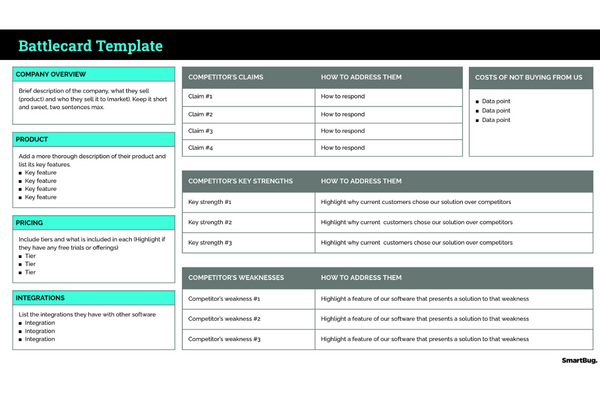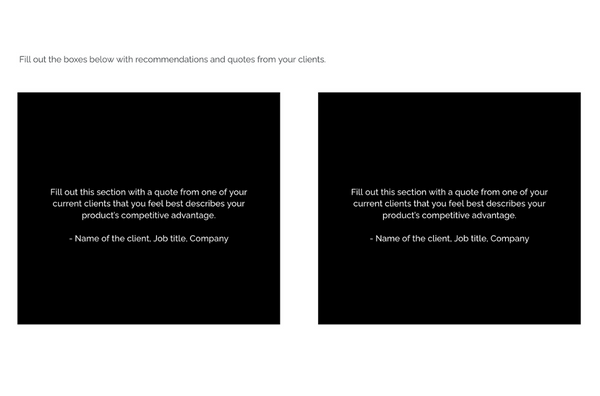 This template will enable your team to compile information on:
Competitor pricing
Datapoints that outline the costs of not buying from you
Competitor software integrations
What is a sales battlecard?
A sales battlecard is a document prepared by sales professionals to help them win deals against competitors. It is designed to provide a quick reference guide to the key features and benefits of a product or service, as well as a comparison to the competition. It usually includes a summary of the company's strengths, a comparison of the company's offering to that of the competition, and some persuasive talking points.
How do I use a sales battlecard?
Sales battlecards are typically used during customer meetings, sales pitches, and other customer-facing events. They can also be useful for preparing sales team members for customer meetings and providing information that can help them close deals. To use a battlecard, sales professionals should review the document thoroughly and then use it to highlight their product's advantages compared to the competition. They should also use the battlecard to provide persuasive talking points and remind the customer of any advantages their product has that the competition does not.
If I am not a SaaS company, can I still use this sales battlecard to my advantage?
Although this template was designed specifically for SaaS companies, you can still download a copy and use it for your company. Please keep in mind that not everything may apply directly to your business, and there may be aspects you need to change to fit your business model.
How will you use my personal information?
We may use or disclose the personal information we collect for one or more of the following business purposes: To provide you with information, products, or services that you request from us. To provide you with email alerts, event registrations, and other notices concerning our products, services, events, and news that may be of interest to you. To carry out our obligations and enforce our rights arising from any contracts entered into between you and us, including for billing and collections. To carry out our obligations and enforce our rights arising from any contracts entered into with our clients. To improve our website and present its contents to you. For testing, research, analysis, and product development. As necessary or appropriate to protect the rights, property, or safety of us, our clients, or others. To respond to law enforcement requests and as required by applicable law, court order, or governmental regulations. As described to you when collecting your personal information or as otherwise set forth in the CCPA.
We will not collect additional categories of personal information or use the personal information we collected for materially different, unrelated, or incompatible purposes without providing you notice.
Have you studied your competitor's moves?
Fill out the form and get started with this sales battlecard template.