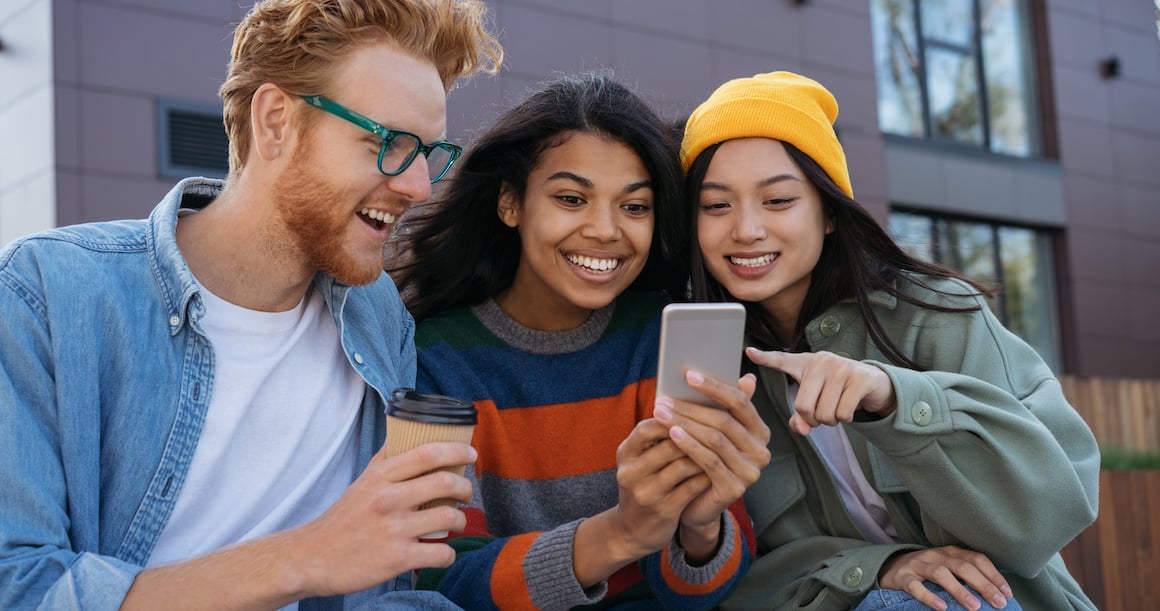 Attracting the Digital Student: Social Media Marketing Strategies for Higher Ed
January 26, 2022
---
By Paige Kummer
Teenagers and adults alike spend a lot of time on their smart devices and social media.
According to Pew Research Center*, "Ninety-five percent of teens have access to a smartphone, and 45 percent say they are online 'almost constantly.'" Another Pew article, "Social Media Use in 2021," illustrates how adults 18 and older spend their time among the growing number of social media platforms. It makes sense that regardless of whether a higher education institution (HEI) is looking to target traditional or adult students, social media marketing should be a component of their marketing strategy.
When starting to revamp your social media marketing strategy, here are some prompts I would recommend exploring:
What is your goal for using social media?
Is there a theme that makes sense to implement in your strategy?
Describe the voice and tone of your HEI.
What platforms are your audience most active on and what platforms make sense for the theme and content you've outlined in your strategy?
Are there any rules or regulations that you need to consider before getting started?
Let's take it from the top.


1. What is the goal of using social media marketing for your HEI?
Social media has many applications. We're all familiar with the concept of going viral, but that's an unreasonable goal out of the gate (and one with rapidly diminishing returns). It's far more effective to grow and scale your social media efforts over time. So what are some goals you can consider when establishing your social media marketing strategy?
Some common goals of social media marketing for higher education include:
Increasing brand awareness (and engagement)
Increasing website traffic
Generating more leads and applications with social media
Building a community around your campus, department, or athletic teams
Improving student, alumni, and even community relationships
Once you have established your goal or goals, you can begin to layer in additional levels of detail and flesh out your strategy and approach. Depending on the size of your HEI, your strategy may include multiple social media accounts on various platforms.
2. What is a theme you can utilize to achieve your goal?
The next area that I like to consider when making a social media marketing strategy is the theme. I've always loved a theme party, and there are a lot of themes that you can observe in social media: trending audio clips or filters, recurring skits or characters—the list goes on!
Take some time to consider what makes your institution unique and begin to build a theme (or themes) around it. This can help to transform your higher education marketing in the digital landscape. Here are a few ideas to help get you started:
Is your campus famous for not having a football team (but has a great sense of humor about it)?
Does your campus have a rich culture of art?
Are your campus athletes the absolute best in the country?
Themes give users something predictable and comforting that they can expect and depend on. One example of this is the Carnegie Museum of Natural History's mollusk jokes. Another example, more relevant to higher education social media marketing, is the University of Michigan's posts about the art on their campus. There are other examples of colleges implementing themes in this Hootsuite article.
A single theme does not make an entire social media strategy (see also the social media content ratio rule). However, employing a theme or several themes in your social media marketing strategy can focus efforts for brainstorming and content creation, and create a cohesive experience for your followers.


3. What do you want your HEI to sound like?
Voice and tone are critical to the success of your mission in reaching your desired audience and creating a consistent experience for your readers. Not all campuses are comfortable roasting other campuses like Wendy's roasts other fast-food restaurants, and that's okay—actually, that's probably preferable! Humor is a powerful storytelling tool, but it's not always right for every institution.
Social media provides a platform for all different voices. Making sure that you and your social media team clearly understand the sound or vibe that your campus is going for can help you:
Reach your desired audience
Select what social media platforms your message is best suited for
Realize or redefine your social media marketing goals
Your HEI probably already has some documentation for written, oral, and visual standards. Be sure to seek them out, and if they don't address components of social media that you're planning on including in your strategy (for example, live streaming at sporting events), consider being proactive and working with your institution to make the necessary updates.


4. What platforms are your audience using?
While people of all ages are more active than ever on social media, targeting a traditional student audience will look different than targeting a student who has been in the workforce and experienced an interruption in their education or is looking to return to school to realize their career goals. I recommend checking out Pew's "Social Media Use in 2021" to better understand how users 18 and up are spending their time on social media. The chart in this article is a great place to start when considering what platforms are best for your social media marketing.
What platforms are in circulation now?
| | | | |
| --- | --- | --- | --- |
| YouTube | Facebook | Instagram | Pinterest |
| LinkedIn | Snapchat | Twitter | WhatsApp |
| TikTok | Reddit | Nextdoor | 28 ROW |
There are a lot of different social media platforms, but the "big ones" vary depending on your target audience. For traditional students, Instagram and TikTok are going to be a lot more widely used. For returning students, LinkedIn and Facebook are going to be more popular. Learn how to craft content to capture new leads and retain current students regardless of what platform you're utilizing.
It's important to note that in August of 2021, Meta updated its policies regarding targeting minors. You can review the policy updates here. This restriction impacts the ability to target users under 18 on Facebook and Instagram. At this time there have not been any exemptions provided to higher education institutions (or any other industry). While this impacts ads, there is no reason that Facebook and Instagram cannot be a part of a successful organic social media campaign.


5. What rules, regulations, or compliance factors does your HEI have?
In addition to voice and tone, there's likely an aspect of compliance or internal review that is necessary before sanctioned communications can be sent on any platform. Reach out to understand if legal review, an internal committee or department review, or other rounds of copy editing and revisions are necessary before social media posts can be shared. If you are outsourcing social media posts or live streaming with influencers on your campus, be sure to review these restrictions with them beforehand (and understand that some may decide against the collaboration depending on the regulations in place).


6. How is my higher education institution going to create all this content?
Creating social media content for your higher education institution does not need to be a one-person show. In fact, you probably have more resources than you realize. Consider reaching out to departments, clubs, and other student groups for assistance. Spend some time scrolling your campus hashtags to look for influencers already on your campus who can take over an account for a day.
Regardless of industry, or the amount of help available on your campus, I recommend scheduling out social media posts as far in advance as possible. One way to approach this is to look for events that are staples on your calendar every year and find ways to create those posts early. These could include topics like:
Holidays (both observed days off and cultural/religious holidays)
Welcome back to campus
Midterms and finals
Registration for upcoming semesters or graduation
Used book buyback at the campus store
Being proactive about social media allows for additional compliance reviews when necessary and also allows your team to be reactive when news breaks on your campus. For example, when a student's art is accepted to a prestigious exhibition, a faculty member publishes some groundbreaking research, your campus receives a large grant for a new building, or your sport's team just wins a game against an old rival.
The Content Ratio Rule
Now that you know what resources you have to support content creation and what your campus's table stakes are, it's important to consider the content ratio rule. The content ratio rule exists to keep your followers engaged, if the ratio tips too far in any particular direction, a higher than average unfollow rate or lower than expected engagement has been known to occur.
So what is the social media content ratio rule for higher education institutions?
60 percent of posts should be industry or third-party articles
30 percent of posts should be your blog articles
10 percent of posts should point to your landing pages and other content
Social media marketing is full of change, but with a solid marketing strategy in place, higher education institutions can work to achieve their goals with future, current, and past students alike.
Looking for a way to implement a holistic marketing strategy that includes social media? Check out The Ultimate Guide for Higher Education to Achieve Inbound Success!

About the author
Paige Kummer is a Marketing Strategist based in Washington State. When she is not educating her clients on best practices and creating killer content, you can find her spending time with her husband, twin sons, 2 dogs, and 10 chickens Read more articles by Paige Kummer.
Subscribe to get our new blogs delivered right to your inbox
Other insights you might like