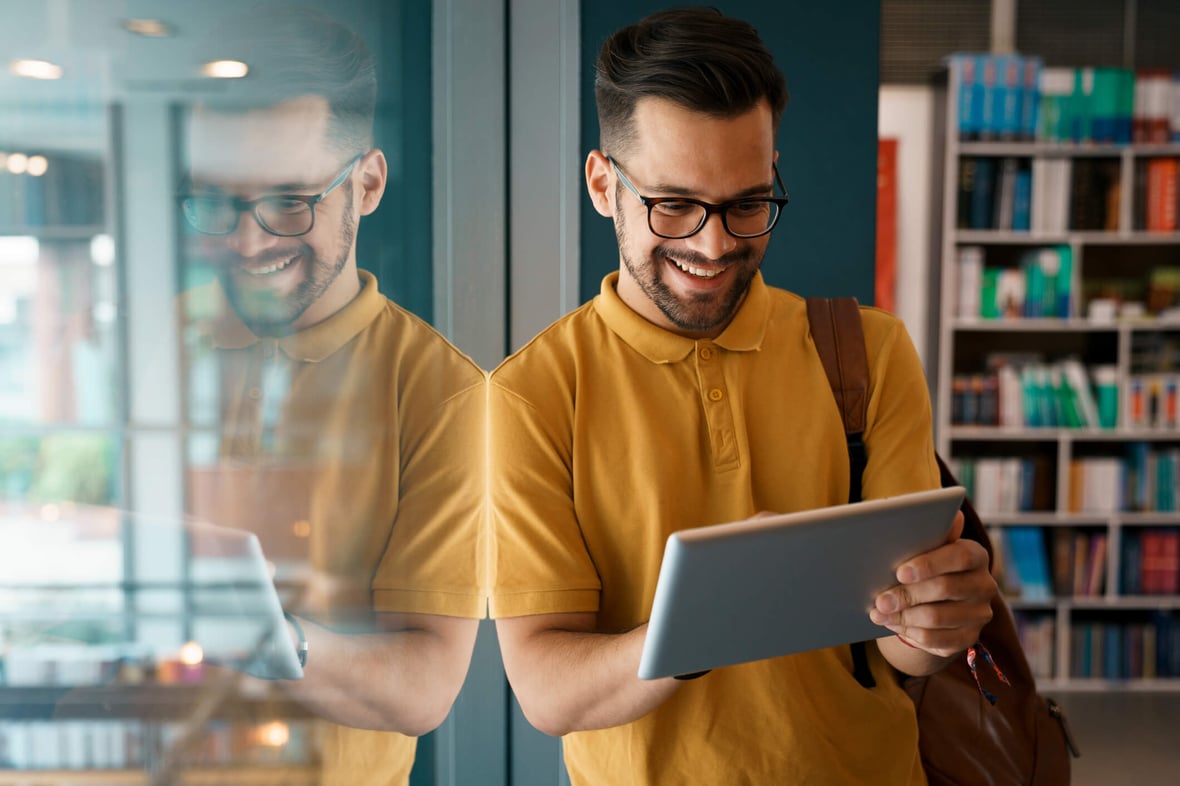 How to Craft Content to Capture Leads and Retain Students
August 27, 2021
---
From short emails to long-form guides, content is foundational in nearly every marketing tactic. No doubt about it, creating content that captures leads and retains students—a diverse and always-changing target audience—is a challenge. However, it is possible with the right inbound marketing approach.
Read on for a fail-proof, repeatable content development strategy for higher education.


Start with Your Student Persona
Marketers rely on personas to make decisions, create strategies, and pivot when both aren't working. Chances are you have an idea of your ideal student, but we always encourage documenting them for every team member, vendor, and recruiter.
When it comes to higher education, the student profile is in a constant state of fluctuation, especially as non-traditional educational routes become more prevalent. Your student personas cannot account for every individual who will join your institution, but they will always keep your message more human.
Inbound marketing is all about being human and helpful. Ask the following questions with your ideal student in mind:
What are the challenges this student is facing?
What topics interest this student?
What tone does this student use, and what voice will they appreciate/expect from you?
What questions will they ask about a potential institution?
Where do they want to be once they graduate?
What is the motivation for considering higher education?
These questions will help determine content you can create, but will also give you a critical look at the direction of your institution. By keeping your students at the center of all marketing decisions, you're ensuring you keep their needs at the forefront of your institution's goals. Win-win.


Envision Their Journey
Helpful and human inbound marketing starts at envisioning your student's journey to making a higher education choice. The buyer's journey starts with awareness, moves to consideration, and ends at a decision. The same is true for a higher education student.
Let's take a look at what each stage is for your institution:


Awareness
At this point, prospective students are researching. They may know exactly what they want from a career, or they may be looking into their learning and discovery options. They know education programs could answer their needs, but they aren't ready to enroll or apply yet. They may not even know your institution exists.


Consideration
At this stage, the prospect has identified their unique needs and may know the types of programs that will lead them to accomplishing their goals. They aren't ready to enroll or apply because they are still weighing their options.


Decision
This is the stage where a prospective student is ready to make the choice they feel is right for them. They know the programs and places that could support their future and they just might be leaning toward your institution. You haven't captured them yet, so they still need just a little more guidance.
Although it might be a little uncomfortable strategizing higher education marketing in the same ways you would a business, the process of laying out a potential student's journey to commitment will not harm the integrity of your message. In fact, this exercise will keep students at the forefront and provide a more genuine approach to content creation.


Create Compelling Content
Meet your prospective students where they are at every step of their journey. That means you're going to need content that helps those students who are in the awareness stage just as much as you need consideration and decision stage prospects.
Use your persona and their pain points to offer solutions at every stage. For example, students in the awareness stage might still be on the fence about the next step of their career path. What can you do to help them consider higher education programs as the right choice for them?
Remember, not every student should be your student. Keep your message and advice honest, even if it means it will not resonate with some audiences.


Nurture Their Decisions
Have you considered a gated content strategy for your institution? Gated or premium content is valuable content that allows you to identify those anonymous website visitors.
The deal is that in order for you to capture their information (think name and email), you have to provide something they want or need. After you spend all the time and effort to research the right content to create, you want to make sure it's doing the heavy lifting. Setting up a conversion path and gating your content will turn those site users into leads and potential prospective students.
Let's break this down. A sample conversion path would entail:
Step 1: The visitor clicks a call to action (CTA) at the end of one of your blogs. A CTA in this case is a graphic that features one of your content offers.
Step 2: The CTA leads them to a landing page promoting that content offer.
Step 3: After the visitor fills out some basic information, they are given access to the content piece. They are now a lead with information you can use to tailor their experience.
Step 4: By downloading the content, the lead triggers an email drip campaign that periodically sends them more content that helps their unique journey and keeps them engaged with your institution.
Step 5: Your drip email campaign ultimately encourages the lead to apply to your college or university—a school they now know is helpful and trustworthy.
The more you can tailor your conversion path, the better the results. For instance, think about the blog the user converted on. Did it focus on a specific program or college within your institution? Great—now you can serve up content geared toward that program, the educators within it, and successful graduates.
Ready for more ways to capture and retain students? Download The Ultimate Guide for Higher Education to Achieve Inbounding Marketing Success!
About the author
Marissa Litty-McGill is a Senior Marketing Specialist with 8+ years of marketing experience spans both B2B and B2C industries. Though she received her Communications degree in Journalism & PR/Advertising, she fell for marketing before even walking across the University of Nebraska at Omaha's graduation stage. When she isn't geeking out over inbound, she's exploring the world with her husband and dog. Read more articles by Marissa Litty-McGill.
Subscribe to get our new blogs delivered right to your inbox
Other insights you might like