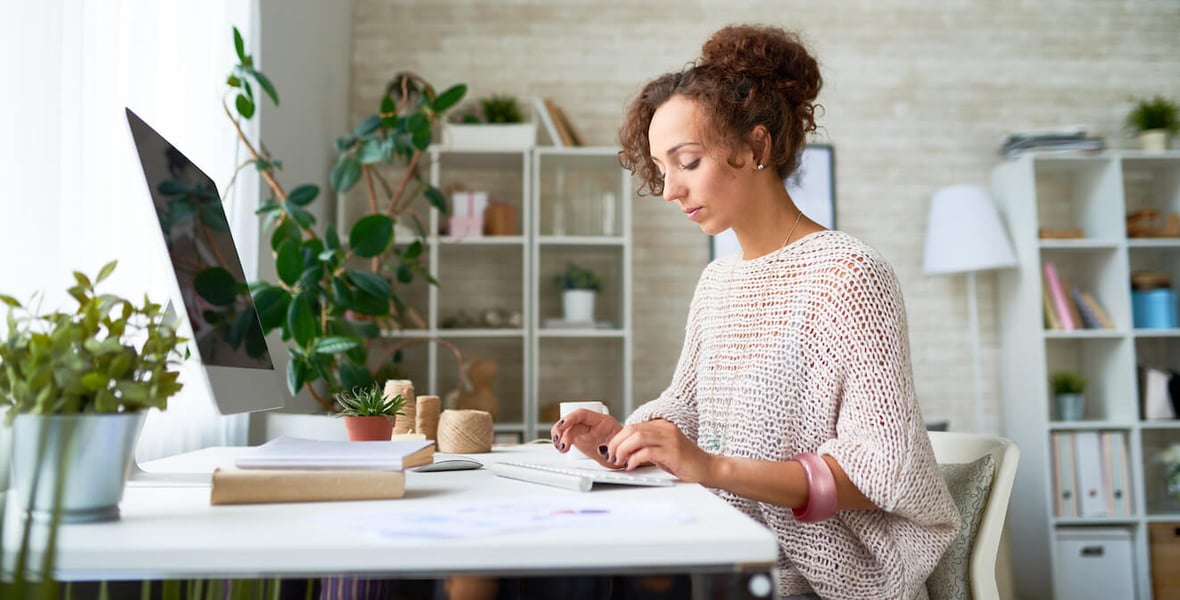 How to Create a Thriving Home Workspace
April 3, 2020
---
By Natalie Boyd
For millions of Americans, working from home is now a way of life. The coronavirus pandemic has put many of us in the awkward position of finding a way to prosper in our professional lives without a familiar dedicated workspace.
Your surroundings have a dramatic impact on productivity. When you have the right setup, everything flows; you don't even think about the room. When it's wrong, it can seem impossible to even turn your computer on without cleaning, rearranging, or getting caught up in some other distraction.
If you're just starting to work remotely, here are a few tips for staying successful. Of course, those of us who work from home also want to have an office that's imbued with a unique sense of personality. Maybe you want to nerd out with coworkers on a Zoom call or feel zen-like serenity in your space. Either way, this guide will steer you in the right direction.

Want to learn how to manage a remote team? We collaborated with HubSpot Academy on its free Remote Leadership Training program. Check out the training and equip yourself with everything you need to manage a remote team from anywhere.
The Technical Stuff
Think of the technical stuff as the backbone of your office. If your workspace has a weak spine, everything else falls apart. For a truly useful space, you must have:


Robust Internet Connectivity
First things first: You need an adequate, reliable internet connection to clients, coworkers, and the outside world in general. First, you'll need to find the speed that's right for your operations. If you're having trouble streaming Netflix without interruption, you're too low. Netflix uses a minimum of 3 Mbps for standard definition, up to 25 Mbps for HD and 4K content.
You can call your provider to find out what speed you're running and what you could be running, but it's also worth trying a website like Fast.com or Speedtest.net to see what kind of a download speed you're actually getting. Just because Verizon says you're getting 1,000 Mbps doesn't mean it's true. If you have several people working from home on a Wi-Fi network, it's also worth looking into Wi-Fi 6, which is better at handling multiple heavy streams simultaneously.

Video Communications
Video conferencing is all the rage these days. Even if you're not conducting a lot of face-to-face business, you may find it's good to have in case you need a boost of inspiration. A group call is a great way to provoke creativity and maintain coworker morale.
At SmartBug®, we talk to each other all day on Zoom, which is one of the most popular platforms due to its user-friendliness, reliable conferencing technology, and enterprise-level features. Zoom enables you to run webinars, train virtually using screen-share, and hold engaging, interactive meetings, it even allows you to create your own virtual backgrounds. Host up to 100 guests for up to 40 minutes across desktop computers, tablets, and mobile devices with the free version, or choose from several other business options—all under $20/month. Bonus: Entertain yourself on the weekends by dropping into a friend's party chat, complete with silly custom backgrounds!


Choosing a Computer
As with your internet speed, the technical requirements you should look for in a computer are largely dependent on your needs. A graphic designer or video editor will need more power than a social media manager or call center agent. If you're totally unsure of what you want or need, start with a quiz or computer-buying guide. When it's time to purchase, be sure to read plenty of reviews.


Tablet for Kids
Unfortunately, the biggest drain on your productivity may come with an adorable face: your kids! Not only are parents now working from home, but their children are home from school too. Previous screen time limits have been thrown out the window. Children are remote learning on tablets, consuming educational videos, and quietly (hopefully) entertaining themselves while their parents work.
Conveniently, Amazon dropped the price of its popular Fire 7 Kids Edition Tablet by $40 to $69.99. This tablet comes with a nearly indestructible case, a seven-hour battery life, and a year's worth of FreeTime Unlimited (a subscription with age-appropriate books, games, and videos)—not to mention a two-year "no questions asked" warranty.
You'll be able to set up parental controls to ensure your child only sees material you approve of and stays on track with educational content. With the kids out of your hair, you'll be able to devote yourself to work in ways you never thought possible.


The Fun Stuff
Okay. Computer, phone, and internet are set up. You're ready to work. How do you take your office from ho-hum to totally inspired?



Get More Screen Space (Maybe)
If you're working on a laptop, you have less than 18 inches of screen space—perhaps much less. Naturally, you'll have 20 tabs open in three browser windows at all times. Maybe you have Evernote, instant messaging software, and music running. That's a lot to juggle! Fortunately, you can also hook up an external monitor to deliver an extra 24 inches of screen space.
In a perfect world, you could have two 27-inch screens displaying your vast array of projects at once. With the extra space, you'll feel like you work at NASA. Work like a boss, whether you're comparing two documents, transposing data, researching for your e-book, or performing any task that requires flipping between multiple pages or programs. When you're honing in on a high-focus task like blog writing, take away the extra screen to lessen the potential for distraction.


Seat Yourself (Or Don't)
Where do you sit when you work? Is it more productive for you to stand? Do you have a chair that doesn't force you to hunch over? If you switch between sitting and standing, how do you accommodate that?
You can find an affordable, adjustable, and comfortable chair at Ikea. A stability ball or exercise bike can be ideal substitutes for a chair if you're looking for the additional health benefits, Just make sure your exercise ball is the right height for your desk or that the exercise bike has a handlebar setup sturdy enough to hold your laptop or tablet in place.
If you prefer to stand, try a standing desk. You can even get one with wheels for ultimate mobility when working around the house.


Desk Organizer Set
Keep your workspace clean with a desk organizer set. Choose from traditional black or a color that speaks to your personal aesthetics. Organize as you see fit with your choice of paper sorters, manual storage, pencil trays, file organizers, and tool holders. Not only will an organizing system declutter your desk, but it will also keep you from wasting time re-sorting junk, searching for a piece of blank paper, or hunting down that misplaced stapler.


Dry-Erase Calendar
It's easy to lose track of the hours (and even the days) when working from home. You don't need to give up your favorite calendar app, but a physical dry-erase calendar serves as a helpful visual reminder of what's coming up, whether it's your tasks for the day, your meetings for the week, or your most pressing deadlines for the month. If you need to look ahead, try the four-month calendar.
Depending on your work needs and personal taste, a chalkboard wall decal or paper tear-off pad might be preferable. You can also use dry-erase sticky notes for brainstorming and project work.


Bring In Some Living Plants
Surrounding yourself with nature—whether a house plant, a view of an outdoor garden, or a sliver of sky peeking in through the curtains—can reduce stress and enhance your work. Before you count your green thumb out, consider this: Fake plants do nothing to actually help productivity, according to a study. Consider your choices. Position your desk to see outside or consider some easy-to-care-for plants. Succulents and jade are nearly impossible to kill.


Make It Personal
It's not hard to buy a few bookshelves, a desk, and a black executive chair, and call it an office. But this generic setup won't provide you the inspiration you need to successfully work remotely. Add a little meat to those bare bones with:
Your favorite books and reference materials
Photos of family and friends
Art and inspirational wall hangings
Family heirlooms or a few collectible figurines
A cushy or fuzzy rug underfoot
Your favorite coffee mug
Anything that makes you smile!
Mix It Up
Flexibility is one of the most attractive features of working from home. You might consider designing more than one workspace for your home to suit changing moods, tasks, or needs. You might have one traditional space for quiet Zoom meetings and taking client calls, and another more colorful spot for creative brainstorming and writing. Some days, you're feeling the kitchen vibe, while other days, you might work in your car, parked at the waterfront.
COVID-19 has shaken our world up, but it doesn't have to shatter our productivity. You're no longer tethered to the standard 9-5 office space. Embrace the change and enjoy the freedom to determine what type of environment works for you.
Have a question about working remote? Just ask us, we've been doing this for a decade and we're here for you.
About the author
Natalie Boyd was formerly a Marketing Specialist at SmartBug Media with 10 years of experience supporting in-house, freelance, and agency clients. She is passionate about using inbound marketing to help businesses succeed and make meaningful connections with their target audience. Read more articles by Natalie Boyd.
Subscribe to get our new blogs delivered right to your inbox
Other insights you might like