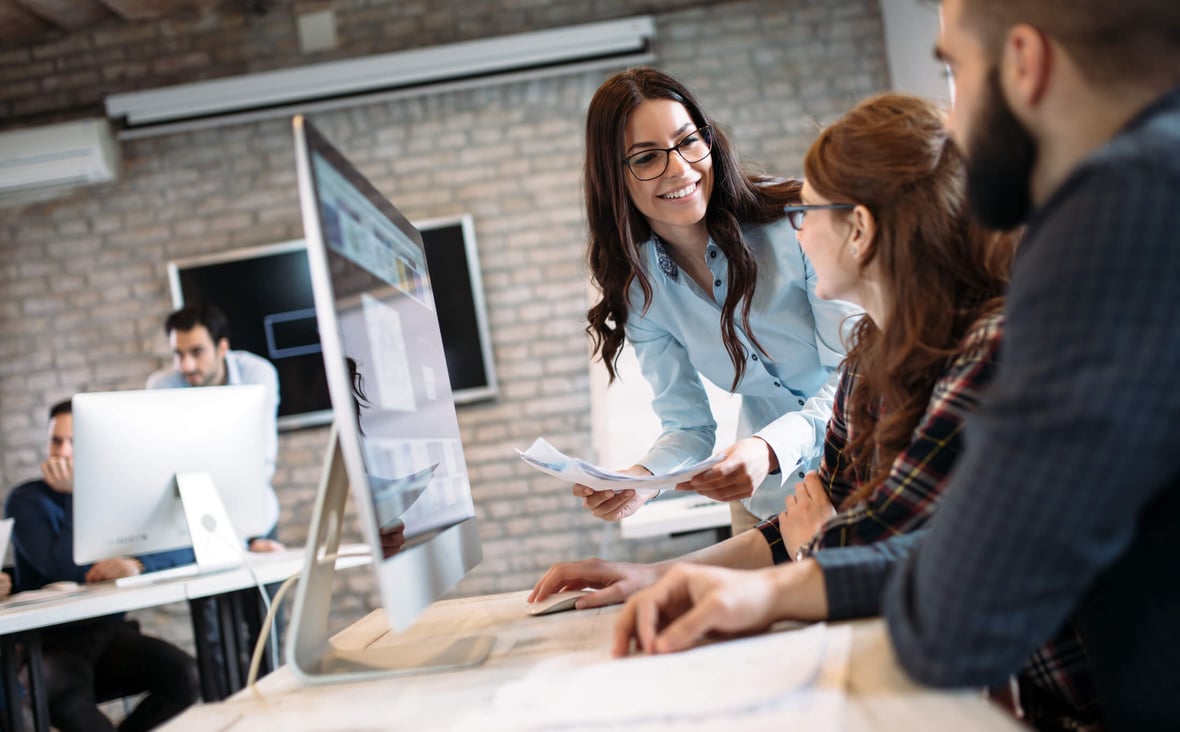 3 Reasons to Utilize 'Software' for SaaS Marketing and Sales Messaging
August 28, 2020
---
If you work for a SaaS company, you know marketing can prove to be difficult. Cultivating meaningful marketing and sales messaging for SaaS—something that has no physical presence—is daunting.
Marketing something that is constantly evolving, has an unusual name, is a niche market, or is extremely complex to the average reader is not a task for the casual marketer. Critical differences exist in the world of SaaS that make the approach to marketing and sales messaging deserving of care, directness, and tact.


How Are Your Sales and Marketing Efforts Going?
Speaking of being direct, how is your utilization of the word "software" helping your marketing and sales efforts? With a typically short sales cycle, the world of SaaS messaging demands rapidity, because SaaS buying happens quickly and is transactional. One of the key aspects that make the sales cycle so short is the nature of software itself. Here are three reasons it's time to start using the word "software" in your marketing and sales messaging as a SaaS company.


1. You Are Selling a Service, Not a Physical Product
The term "SaaS" stands for "software as a service," and the emphasis truly needs to be placed on the service aspect. If there is no value system in place to uphold a sustainable competitive advantage for the service you are providing, the software is pretty useless. To put it simply in the words of world-renowned growth expert, keynote speaker, and author Lincoln Murphy, "When creating your SaaS marketing plan, you must understand that your business model of choice is a fully-integrated architecture where all aspects of the business — product, support, revenue model, and marketing — are tightly-coupled."
This is especially true for the front-facing service elements of the SaaS model—the help desk providers, guest bloggers, marketers, content writers, and creative teams—that support the service that SaaS provides. But how do you gain the reputation that earns you five-star service reviews? The answer lies in your marketing, and the utilization of the word "software" in your outward messaging. Sell your SaaS with proper service promotion.
Adequately market what you offer
Content marketing is key when it comes to building your brand, attracting website traffic, and generating qualified leads. Over time, the investment in quality content marketing will compound, especially when it comes to leads.
Creating content that explains what your software provides and/or solves will better position your strategy to delight your customers. A quintessential strategy for providing your customers and leads with quality content is through blogging. This shouldn't be surprising, but the content in your blog is what matters most—the topics, strategy, and SEO behind the posts. You are, indeed, offering a service, but the word "software" needs to appear in virtually every post, better positioning your SaaS company to increase its Google ranking.


Leverage referral marketing
There is an increasing amount of research proving that referrals are one of the most powerful types of leads. With relatively quick close rates and low acquisition costs, the capability of referral marketing is often understood on different levels between sales and marketing. Prior to adopting an optimization-centric focus, it's important to launch a referral program with buy-in from both the sales and marketing departments.
You need to empower the sales reps with the right tools, content, materials, and training to effectively ask for referrals. By drafting templates with a "software" focus that can easily be modified by both departments, marketing teams can ease the referral process. At a bare minimum, a landing page should be set up, allowing people to make those referrals.


2. SaaS Customers Are Long Term
According to Gartner, a substantial amount of your future revenue (80%) will come from a small percentage of your current customers. In fact, less than 20 percent of that revenue will be derived from existing customers and the leads you acquire in the future are crucial. Additionally, a mere 5 percent gain in customer retention can heighten business profits by 25-95 percent.
Bearing this in mind, it's clear that customer retention is critical to the long-term success of your SaaS company. So how do you keep your customers?


Happy customers are your best sales reps
Through customer reviews, case studies featured on your website, affiliate marketing, and word of mouth, happy and satisfied customers hold all the power. For example, a satisfied customer may choose to renew their subscription for your software because of how it simplifies their life and streamlines their processes.
When this happens, you can kindly request your customers to add that it was your software that made the magic happen in their reviews, pulling away from the common term "SaaS" and calling out what you actually provide—which is, indeed, software.
In essence, you're drawing attention to the fact that you are a software company. These referrals and repeat customers are one of the largest factors that prospective patrons consider when deciding between competitors.


Make the customer experience the focus
Although the goal of any company is to grow, you don't want to forget about the people already assisting in your maturation. Turn ordinary customers into dependable brand advocates by rocking the customer experience.
It's important to remember that referrals are one of the most important forms of traffic for your business. Your customers will be more likely to recommend your software to others when you delight and dazzle them.


3. Free Trials Are More Significant
Offering a free version of your software can be one of the most important growth tactics for a SaaS company. Although it can be daunting to offer a variation of your platform unrestricted, the benefits are tenfold.
Leads showing moderate interest in your product can familiarize themselves with your software for a set amount of time prior to having to pay for it. The hands-on experience that comes with a free trial can provide valuable insights into the tool being considered, thus offering a convenient way for leads to warm up to it and decide that the tool is, indeed, for them.
Often, the trial helps mitigate any uncertainty and helps establish trust in your brand.
Spotify, for instance, is an app in which users can enjoy their favorite music via genres, playlists, and discovery on a computer or mobile device. In order to hook users, Spotify utilizes an abridged version of the "freemium acquisition model." As one of the fastest-growing SaaS companies, Spotify has enjoyed exponential growth with its clever use of a free trial.
With the freemium model, users are equipped to utilize certain features prior to investing in the software—being able to stream most collections, playlists, or curated channels, with ads being played at regular intervals. Although the ads incentivize free-trial users to graduate to a premium version, Spotify is essentially offering an unlimited free version of its platform. Free trials simplify the onboarding process, and Spotify has finessed the free trial by eliminating the requirement for a credit card—it requires only an email address to begin.
By curating a model similar to that of Spotify, you can showcase your software to interested leads and start building brand loyalty.


Your Software Is Who You Are
As the SaaS industry evolves, so does the language needed to create successful sales and marketing messaging. These strategies are tested, tried, and true, but it is always recommended that you investigate, experiment, and optimize each message to see what works best for your business.

If you're struggling with content creation, looking to minimize churn, or trying to build better solutions, check out our Intelligent Inbound® Bootcamp for SaaS Marketers. Your prospects and customers are constantly on the lookout for technology that will simplify their lives. It's up to you to establish trust and prove that your software is the best solution to their problems.
About the author
Chantelle Stevenson was formerly an Inbound Marketing Senior Specialist at SmartBug. As a Hubspot/Database advocate and expert, investing in their training and knowledge of inbound marketing is something she takes great pride in. Outside of work, Chantelle likes to spend time with her family and horseback ride. Read more articles by Chantelle Stevenson.
Subscribe to get our new blogs delivered right to your inbox
Other insights you might like