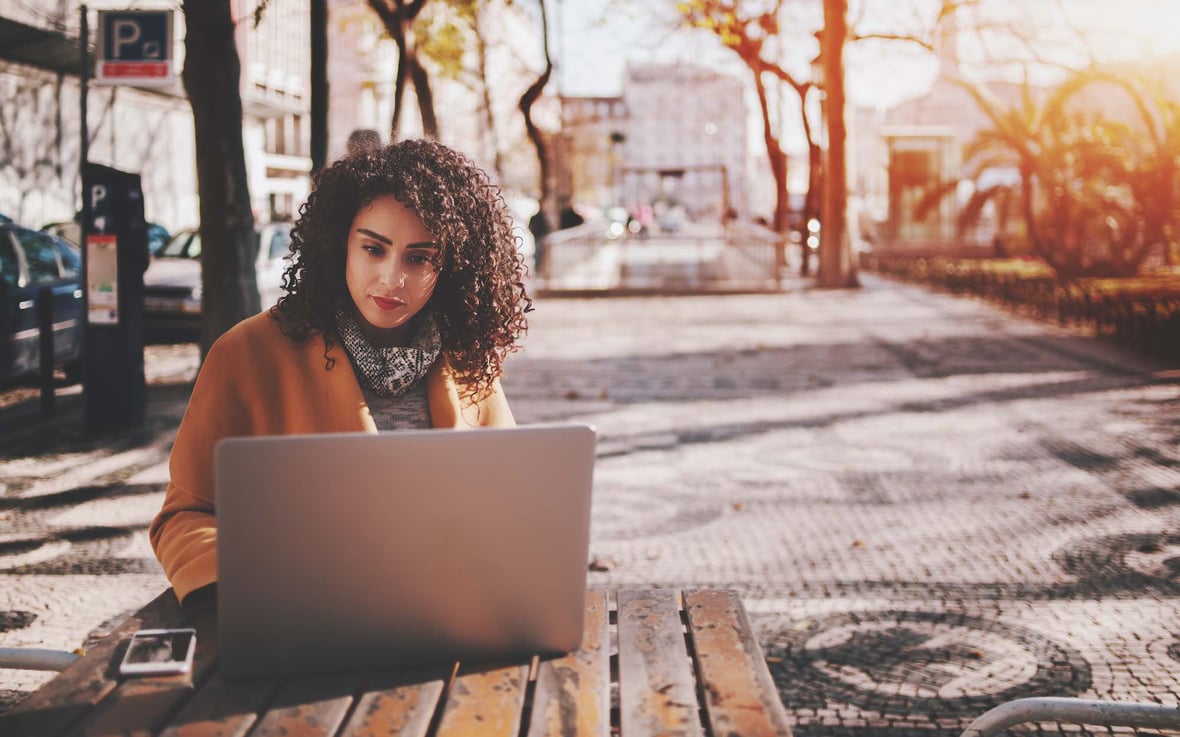 Best Project Management Tools for Marketing Teams
April 16, 2019
---
By Juli Durante
Early in my marketing career, I operated as a marketing team of exactly one at a small business. I quickly learned a lot about HubSpot, inbound marketing, and the business world in general. I also learned that digital marketing has a lot of moving pieces. Just to launch an e-book, we'd need copy written, a PDF designed, a landing page template with copy, a thank you page, emails, lead nurturing, calls to action … The list goes on. So, early in my marketing career, I also learned that marketing project management and the tools associated with it were as important as the content itself in a successful campaign.
That realization led me on a quest to find out: What was the best project management tool for marketing? What could I try for cheap or free? Should I have one tool or multiple? How did all this stuff work together?
I certainly haven't tried every project management tool out there, but I still have opinions. The biggest one: There is not a single tool that's right for everyone, every project, and every marketing team. Before you can find the best tool for you, I recommend thinking through your needs and wants. Here are some examples:


You're Motivated by Due Dates
If you played a sport or participated in a group activity in high school, you probably had a coach or instructor who said to you, "To be early is to be on time, to be on time is to be late, and to be late is to be … in trouble." This philosophy has guided me through many aspects of my life and means arriving late to a dinner or having a late task in a project management system gives me tremendous anxiety. For me, due dates and timelines are a little bit of friction that motivate me to get. things. done.
Because of that, I almost always skew toward a task-based project management system when thinking about what needs to be done. I just love a due date and a checklist. Fortunately, many task- and due date-based systems exist. You may already have access to some of them, and some are free or freemium products. Here are a few worth exploring:
Asana: Asana is lightweight and easy to start using. It's a great introduction to project management software and, perhaps best of all, starts at a price of FREE which makes trying it an easy decision to try. I use Asana in my daily life to track to-dos and collaborate on projects for volunteer activities—it's a lifesaver.
Teamwork: If you're reading this post and you are or have ever been a SmartBug™ client (Hi! Nice to see you!), you have probably been waiting for this one to come up. The SmartBug team uses Teamwork to execute work internally and collaborate with our clients. It's more robust than a system like Asana, but still fairly straightforward. We're pretty obsessive about project management and processes, and love that we can have a library of repeatable templates that help us execute work. Teamwork also has a Gantt chart view, a visual board view (see Trello, below), and some cool stats that help you see overall project progress and health.
Basecamp: Millions of people have signed up for Basecamp, and it's one of the most well-known project management systems. As with Teamwork, you can organize projects and tasks in Basecamp. You may be able to use it to replace several tools, because it will help you organize files, set permissions, see what people are working on, and more. I won't bore you by repeating what I said about Teamwork above, but it's certainly worth checking out a few similar systems and comparing features and use cases.
You Like a Visual View
If I think about visualizing projects, tasks, and bigger initiatives, one tool comes to mind: Trello. You can use Trello for free and it's easy to get started with and use. If you like to see a lot of activities and status updates at a glance, Trello is a great starting point. Here's a preview: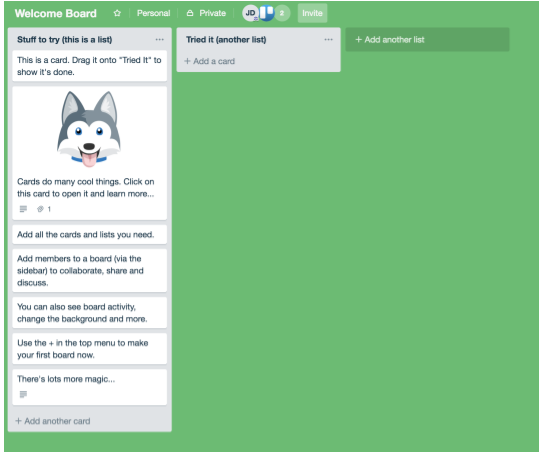 One of my favorite Trello use cases is projects where you want to compare several images. As you can see in the preview, an image preview will populate directly in your board. Imgaine using this setup to compare three or four CTA designs or Facebook images. You might have an initial list called "Proofs" and a second list called "approved." In Trello, you can easily drag your image from one board to the next without extra steps.
Within Trello, you can also use checklists, due dates, comments, attachments, reminders, and so on. I've even used Trello to plan a full timeline of my Thanksgiving Dinner (down to setting a reminder to pull butter out of the fridge to soften before dinner!). It's definitely worth a spin if you're just getting started with project management.
One word of caution: Trello can get unwieldy if you start implementing more than seven boards in one project. For that reason, if you have a larger team or a more mature program, you may want to split up different initiatives into multiple boards.


You Want Everything to Be Integrated
If you're a HubSpot user, you may or may not have ventured into a part of the software called Projects. If you live and breathe HubSpot and are looking to add some project management to your life without learning something completely new or having to flip between systems, HubSpot Projects may be worth a look. Here's a preview: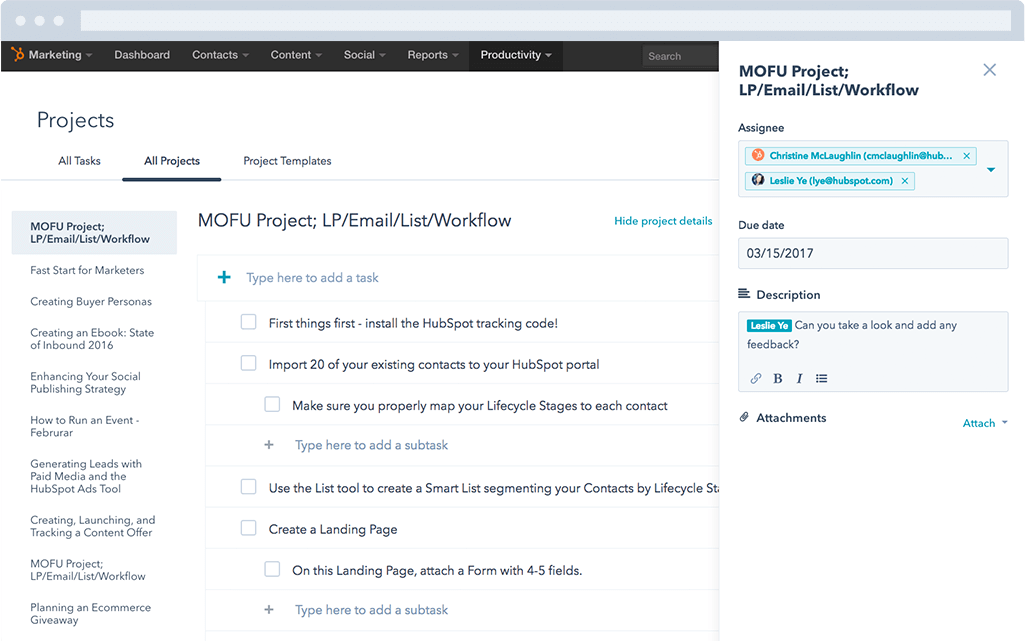 A few noteworthy features:
Best practice templates are already set up in the system and ready for you to use.
Tasks and deadlines integrate with HubSpot's calendar feature (another worthwhile feature to explore if you are always asking yourself "When did that email go out?" or "What's scheduled for next week?").
Easily link to other HubSpot assets (like blog posts!) within tasks.
As with other systems, once you have a checklist and process that you love, you can save the template as a project and repeat it as often as you need.


You Take a Lot of Notes (or You're Flying Solo)
If you're a note taker, project management might mean something a little bit different to you. Instead of focusing on tasks all the time, it's often more desirable to be able to revisit your notes and pull out action items in one system. I've experimented with many note-taking solutions, and two of my favorites are OneNote and Evernote. While both systems have a slightly different language, they're both notebook-based and let you free-write as necessary. Evernote has a great web clipper that lets you grab text or URLs as you're conducting research, then organize those clips into notebooks. In either system, you can also add a checklist to your notebook for action items. These systems also let you save audio files (though there may be storage limitations in free versions) and share your notes with others.
Note-based project management tends to be less task-oriented than the systems above. For that reason, a large team may struggle with this approach. However, if you're flying solo as a one (wo)man marketing team (really, I understand), it might be an ideal way to brainstorm, save, and follow up on everything you need to do. The key when working alone or in a very small group is to keep things more organized than you think they should be. One day, when you get that second team member, there's a good chance you'll want to hand some of your plans over.
As it turns out, the SmartBug team is pretty obsessed with project management and productivity. One of my favorite collections is this roundup of some of our team's favorite hacks and tools—check it out and let me know what's your favorite.

About the author
Juli Durante was formerly a team lead and marketing strategist for SmartBug Media. She has been using HubSpot and practicing inbound marketing since 2011, first as a one-woman inbound marketing team and then at SmartBug. A born and bred Jersey girl, she's a graduate of Rutgers University where she studied Anthropology, Art History, and Classics, making a very natural transition to digital marketing. Juli's education helped her learn more about research, analysis, and Jasper Johns, which she applies today when planning and measuring campaigns. She's particularly passionate about CRO and website optimization. Read more articles by Juli Durante.
Subscribe to get our new blogs delivered right to your inbox
Other insights you might like