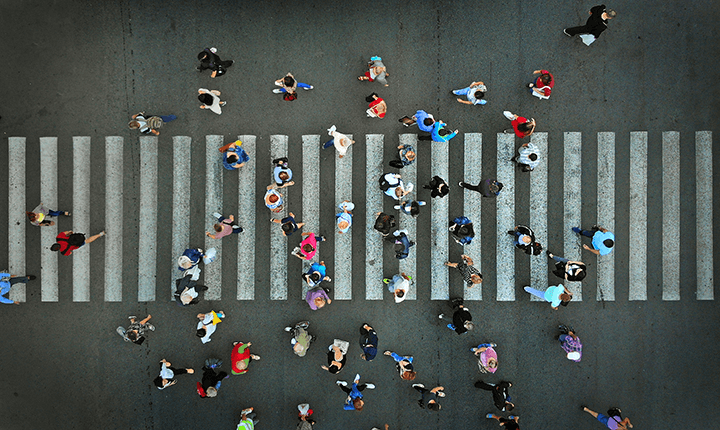 How to Create a Paid Social Strategy That Converts
July 8, 2021
---
Have you ever scrolled through social media and noticed that the pair of shoes you were looking at yesterday is now an ad on your feed? Brands are using social media in both an organic and a paid way, to promote brand awareness as well as their products and services.
Organic social media is when a brand uses different channels to share free and helpful content with their followers. Paid social is a form of advertising, where companies pay to have their posts promoted with specific audiences, on specific channels (i.e., the shoe ad I mentioned).


Why Social Media?
Smart Insights found that 53.6 percent of the world's population is using social media, on average, for nearly 2.5 hours daily. Your buyers are scrolling through social, and if you're not meeting them there, you're missing a huge opportunity.
There are a lot of benefits of incorporating a paid social strategy in your marketing efforts, a few of which include the following:
Raising brand awareness
Expanding reach
Maximizing the use of your content
Generating leads
Paid social without the proper strategy behind it will only result in a waste of time and money—so before we get into creating a paid social strategy that converts, it's critical to recognize the importance of your buyer personas.
HubSpot defines buyer personas as, "semi-fictional representations of your ideal customers based on data and research." Does your buyer spend a lot of time on LinkedIn during the week, but visits Facebook frequently on weekends? Are they scrolling through Instagram? Or maybe they're active on Twitter? Understanding your ideal customers is in your best interest, so that you know which social channels they can be found on.


Building Out A Paid Social Strategy
If you're looking to maximize conversions on your paid social strategy, here is the secret sauce:
The right person + the right place + the right time + the right content = Conversion
Easy, right? While the idea of how to maximize conversions is consistent for every company, uncovering the "right" assets depends on each individual company and the buyer they're trying to target. Follow the steps below to start building out your strategy.


1. Figure Out the Finances
The first step in building a paid social strategy that converts is defining your budget. Get an idea for how much you want to spend on your campaigns, and if you're not sure, consider starting with 10 percent of your total marketing budget. This can be adjusted as you run ads and revisit performance.


2. Pick Your Platforms
Next, determine which platforms you'll advertise on. Remember, your buyer personas should lay the groundwork for this decision. There are several social channels you can run paid ads on, but the most popular include the following:
Facebook/Instagram
LinkedIn
Twitter
Pinterest
Find out where your ideal customers are searching, and plan your campaigns specific to those channels. After all, how do you expect visitors to convert if you're in the wrong place?
3. Set SMART Goals
The next, very crucial, step is setting SMART goals for your paid campaigns. Goals can come in many forms and may have to do with number of clicks or leads, cost per lead, revenue generated, and more.
When brainstorming goals for your campaigns, here are some topics to consider:
Are you trying to raise brand awareness?
Are you trying to increase your following base?
Are you trying to promote a piece of content?
Are you trying to increase purchase of a specific product or service?
No matter what your goal is, visitors are only going to convert if they see value in the content you're promoting. Promote content that your target audience is genuinely interested in; content that provides them with answers to their questions and solutions to their challenges.


4. Optimize Your Landing Pages
You'll also want to optimize the landing pages that ads are directing to, so that viewers have a clear action to take. To optimize your landing pages, follow these best practices:
Remove navigation from the page
Clearly state what the offer is and how it benefits the viewer
Keep important information above the fold (including the form)
Minimize form fields and only ask for crucial information
Keep in mind, each paid social campaign should set out to accomplish a single goal, which means each landing page should also focus on that single goal.


5. Build Out Your Audience
After the budget has been set, channels are determined, and goals are documented ... it's time to build out your audience. Here come the buyer personas again!
Your buyer personas should give you a good idea of the demographics, geographics, and psychographics of your target audience. Utilize this information when building your audiences, as targeting the right people is crucial to increasing conversions.


6. Construct Your Campaigns
Now, it's time to build out your campaigns. We could write several blog posts on how to use each platform, but for the sake of this post, we'll provide a brief summary and a few links with more information.
No matter which social channel you choose to advertise on, you'll follow a similar flow of steps in setting up your campaigns. Note: The order of the below steps may differ depending on the channel.
Choose your objective.
Build your audience.
Determine placements.
Set your budget.
Choose a format.
Set up billing information.
Measure and manage.
Conversion Tip: In a recent Databox study, they asked marketers which ad format drove more ad clicks on Facebook. Nearly 60 percent responded that video ads drove more engagement. Be sure to test out different ad formats to figure out which ones your audience is most drawn to.
For a more detailed description on how to build out ads in the respective platforms, check out the links below:
7. Monitor the Results
After you launch your social ads, be sure to review performance frequently and measure what is working well versus where you can improve. Make optimizations periodically to see which audiences, placements, and formats are converting the most.
Paid social strategies take time to build, and more time to measure and optimize. With your buyer personas at the foundation of your strategy, you can promote relevant content in the right place and at the right time, to help drive more leads for your business.

About the author
Aubreigh Blair is a Sr. Director of Revenue Operations and Planning for SmartBug. After being introduced to HubSpot in 2014, she began implementing the inbound methodology for both B2B and B2C clients. Aubreigh has experience in a variety of industries including SaaS, financial services, manufacturing, automotive, healthcare, and senior living. Today, she strategizes and implements operational efficiencies to align internal teams, with the ultimate goal of driving revenue growth. Read more articles by Aubreigh Blair.
Subscribe to get our new blogs delivered right to your inbox
Other insights you might like