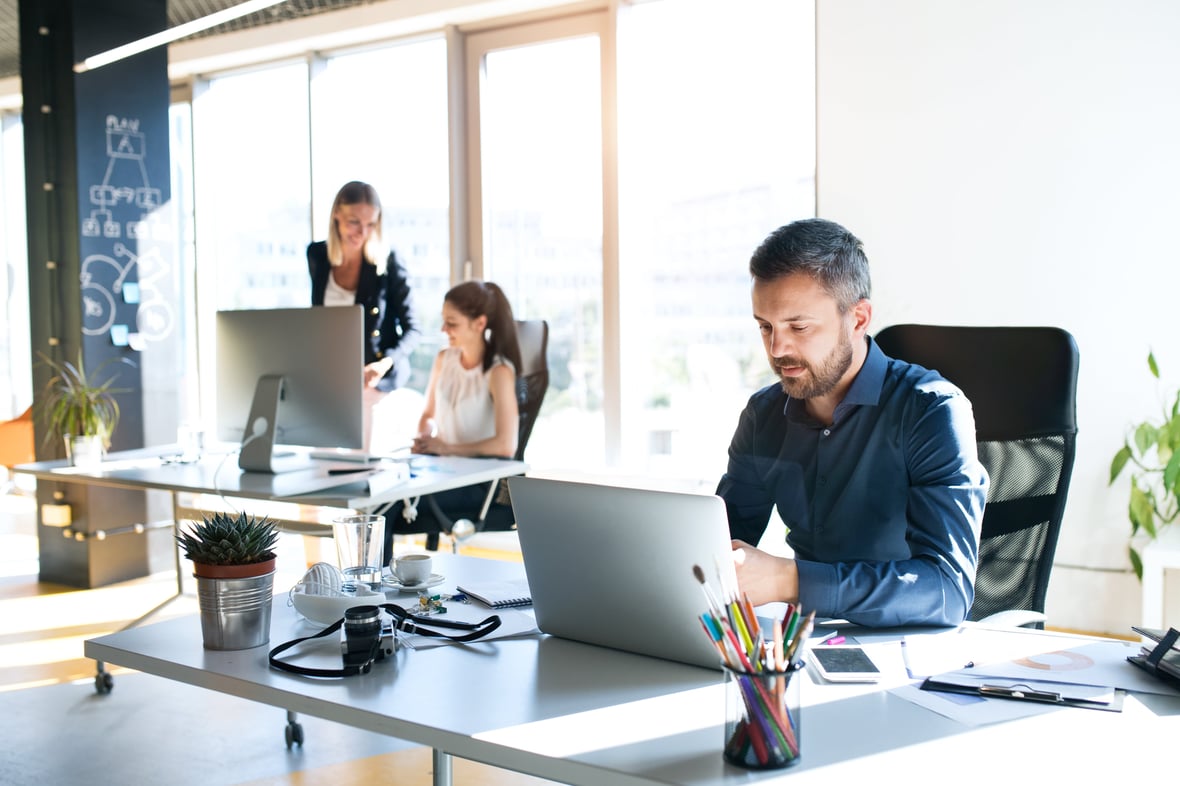 By Mike Wolfe
The success or failure of your next inbound marketing campaign is determined by more than just the brilliant strategy you come up with. To be successful in the execution of your strategy, you also need the right inbound marketing tools.
From promotion and search engine optimization (SEO) to content optimization and reporting, there's a plethora of solutions available that can increase your probability of success—some built within your favorite marketing automation software and some that go beyond it.
Here's a list of recommended tools that marketers can use to promote social posts, optimize SEO and content, report data, and more.


Content Optimization Tools
Let's start with content optimization. After all, quality content is essential if you want your inbound marketing campaign to be a success. Content optimization tools can help your content creators and bloggers create strong content for your audience.
To start measuring the success of your content, implement these two tools:
Unicheck is a cloud-based plagiarism detection software that finds similarities between pieces of content on the web. If you're wondering why this is important, too many similarities can drop your content rank.
MarketMuse is an AI-powered content platform that analyzes millions of articles, uncovering content gaps and opportunities to help content creators craft high-quality content that delights customers and impresses search engines.


SEO Tools
Next, let's look at SEO tools, which provide information about the health and success of your website. Not only do you want your content to be accessible on your site, but you also want it to actually drive new organic traffic. SEO tools can uncover areas of opportunity and identify issues and weaknesses that might prevent you from ranking in the search engine result pages (SERPs).
Each of the following tools comes highly recommended:
Semrush is highly useful for keyword research and online ranking data, such as search volume and cost-per-click metrics. This tool also collects information about keywords gathered on popular search engines.
AnswerThePublic is a keyword tool that visualizes search questions and autocompletes searches in an image called a search cloud. The categories include "what," "why," "where," "when," "who," "will," "which," "how," "can," and "are." This information can help you begin or expand on the topics you cover in your site's content.
Moz is an SEO and data management tool that helps businesses increase traffic, ranking, and visibility on search results. The tool features site audits, ranking tracking, keyword research, and backlink analysis.
Screaming Frog is an advanced, fast SEO site audit tool that can be used to crawl websites of all sizes to judge the effectiveness of its SEO strategy.
Google Search Console is a suite of tools and reports that help measure a website's search traffic and performance, as well as fix issues, to help increase presence in Google Search results.


Website Optimization Tools
As important as quality content written around the right keywords is to your strategy, sometimes more is needed to convert the audience you're attracting. Website optimization tools help users collect information on how visitors experience a website so that users can understand what works well and what needs to be improved.
Using the following tools, you can deliver a better experience for your visitors:
Semrush's tool audits your website to make sure it is flawless for users and search engines. It can identify broken links, slow load times, and more.
HubSpot Website Grader analyzes your website for site performance and SEO to discover which aspects do well and where results could be improved to benefit search traffic.
WooRank is another website audit tool that looks through your site from the perspective of Google and generates an instant audit of the technical, on-page, and off-page SEO aspects of the site.
Google developer tools include debugging tools, quality improvement tools, high-level API libraries, and more.


Social Media Tools
Of course, organic traffic isn't the only way to attract your audience. Social media marketing is important for nearly every business, but it can take up a significant amount of time due to content creation and posting.
Social media tools such as the following can expand your reach on various channels and streamline your workflow:
With HubSpot, you can run all your social media campaigns from one central location. Automating your posts is easy to set up. You can also set up monitoring for @ mentions and keywords so you never miss an opportunity to engage your audience and nurture relationships.
PostBeyond also allows users to centralize their content in one platform. This platform makes it easy for your employees to find, organize, and share on social media—expanding the overall reach of your content and messaging.


Account-Based Marketing Tools
It's becoming much more common to see account-based marketing (ABM) and inbound marketing strategies working together within the same campaigns. An ABM tool allows users to combine prospect data with real-time customer experience technologies. This enables companies to align marketing and sales teams toward a united goal.
Here are a few highly recommended ABM tools:
Terminus is an end-to-end solution that runs ABM programs at scale and enables marketing and sales teams to identify and prioritize target accounts, activate multi-channel advertising, and provide reports to every level of business.
OrgChartHub is a HubSpot tool that allows users to build and store customer organization charts and use relationship mapping, buyer roles, and placeholder contacts to help teams visualize key stakeholders and close more deals.
RollWorks is an account-based platform where B2B organizations align their marketing and sales departments by identifying target accounts and key buyers. The platform reaches the accounts across multiple channels and measures program effectiveness in systems of record.
ZoomInfo sells access to its database of information about businesses and people to marketing, sales, and recruiting professionals. This helps collect and organize intent-based data about your audience.


Video Tools
Whether you're using it for inbound or ABM strategies, video goes a long way in effectively engaging your audience. According to research, 65 percent of the general population are visual learners, which means inbound marketers need to meet their audiences with visual content such as videos.
To do so, use these tools:
Vidyard is a video hosting and creation platform that analyzes video performance to help businesses tie ROI back to their video content.
Lumen5 is a video creation platform designed for those without training and experience in video creation to produce engaging video content for social posts, stories, and ads.


Analytics and Reporting Tools
Finally, marketing analytics and reporting tools aggregate, track, and analyze relevant metrics and data points to monitor the performance of paid ads, social media campaigns, or other marketing key performance indicators (KPIs).
Get started with these two tools:
Databox is a cloud-based business analytics tool used by marketers and analysts that provides a single interface to view KPIs and generate reports.
Google Analytics is Google's web analytics service that tracks and reports website traffic. Google Analytics 4 addresses evolving measurement standards to help businesses succeed.
Although this is not a comprehensive list of marketing tools, I hope these will get you on the right path. If you're looking for more tips on inbound marketing tools, strategies, or best practices, download The Only Inbound Marketing Guide You'll Ever Need.

About the author
Mike Wolfe is an Inbound Marketing Strategist at SmartBug Media helping clients find success through inbound marketing. Read more articles by Mike Wolfe.
Subscribe to get our new blogs delivered right to your inbox
Other insights you might like